J-PRISM Buzz
is a quarterly newsletter designed to share the latest issues and knowledge on solid waste matters around the Pacific Island Countries. J-PRISM II is a five year project funded by JICA in partnership with SPREP.

Click here to find our more information about the J-PRISM II Project
Click on the issues below to access the Latest Buzz ...
---
CURRENT ISSUE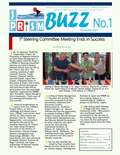 Issue 01-Nov 2017
(Latest)