Coastal zone management

Cook Islands


Climate proofing Mangaia Harbour, and protecting the island's coastline


In the Cook Islands, the demonstration project focuses on coastal management on Mangaia Island. Mangaia is the southernmost and second largest of the Cook Islands, and has a population of about 570 people. Mangaia's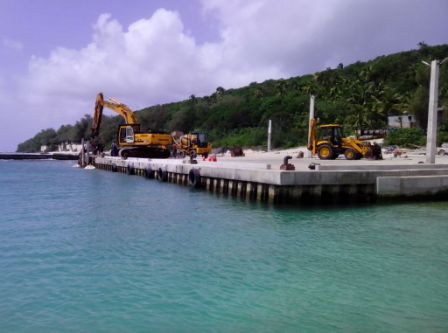 harbour – the transportation hub and entry point for all supplies to the island – was destroyed by tropical cyclones in early 2005.
The aim of the PACC project was to develop a stronger and safer harbour that can withstand current and future climate-related threats. In parallel, the project has been helping to develop an integrated coastal management policy and plan for Mangaia.
The PACC project brought together external technical experts, coastal engineers, and the community to better understand the risk of inundation of the coast during high waves and cyclones. Combining wave modelling, assessments of climate and possible changes, and using a new tool, the Cook Islands Coastal Calculator, the project supported the community in risk-based decision making for development and protection of the island's coast.
The Cook Islands Coastal Calculator, a Microsoft Excel based engineering spreadsheet, provides the link between the modelled wave conditions and the coastal inundation that might be expected to occur under different future scenarios. It simulates inundation based on information on the 'drivers' of inundation (waves and water levels at the shoreline, wave run-up and overtopping), and how these will change over the next 100 years due to possible climate change and sea level rise.
The project team also carried out a cost–benefit analysis, the results of which
supported implementation of the project, but highlighted some areas that needed attention, such as a good maintenance programme once the harbour improvements were made.
With this information, the project team and the community were able to make informed decisions about the harbour improvements. Design and construction followed, and
the new harbour was completed and officially opened in April 2014
.

Mainstreaming Achievements
A first draft of the Mangaia Integrated Coastal Management Policy Framework was released in June 2014 and is under review. The draft policy envisages an integrated coastal management implementation framework that comprises a baseline assessment of the coastline, coastal management legislation, institutional arrangements for coastal management, and a coastal management plan.
Links
National Environment Service

Infrastructure Cook Islands (ICI) Facebook page
News
A New climate-resilient harbour launched in the Cook Islands
(6 May, 2014)
Raising gender awareness in the Cook Islands - a double success
(27 November 2013)

PACC assists Cook Islands improve public infrastructure on Mangaia
(Islands Business, 2 July 2013)
Cook Islands prepares for climate change impacts
(31 August 2012)
PACC essay competition raises awareness for college students
(26 September 2011)
Videos
Vital Harbour
Climate proofing the Mangaia Harbour in Cook Islands
Key Documents

View PDF
PACC Technical Report No. 13 - PACC Demonstration Guide: 'Climate proofing' coastal
development on Mangaia Island, Cook Islands

(4 MB)
PACC Technical Report No. 12 - Decision support tools for climate-resilient coastal development: A case study from the Cook Islands PACC project (low resolution)

(3 MB)
PACC Technical Report No. 12 - Decision support tools for climate-resilient coastal development: A case study from the Cook Islands PACC project (high resolution)

(8 MB)
Presentation at 5th Annual Review Meeting (July 2014)

(3 MB)
PACC Technical Report No. 2: Informing climate-resilient development: the application of
cost-benefit analysis (CBA) in the Pacific Adaptation to Climate Change (PACC) programme

(2.4MB)
PACC Experiences No. 5: Reducing vulnerability of island coasts

(2 MB)
Presentation at 4th Annual Review Meeting (August 2013)

(2 MB)
PACC Country Brief: Cook Islands (July 2012)

(500KB)
In-country Consultation Report (June 2009)

(143KB)
More publications
CONTACT DETAILS
PACC NATIONAL COORDINATOR
Mr. Paul Maoate
Project Engineer
Infrastructure Cook Islands
PO Box 102, Rarotonga Cook Islands
T: +682 20231/76158
F: +682 21134
E:
paultmaoate@gmail.com