Milestone meeting for a milestone project
Details

Published on 17 May 2017
Representatives from 12 Pacific island countries gathered in Apia, Samoa from 11-12 May, 2017 for the fifth and final steering committee meeting of PacWaste - the Pacific Hazardous Waste Management Project.
PacWaste is a €7.85 million project funded by the European Union and implemented by the Secretariat of the Pacific Regional Environment Programme (SPREP) to improve regional hazardous waste management across the Pacific.
Speaking at the opening of the meeting, Ulu Bismarck Crawley, CEO of Samoa's Ministry of Natural Resources and Environment (MNRE), acknowledged the significance of the occasion:
"This is a milestone meeting for a milestone project. From 2013 to the present, PacWaste has helped to improve the regional and national management of asbestos, healthcare waste and E-waste as well as providing a model for integrated solid waste management."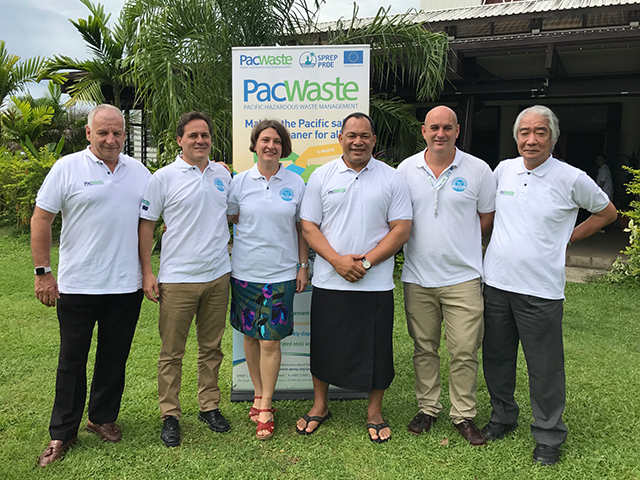 Pictured above: Mr John Townend (PIFS), Mr Jesús Laviña (EU), Ms Ileana Miritescu (EU), Mr Kosi Latu (SPREP), Mr Stewart Williams (SPREP) and Mr Junji Ishizuka (JICA) at the fifth PacWaste Steering Committee Meeting in Apia, Samoa. Photo: A.Carvan/SPREP
In his opening address, SPREP Director General Mr Kosi Latu, noted the achievements that PacWaste had made in each one of its focus areas and emphasised the important role that the project has played in drawing attention to the public health impacts of waste management in the Pacific region:
"PacWaste has been very firmly situated at the intersection of public health and waste management which is an area that had not previously received much attention. Over the past four years, the project has demonstrated the paramount importance of this area as one that impacts negatively on both the environment and Pacific communities."
The purpose of the final Steering Committee Meeting was to discuss the project's progress to date and run through the remaining activities for completion prior to the project's finish on 31 December, 2017.
Delegates at the meeting also took the opportunity to look at possible linkages between PacWaste and the new Pacific-EU Regional Waste Management Project, funded through the 11th European Development Fund (EDF11), which is slated to commence in 2018.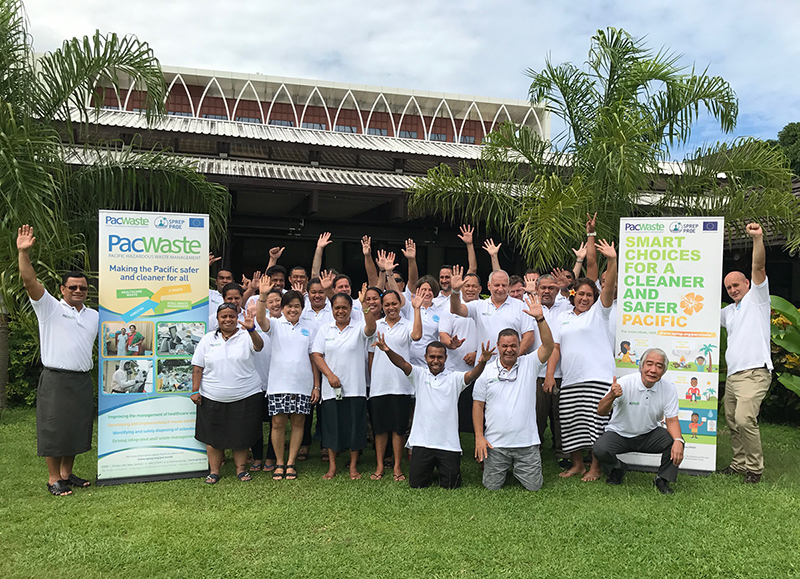 Pictured above: Participants celebrate the fifth and final Steering Committee Meeting of the PacWaste Project. Photo: A.Carvan/SPREP.
Joining country representatives for the EDF11 consultation were representatives of Pacific Islands Forum Secretariat (PIFS), Pacific Community (SPC), University of the South Pacific (USP) and Japan International Cooperation Agency (JICA).
In his closing remarks, Mr Jesús Laviña, Head of Section for Natural Resources and Infrastructure at the European Union Delegation for the Pacific, Suva thanked participants for their useful participation and emphasised the European Union's strong commitment to the Pacific region:
"It is our hope that the progress made through PacWaste towards improved waste management across the Pacific will continue into the future. The rich and interesting discussions that have arisen from this meeting will be very useful for the formulation of the PacWaste project's successor under the EDF 11 funding envelope."