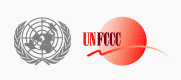 Framework Convention on Climate Change - www.unfccc.int/
Climate-L.org: A knowledge management project for international negotiations and related activities on climate change.
Climate Change Maps & Graphics - http://maps.grida.no/theme/climatechange
Many Strong Voices - http://www.manystrongvoices.org
Climate Change Ark: Climate Change & Global Warming Potal - http://www.climateark.org/
LCA Network: Linking Climate Adaptation - http://www.linkingclimateadaptation.org/

Climate Change Funds - www.climatefundsupdate.org
350.org: An international campaign dedicated to building a movement to unite the world around solutions to the climate crsis http://www.350.org/
UNESCO Climate Change Frontline Forum-
http://www.climatefrontlines.org/

United Nations Development Programme, Multicountry office- Samoa.
WWF, South Pacific Programme Office (WWF SPPO): is a non-governmental conservation organisation serving the Pacific Island countries.
Global Climate Campaign, This webpage has been set up to publicise and promote plans for demonstrations on climate change, to coincide with the annual United Nations Climate Talks. www.globalclimatecampaign.org
The Pacific Islands News Association (PINA) is the premier regional organisation representing the interests of media professionals in the Pacific region. http://www.pina.com.fj/?p=pina