November 27, 2022 by
Sosikeni Lesa
Waste Management and Pollution Control
26 November 2022, Punta del Este, Uruguay - The first session of the Intergovernmental Negotiating Committee (INC1) to negotiate a global legally binding instrument, covering the whole life cycle of plastics from 28 November to 2 December 2022, is an opportunity to amplify the One Pacific voice to end plastic and marine pollution, and keep a Cleaner Pacific.
In the seaside city of Punta del Este, Uruguay, on the Atlantic Ocean, Pacific delegates arrived to add their voice and advocate for their country and regional priorities for the proposed Plastics Treaty. It has been described by the Executive Director of the United Nations Environment Programme (UNEP), Ms Inger Andersen, as "the most significant environmental multilateral deal since the Paris Accord."
The Secretariat of the Pacific Regional Environment Programme (SPREP), as the mandated inter-governmental organisation for the protection of the Pacific environment, is coordinating our One Pacific Voice through a preparatory process including a pre-INC1 meeting held in Fiji, and funded by Australia.
"The Pacific is here with one voice, and it is a similar message to that of climate change in the sense we need urgent ambitious actions now. As Pacific islanders, we are heavily reliant on our ocean as not only a source of livelihood, but as part of our culture and identity," said SPREP's Director General, Mr Sefanaia Nawadra. "Each year, over eight million tonnes of plastic ends up in our ocean, making up at least 80% of marine debris. We can't keep polluting the environment, we can't keep putting things into the environment that harm us, we need to stop dumping in our ocean and find better alternatives. INC1 is an opportunity to rally the world to do this and help us bring about a globally binding agreement that will protect our environment, the Pacific ocean and our Pacific people."
In March 2022, Pacific countries joined Member States of the United Nations Environment Assembly (UNEA) to adopt a historic resolution establishing an Intergovernmental Negotiating Committee (INC) to develop the proposed treaty which will be the subject of discussions at the Punta del Este Convention and Exhibition Centre. Governments have set themselves an ambitious timetable with the INC to prepare the instrument "by the end of 2024."
"The world needs this kind of internationally legally binding framework right now, the world needs to come together in partnership to find a win-win situation for us all," said Ms Bernadette Besebes of Palau. 
Ms Besebes is attending the INC1 with fellow delegates from the Pacific Islands.
"I think a global legally binding agreement is very necessary – our voice needs to be heard here, we must make sure our Pacific concerns are reflected in the final document," said Ms Vivian Koroivulaono of the Marshall Islands.
SPREP's Director of Waste Management and Pollution Control (WMPC) Programme, Mr Anthony Talouli, said he is optimistic, adding there are a lot of like-minded countries and stakeholders in Punta del Este, who genuinely want a successful outcome.
"The next two and half years is going to go very fast so we need to be quick on our feet and we need to act quickly. I know there are a few contentious issues but I am positive that from this meeting, there will also be a lot of good decisions that we will agree on," said Mr. Talouli. "I think it's important that we don't spend too much of our time focusing on our disagreements but rather we will look at what we can agree upon and build from there for the future.
"For example, from the Pacific's perspective, how will we get financial assistance to help our countries, how will we get better alternatives for our people. Our Pacific countries need help, and amongst many things they need help with is financial assistance so we can address this issue."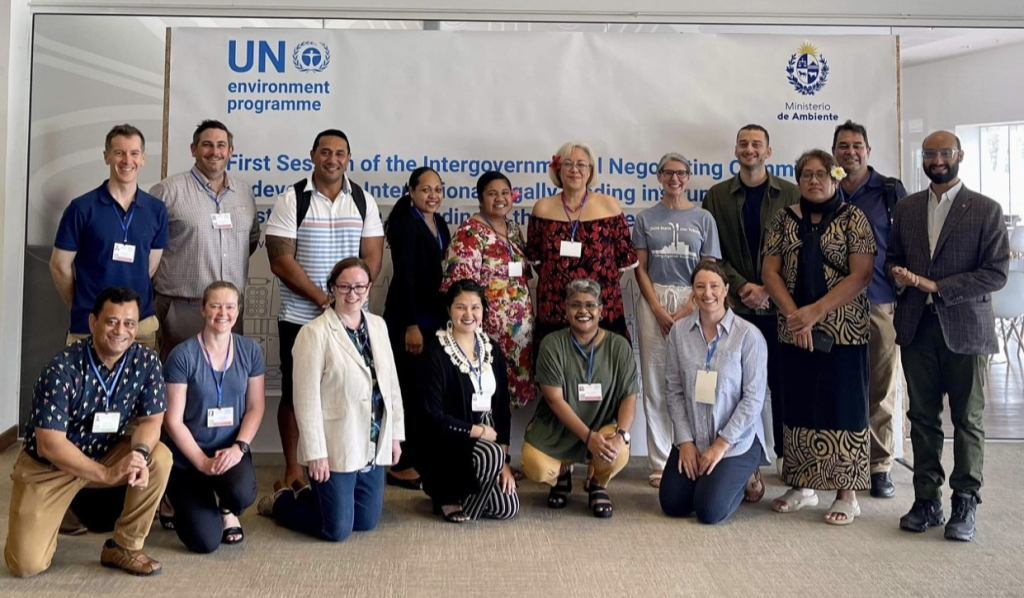 The proposed instrument is expected to address the full life cycle of plastics and, among other things, include provisions to promote sustainable production and consumption of plastics through product design and environmentally sound waste management.
"The plastic industry knows that the writing is on the wall in the sense that if they don't change, people will call for the change. They are aware that this movement in terms of plastics has been led by consumers who want plastic free products, alternatives, and it has pushed the industry to develop safer products, removing all the toxic chemicals."
Mr Talouli reminded that there are a lot of toxic chemicals in plastics, which members of the public are unaware of. These chemicals end up in the ocean, eaten by fish that billions of people around the world, including Pacific populations, consume daily. He said the INC process will not only look at developing a legally binding framework to address the issue of plastics, it will also look at alternatives and how to make plastics safer.
"In the Pacific, we are the receivers of plastic pollution just as we are at the first to experience the impacts of the climate emergency. We don't have much resources to deal with the impact of plastic pollution once it is in the environment, so it is very important for us to stop the plastics from source.  
"We can do a lot of planning, we can promote and talk about reuse as much as possible, we can talk about recycling but we don't have a recycling industry so in order for us to protect ourselves, a good start is to have safe products, and stop the production of hazardous products that are wreaking havoc on the environment."
The resolution establishing the INC is in line with the Pacific Regional Declaration on the Prevention of Marine Litter and Plastic Pollution and its Impacts, which expresses grave concerns from our Pacific leaders about environmental, social, cultural, economic, human rights and other impacts of plastics pollution at every stage of its life cycle.  Sitting in Puna del Este and working with Pacific delegates who are already on the ground, Mr Talouli is quietly excited. While there is much work to be done, he knows the journey to get here has not been without challenges.
"The INC process has come a long way for SPREP in providing the support and groundwork for our member countries. We started in 2014 at the SIDS conference in Samoa, and then the year after we reviewed the Cleaner Pacific 2025, where we had for the first time a section on plastic waste. Before that it was about waste management, reduce, reuse, recycle. In 2015, when we developed the Cleaner Pacific 2025it was just a paragraph but things have quickly changed from just a paragraph to an Action plan," Mr Talouli recalled.
"In 2017, we attended the UNEA3 and it was at UNEA3 that a lot of the work through the UN, through UNEP, was done. Back then, they called it the Ad-Hoc Open Ended Expert Working Group and we were part of that. We attended the AHEG in 2017, 2018, 2019 before the pandemic struck. Things ramped up quickly when we had the Regional Strategy, and SPREP's former Director General Kosi Latu was instrumental in getting the commitment from Pacific leaders to call for the region to prohibit single use plastics, and also to encourage Pacific Rim countries to do likewise.
"At UNEA4 in 2019 and UNEA5 in 2020, we were part of countries calling for a global legally binding agreement and we are very pleased that we are now here at INC1. Two years ago, I never thought this would happen when we were in the Pacific trying to develop our own legally binding framework. Here in Punta Del Este, this is a wonderful opportunity to advance our cause against plastic and marine pollution, amplify our Pacific voice."
The first Intergovernmental negotiating committee to develop an international legally binding instrument on plastic pollution, including in the marine environment is taking place in Punta del Este, Uruguay from 28 November–2 December 2022. 
The Pacific Islands are represented by Cook Islands, Federated States of Micronesia, Fiji, Kiribati, Niue, Palau, Papua New Guinea, Republic of the Marshall Islands, Samoa, Solomon Islands, Tuvalu and Vanuatu through the support of the Government of Australia and the United Nations. The Secretariat of the Pacific Regional Environment Programme and the Office of the Pacific Ocean Commissioner are also attending.
Click here to learn more and follow the INC1.
Main Photo Credit: BRS Flicker Account.