December 4, 2016 by
admin
Island and Ocean Ecosystems
3 December 2016, CBD COP13, Cancun Mexico -
The integration of tourism into the biodiversity sector was under the spotlight at the High Level Segment of the Thirteenth Conference of the Parties to the Convention on Biological Diversity (CBD COP13) in Cancun, Mexico. For the first time the Conference brought together Ministers from Agriculture, Fisheries, Forestry and Tourism to participate in this event to help "Mainstream Biodiversity for Well-being".
According to the CBD, the tourism sector accounts for nine per cent of the world's gross domestic product, six percent of exports and contributes directly or indirectly to one in 11 jobs.
For the Kingdom of Tonga, also featured at the High Level Roundtable on Mainstreaming Tourism into the Biodiversity Sector, the nation has recognised they cannot separate conservation from development.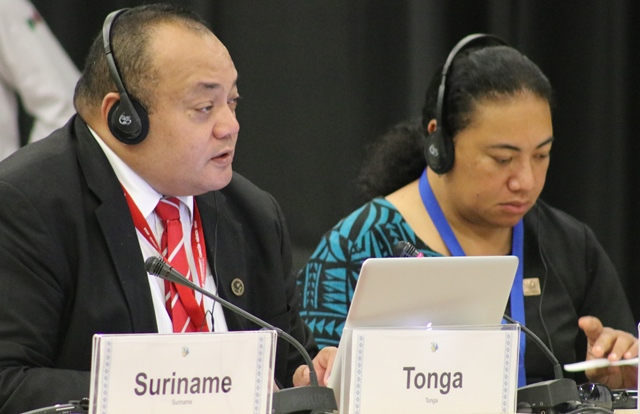 The Deputy Prime Minister of Tonga making a presentation at the High Level Roundtable at the CBD COP13
"What we do from a biodiversity conservation perspective needs to be linked to the improvement of people's livelihoods and creation of jobs, that is we must add value to conservation efforts so there is an incentive for communities to be involved and for government and partners to allocate resources to these activities," stated the Deputy Prime Minister of Tonga, the Hon Siaosi Sovaleni who is also the Minister of Tonga's Meteorology, Energy, Information, Disaster Management, Environment, Climate Change and Communications Ministry.
Putting these words into action Tonga, like Fiji, is currently implementing a programme that focusses on managing natural resources for livelihoods and well-being, taking a ridge to reef management approach. These activities help conserve and rehabilitate the natural habitat as well as support ecotourism that also provides a livelihood for communities.
Tonga also has an extremely valuable tourism income generated by the annual migration of humpback whales that frequent the waters of Vava'u, a remote group of islands in the northern part of the Kingdom.
Whale in Vava'u, Tonga.  Photo:  M.Donoghue

"Decisions regarding the management of whale-watching, the enforcement of regulations, the development of infrastructure and other attractions and developing reliability and cost of airline connections are critical for the future for whale watching as a tourist attraction. Tonga in close collaboration of the Secretariat of the Pacific Regional Environment Programme will host a 'Whales in a changing ocean conference, 4-6 April next year. An important strategic objective of the conference will be to provide a forum to discuss helping whale tourism initiatives and future co-operation on such projects in the region."

As outlined by the CBD, visits to natural areas are estimated to account for 50 per cent of all leisure travel. In some developing countries, revenue from tourism can account for up to eight per cent of gross domestic product.

For Fiji however, tourism and travel alone contributes to 37% of its GDP.

"There can be no better destination when it comes to conservation being modelled and exhibited through tourism," presented Mr Joshua Wycliffe, the Permanent Secretary of Fiji's Ministry of Environment, Local Government and Housing.


Mr Joshua Wycliffe, on the right, attending the High Level Roundtable of the CBD COP13
"If we are to protect and conserve our species then we as nations will need to coordinate information and best practice protocols far better than we do today. Fiji has committed to securing our marine and terrestrial life through special frameworks like our very own, home-grown Green Growth Framework, marine protected areas and terrestrial conservation through programs like our Ridge to Reef project."
The High Level Roundtable discussions were held in Cancun on 2 and 3 December, 2016. This is followed by the CBD COP13 from 4 – 17 December.
Fiji and Tonga are parties to the Convention on Biological Diversity along with the Cook Islands, Federated States of Micronesia, Kiribati, Marshall Islands, Nauru, Niue, Papua New Guinea, Palau, Samoa, Solomon Islands, Tuvalu and Vanuatu.
- #PacificProtectedAreas
For more on the CBD COP13, please visit:
http://cop13.mx/en/