Distinguished Delegates to this workshop,
Officials from the Government of Samoa,
Mr. Jacob Duer and your team from UNEP and the Interim Secretariat of the Minamata Conventions on Mercury,
Ladies and Gentlemen.
It has been a great pleasure for SPREP to host this workshop and I would like to thank you all for taking the time out of your busy schedules to attend.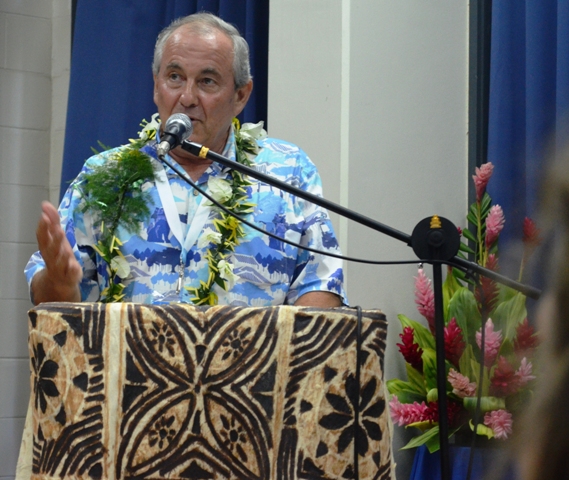 David Sheppard, Director-General, SPREP
I would particularly like to thank UNEP for choosing to hold the workshop here at SPREP – I'm proud to note this is our first joint workshop since signing the Agreement to establish the Pacific Sub Regional Office of UNEP here at SPREP, during the SIDS Conference last year.
This workshop further reinforces the partnership between UNEP and SPREP to support better environmental management and sustainable development in our region and I believe this partnership is good news – for Pacific countries, for SPREP and for UNEP.
Frank and Jacob advised me in our meeting yesterday that this has been a very productive and successful workshop which has – in particular - provided excellent information on the Minamata Convention on Mercury and the process of ratification.
I understand the excellent keynote address from the Samoan Prime Minister on Monday set the tone and context for the meeting. This address indicates the issue of mercury has the highest level of political attention and support in Samoa.
I would like to congratulate the Governments of Samoa and Palau on signing the Convention and I would urge all other countries represented at this workshop to begin the process of ratification as soon as possible.
This issue is very important for our region.
Mercury is a toxic element and has been shown to cause significant adverse health impacts if not managed properly. In fact I'm not sure if this Convention is a health or an environment Convention – in fact it is both.
Although the Pacific does not contribute much to the emission of mercury into the environment, our countries stand to be impacted significantly.
I note with concern that studies in this region on mercury have shown there is already mercury in humans (as shown in the recent Cook Islands and PNG studies) and in fish (as shown in the recent Kiribati and Solomon Islands studies).
Thus there is a need for Pacific countries to recognize this problem, to take action and be part of this global treaty.
The issue of solid and hazardous waste is a major issue for SPREP and we have developed major programmes in these areas over the last 3 years, including on solid waste, asbestos, medical waste, e-waste and POPs. I gratefully acknowledge the support from the Government of Japan, the EU and UNEP for these programmes.
We also recognize the importance of mercury – in fact SPREP member countries at our SPREP Meeting in the Marshall Islands last year directed the SPREP Secretariat to develop a program on mercury, in particular to help Pacific countries manage this chemical and its products in an environmentally sound manner.
We look forward to exploring opportunities with the Minamata Convention Secretariat on how we can roll this program out in the region.
This workshop will provide major guidance to SPREP on the development of this program and we will be reporting on progress with mercury to this years' SPREP meeting, to be held here in Apia from 21-25 September this year.
I believe there are a number of useful synergies that could be developed with SPREP's existing work on hazardous waste and with proposed new work on mercury, particularly under the framework of the Waigani Convention and the Pacific Regional Basel Centre located here at SPREP.
In our meeting with Jacob yesterday I was pleased to hear that there is specific funding allocated for support for the Minamata Convention and that this can assist and support countries in our region to ratify and accede to the Minamata Convention as well as accessing the GEF funds to help with the implementation of projects to address mercury contamination.
This is good news and a real opportunity - I would urge Pacific countries to take up this offer of support.
SPREP stands ready to assist in progressing this new and exciting Convention and to working hand in hand with UNEP to assist Pacific countries address the major challenge of mercury.
Thanks again and most sincerely to UNEP for their support of this important workshop and thank you to all participants for your valuable contributions.
I hope you have enjoyed your time at SPREP and safe travels for your return home.
Soifua