October 21, 2011
Waste Management and Pollution Control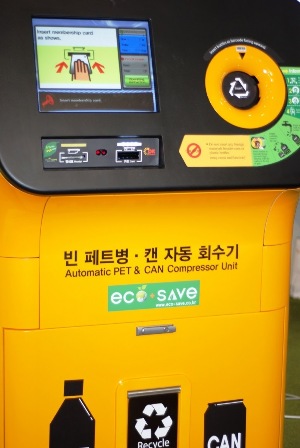 Eco-robot Dr. Boomerang to recycle empty cans and PET bottles
20 October 2011, Changwon Korea - Eco-robots could be the future of recycling.
Bright and bold, these eco-robots are a common sight at the 10th Conference of the Parties to the United Nations Convention to Combat Desertification with several of them on display for which Pacific island delegates have been interested in.
Also known as automated recycling equipment, there are different types of eco-robot types that dispose of bottles, cans, plastics, films, glass bottles and cell phones. They automatically control the process of handling valuable recyclables including sorting, compressing, separating, storing and recovery. The eco-robot also comes with an eject door for unidentified objects and can compress up to 30 pieces per minute.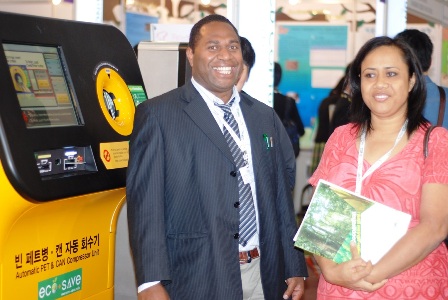 Delegates from Vanuatu and Samoa trying the Eco-robot
They were developed by a company from Korea called Eco-save that was formed in 2007 and develops and manufactures environment-friendly recycling automated equipment.
In order to use the Eco-robot you must be a member for which you are provided with a membership card. You insert your card before inserting your recyclables into the eco-robot, from there your recyclables will be processed and the weight of your carbon dioxide emission will be shown to you and the points you receive for recycling will be added on to your membership card.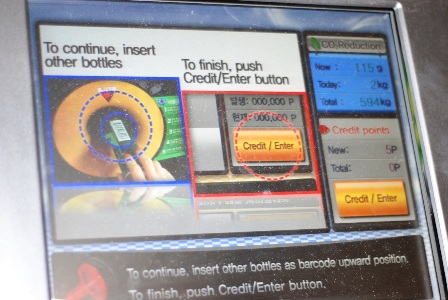 Eco-robot will calculate your emissions
You can use the points on your card at supermarkets for discounts as well as purchases.
There are 60 eco-robot units in 30 stores nation-wide in Korea that are all linked together through an internet web base that is connected to a central operating system. When problems occur with the eco-robot troubleshooting and repairs are done through the remote system.
To find out more about the Eco-robot please visit www.eco-save.co.kr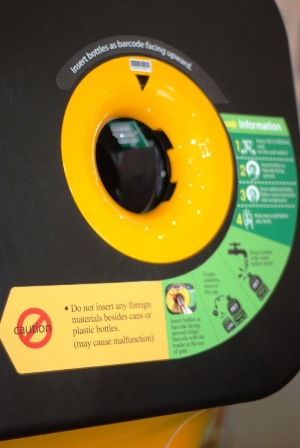 Slot to insert bottles and cans in Eco-robot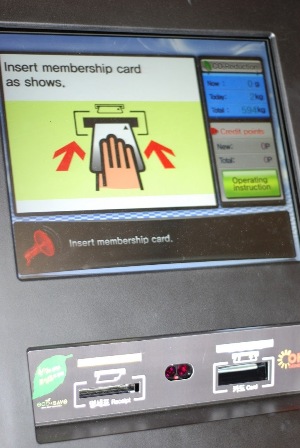 Insert your membership card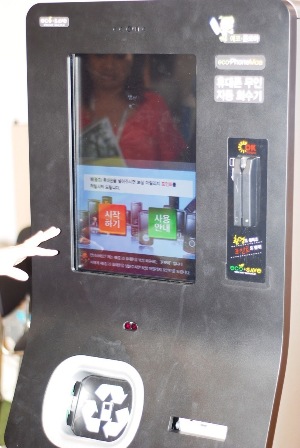 Eco-robot Phone Moa to dispose and recycle used cell phones
More news and images from the UNCCD COP10 in Korea available on the Bionesian blog.