September 13, 2016 by
admin
Island and Ocean Ecosystems
Cities in the Pacific are rapidly expanding and dependent on ecosystems more than ever before.
This was a key message from the Director of Biodiversity and Ecosystem Management of the Secretariat of the Pacific Regional Environment Programme (SPREP), Mr Stuart Chape at a knowledge café on Ecosystem-based Adaptation (EbA) to climate change at the International Union for Conservation of Nature (IUCN) World Conservation Congress in Hawaii this month.
"Urbanisation in the Pacific is increasing at a fast rate resulting in increased dependence on resources provided by ecosystems. Therefore it is even more essential to protect water sheds that provide water to urban populations and protect coral reefs to provide fish resources for people."
"Within the cities themselves, we have to come back to urban ecology. Basic things like greening the cities, making them more pleasant to live in instead of hot, baking environments as the temperatures go up and being able to deal with flooding in extreme rain events which are happening more and more." Mr Chape said.
Emphasising the value of nature-based solutions, Mr Chape said "the EbA approach focuses on retaining for as long as possible viable ecosystems and the services that they deliver to cities, communities and countries."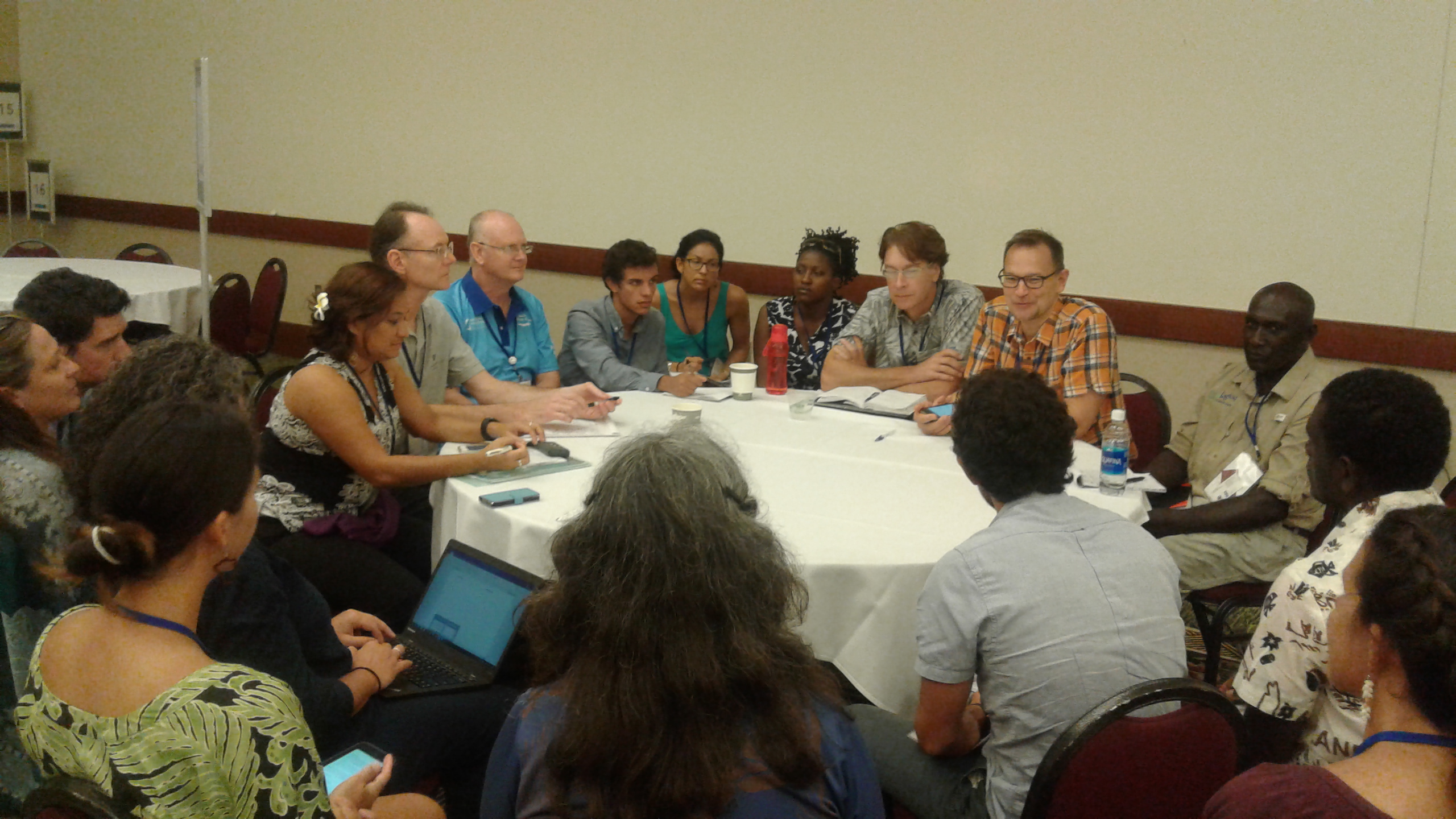 Participants at the Ecosystem-based Adaptation knowledge caf

é, IUCN Congress, 4 September, Hawaii. Photo: SPREP. 
"If you allow the degrading factors to continue then you are undermining the resilience and the capacity to adapt by the communities. For example, if you allow deforestation to continue and the loss of water shed values and water quality then immediately you've removed a critical resource which regardless of climate change is going to have severe negative impacts on communities." Mr Chape added.
International Ecological and Climate Change Consultant for the Asian Development Bank (ADB), Dr Peter Smith who was also at the discussion called on EbA practitioners to work on innovative EbA strategies to convince governments and donors to invest in EbA approaches as an option for climate change adaptation.
Mr David Loubser of the SPREP Pacific Ecosystem-based Adaptation Project (PEBACC) explained that work is needed to encourage and support governments at national and provincial levels as well as communities to implement EbA approaches.
"The biggest issue we are coming across when trying to introduce EbA approaches in the Pacific is we are dealing with municipal and provincial governments who have the mindset of hard engineered approaches to climate change like sea walls. There is however growing experience that hard engineered approaches may result in a loss of flexibility and the ability to adapt to on-going changes in the climate."
Chiara Franco of The Nature Conservancy (TNC) in Micronesia agreed and added that EbA approaches that focus on the restoration and protection of ecosystems offer multiple benefits and need to be included when evaluating adaptation options. Tools such as cost benefit analysis should be used to investigate the most appropriate site-specific solution. Options could include pure EbA solutions, hybrid EbA engineered solutions, or hard engineered solutions – depending on the prevailing conditions at the site.
The EbA knowledge café is an initiative to provide a space at the international stage for discussion around EbA increasingly seen as a pragmatic and sustainable option for securing resilience in social and ecological systems impacted by climate change.
In the view of Mr Herman Timmerman, Project Manager for the PEBACC Project and focal point for the knowledge café "The session revealed the wealth of knowledge that lies with practitioners and how this can be harnessed towards better defining the related fields of EbA and Ecosystem-based Disaster Risk Reduction (Eco-DRR)."
The session was supported by speakers from various organisations including SPREP, World Wildlife Fund (WWF), the PEBACC project, Secretariat of the Convention on Biological Diversity, The Pacific Community (RESCCUE project), The Nature Conservancy and The Water Institute of the Gulf.
For further information please contact Ms. Jilda Shem, PEBACC Communications Officer,
[email protected]
or +679 3311382.