April 29, 2022
Environmental Monitoring and Governance
29 April 2022, Apia – Tokelau's quest for sustainable development has been strengthened by an Environmental impact Assessment (EIA) and Strategic Environmental Assessment (SEA) training delivered by the Environmental Monitoring and Governance (EMG) Programme of the Secretariat of the Pacific Regional Environment Programme (SPREP).
The virtual training attended by staff from the Tokelau Department of Economic Development, Natural Resources & Environment (EDNRE) was to provide them with the necessary knowledge on the environmental assessment process and develop skills to identify and assess environmental impacts and implement effective mitigation strategies within their jurisdiction.  The Director for EDNRE Mr Mika Perez said the training was extremely useful.
"We certainly acknowledge and appreciate the new Director General and the team from SPREP for offering to train our trainers to pick up and develop their understanding of EIA during these difficult times of the pandemic. The training has provided very valuable strategic information for Tokelau in its quest for sustainable development," he said.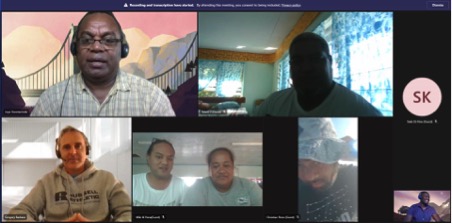 As the mandated regional body responsible for delivering environmental assessments capacity-building as well as providing policy advice and technical assistance, SPREP has been supporting Tokelau's capacity building efforts in the fields of sustainable planning, environmental management and sustainable development outcomes.
Strategic Environmental Assessment (SEA) is a higher-level planning tool used to evaluate potential impacts of government plans, policies, and programmes to ensure that any adverse effects are minimised as much as possible. This is achieved through identifying risks and opportunities associated with the proposed actions and mitigation measures to reduce the overall negative impacts on the environment, while maximising positive outcomes.
The EIA is similar but focuses more narrowly on the immediate environmental impacts of a development or project. Both processes require extensive consultation, and it is important that EDNRE staff and stakeholders in Tokelau develop an understanding of sustainable planning tools such as EIA and SEA to further assist in their decision making.
SPREP has previously delivered a series of face-to-face trainings to communities and stakeholders in Tokelau in 2016 and 2019.
However, with border restrictions across the region still hampering travel and face to face events, the organisation has explored new modalities to continue to effectively upskill and provide technical support to stakeholders across the region. One such modality being explored is termed "Train-the-Trainers". It is a framework for training in-country staff and stakeholders in order to equip them with the necessary knowledge to enable them to further train and educate other stakeholders and the wider community.
The three-day training was conducted by Mr Jope Davetanivalu, Director for the Environmental Monitoring and Governance Programme, and Dr Greg Barbara, Environmental Assessment and Planning Officer with the support of Mr. Ivan Diarra, Pacific Network of Environment Assessment (PNEA) Technical Officer.
 "We have worked with EDNRE throughout the pandemic in developing drafts for Tokelau's EIA Policy and EIA Implementation Procedures since 2019," said Dr Greg Barbara.
"This virtual training event was an excellent opportunity to further socialise and test the concepts of the proposed EIA policy and the implementation procedures before they are presented to the Tokelau General Fono by EDNRE later this year.
"SPREP is proud to support Tokelau in its efforts to build a sustainable future for its people. The success of the Train-the Trainer model in Tokelau reveals a unique opportunity for scaling up capacity building and awareness to communities and stakeholders across the region, and SPREP remains committed to finding new innovative ways to deliver on its mandate and serve the interest of its members."
For more information, please contact Mr Jope Davetanivalu, Director for Environmental Monitoring and Governance, [email protected] or Dr Gregory Barbara, Environmental Assessment and Planning Officer, [email protected]