November 1, 2016 by
admin
Island and Ocean Ecosystems
The ocean is the great connector, with species and systems closely linked by water. This connection means that successful and sustainable management of marine resources also requires close connections between sectors. Participants from across the Pacific region have gathered in Apia this week for the Pacific Ocean Alliance (POA) and Convention on Biological Diversity (CBD) Sustainable Ocean Initiative workshop for the Pacific Islands, which is being held from 31 October to 4 November.
The participants for the combined POA and CBD-Sustainable Ocean Initiative workshop include representatives from a range of industries, as well as environment, fisheries and other development agency representatives from CBD parties and Secretariat of the Pacific Regional Environment Programme (SPREP) member states. SPREP and other CROP agencies are also represented at the workshop.
The Associate Minister for the Ministry of Natural Resources and Environment for the Government of Samoa, Hon. Taefu Lemi Taefu, opened the workshop and spoke of the importance of the sustainable management of oceans and seas.
"Sustainable management is critical for economic and social development, poverty eradication and raising the living standards of our people," Hon. Taefu Lemi said.
"Equally important is the fact that marine ecosystems play a critical role in carbon and nutrient cycles, which are key aspects of the earth's life support systems. As the health of the marine system declines, so too does its capacity to provide food, livelihoods and income."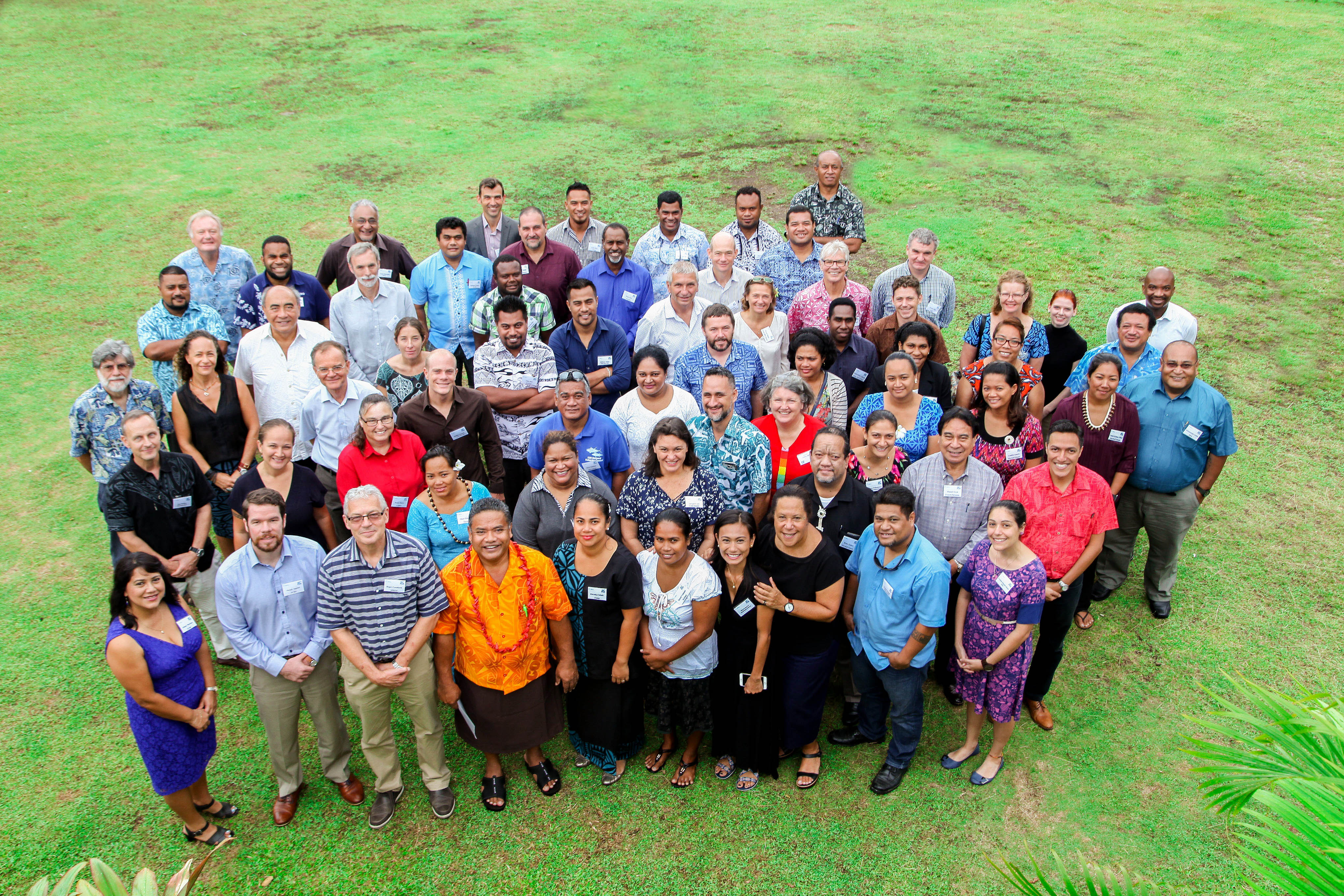 Participants of the Sustainable Oceans Initiative workshop. Photo: Tim Rasmussen
The Secretary General of the Pacific Islands Forum Secretariat, Dame Meg Taylor, called for a courageous approach to Pacific ownership of Pacific marine resources, and stated the importance of finding a balance between the imperatives of sustainability and development and the need for a new equilibrium between our present rights and future obligations.
Mr Roger Cornforth, Deputy Director General of SPREP, spoke of the great significance for the entire planet of the full extent of ecosystem services provided by oceans.
"The Pacific Ocean generates oxygen, absorbs a great deal of heat produced by a warming planet and about one-quarter of the carbon we have released through industrialisation, and is the highway for the transport of most of the goods on which we all rely.
"We need to be far more aware of the need to collaborate and cooperate if our use of the ocean is to become sustainable."
The workshop participants will be tasked with identifying tools and approaches to enhance conservation, management and sustainable economic growth of marine and coastal resources, to enable sustainable ocean development, as well as developing strategies and action plans for enhancing the application of integrated planning and management.
The focus will be on facilitating dialogue and experience-sharing across different sectors, identifying success factors and common challenges and also outlining ways to enhance cross-sectoral coordination, planning and management.