March 10, 2022
Waste Management and Pollution Control
10 March 2022 - Fourteen Pacific countries have taken a critical step towards a future where hazardous chemicals and harmful waste are safely managed and sustainably disposed. The promise is contained in the rolling out of the Implementing Sustainable Low and Non-Chemical Development in Small Island Developing States (ISLANDS) project, for which an inception meeting was held virtually on Wednesday, to mark the beginning of the implementation phase.
The ISLANDS Pacific project is implemented by the United Nations Environment Programme (UNEP) and executed by the Secretariat of the Pacific Regional Environment Programme (SPREP). Participants at the Inception meeting included representatives from the Cook Islands, Fiji, Federated States of Micronesia (FSM), Marshall Islands, Kiribati, Palau, Papua New Guinea, Nauru, Niue, Samoa, Solomon Islands, Tonga, Tuvalu, and Vanuatu. Samoa's Minister of Natural Resources and Environment, Hon. Toeolesulusulu Cedric Schuster, set the scene with his keynote address, where he expressed his appreciation for the project.
"I acknowledge the ongoing support of the GEF as a critical financing supporting mechanism. The approval and execution of this project is a clear manifestation of that support," Hon. Schuster said. "My challenge to this gathering, and especially to the implementers of this project is please, do not let this be another five years of talkfest and administrative bureaucracy filling our offices and shelves with manuals and plans, legislative frameworks, acts, policies and regulations, all this while our countries end up with a project that cannot be sustained beyond its project life.
"Please make real change with tangible outputs that countries are able to integrate and mainstream into their work plans and budgets and let us decrease, or better yet, eliminate chemical wastes from our shores, recycle them into the circular economy so we will not pollute our precious and fragile environment."
The ISLANDS Pacific project is a five-year project that supports the implementation of the Cleaner Pacific 2025, Waigani Convention, BRS Conventions, Minamata Convention on Mercury, and achieving commitments under the Samoa Pathway. The Director General of SPREP, Mr Kosi Latu, noted there is much work to do to safeguard the Pacific environment and people from the harmful effects of chemicals and wastes and said the GEF ISLANDS Pacific Project could not have come at a better time.
"While this project will not solve all our waste and chemical problems, it will go a long a way in ensuring future interventions have a strong foundation to build on," Mr Latu said. "I have had a look at the design and careful planning that has gone into the project, and I am confident that for those priorities that you have submitted, the project will provide sound integrated solutions now and into the long term.  Let me thank our donor, GEF, for its ongoing support to the work of SPREP in the region. While this is not the first time that the GEF is supporting SPREP and our members, I must say this is by far the biggest support in terms of financing that has been made available. At $US20 million, the GEF ISLANDS Pacific project is SPREP's single largest project."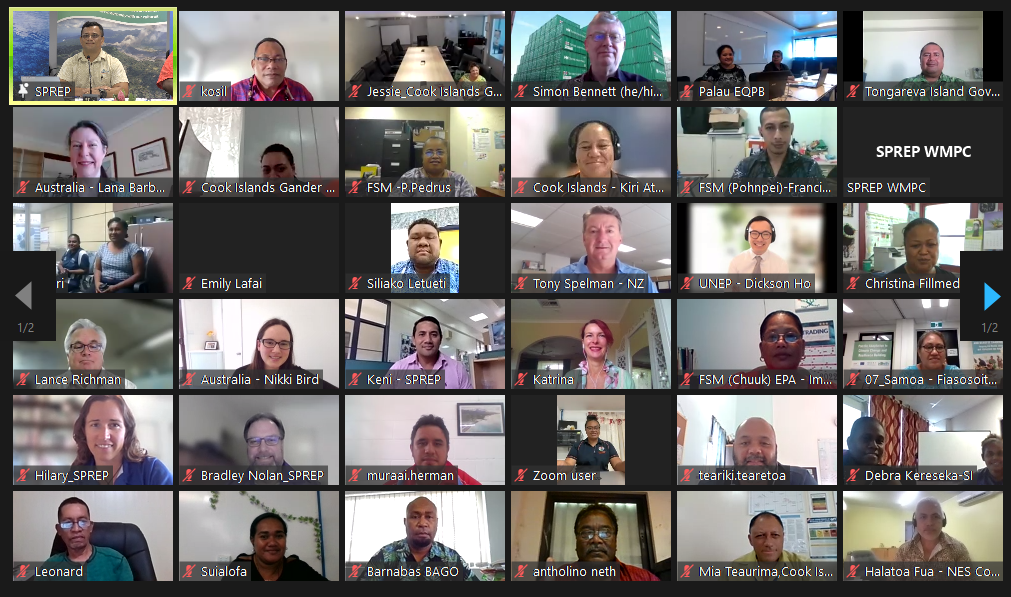 GEF Portfolio Manager UNEP Chemicals and Waste, Mr Kevin Helps said managing chemical and hazardous waste is crucial for protecting human health and the environment. He said the inception meeting was held at a time when the global community has just completed UNEA 5.2 where several resolutions on chemicals and wastes were adopted.
"As the use of hazardous chemicals and the volume of waste generated continues to rise, the potential impact on human health and the environment also grows. This is especially true in regions with import-based economies, with limited access to technologies and systems that ensure these impacts are kept to an absolute minimum. This includes SIDS and LDCs," said Mr Helps. In response to this, GEF ISLANDS, which the GEF ISLANDS Pacific comes under, was born. The programme is comprised of regional projects in the Pacific, Caribbean and Indian Oceans covering 33 SIDS. A global Coordination, Communications and Knowledge Management (CCKM) project connects the regional projects, facilitating SIDS-SIDS learning and ensuring that a coordinated approach is taken to communications, stakeholder engagement and gender transformation.
The inception meeting acquainted all participating countries with the overall project design and approaches. It also focused on outlining project components and activities, exploring potential synergies with other regional projects, seeking commitment on the governance and implementation of the project and developing an annual work plan and budget for approval by the Project Steering Committee. Head of UNEP in the Pacific, Mr Sefanaia Nawadra, who closed the meeting, congratulated all the parties, heralding GEF ISLANDS project as a "new chapter" for the fight against chemicals and hazardous waste.
 "We can't address everything through this project but I hope we are addressing the things that matter to the countries at this time and in a sustainable way. We have outlined the way forward during this meeting but it will need goodwill and cooperation from all of us to be able to move forward. We need to acknowledge that this will be a challenging project to implement but I am confident that all of us will work hard to ensure this is successful," Mr Nawadra said. "We are at a good stage because never before has waste been addressed and looked upon with the same significance as it has now, we've always been there in the background. I must acknowledge the efforts that have been made by UNEP especially to raise the profile of waste at the global level to where it is now on par with biodiversity and climate change. This was unthinkable four or five years ago so it's an opportunity we need to take hold of and address the issues we know we need to while we still have that profile."
Looking ahead, Mr Nawadra, who is also SPREP's incoming Director General, said he is especially excited about the new chapter for waste partnerships in the Pacific region. "Firstly the collaboration is now beyond the Pacific, we have joined up with other SIDS regions in a more formal and practical way. Secondly I'm encouraged by Swire Shipping's involvement, this a big thing because before it was normally just the UN agencies, regional agencies, NGOs maybe, multilateral banks but hardly ever a private company," said Mr Nawadra.  "Thirdly I am excited about the strong focus on communications. One of the challenges we face is showing how projects and activities make a difference, and by making a difference I'm not talking about some consultations here, some guidelines there, no I'm talking about making a tangible difference to what's happening in everyday life because that's how you get support for sustainability. We need to work to make sure that the GEF ISLANDS project makes a real difference and is sustainable as Minister Toeolesulusulu and others have challenged us today."
About ISLANDS
The Implementing Sustainable Low and Non-Chemical Development in Small Island Developing States (ISLANDS) program is a $515-million, five-year initiative backed by the Global Environment Facility (providing $61 million) and partners, and implemented with the support of the United Nations Environment Programme (UNEP), United Nations Development Program (UNDP), Food and Agriculture Organization of the United Nations (FAO) and the Inter-American Development Bank. Participating countries include: Antigua and Barbuda, Bahamas, Barbados, Belize, Cabo Verde, Cook Islands, Cuba, Dominica, Dominican Republic, Federated States of Micronesia, Fiji, Guinea-Bissau, Guyana, Kiribati, Maldives, Marshall Islands, Mauritius, Nauru, Niue, Palau, Papua New Guinea, Saint Kitts and Nevis, Saint Lucia, Samoa, São Tomé and Príncipe, Seychelles, Solomon Islands, Suriname, Tonga, Trinidad and Tobago, Tuvalu, Union of Comoros, and Vanuatu.
About the Global Environment Facility
The Global Environment Facility is the largest multilateral fund focused on enabling developing countries to invest in nature and supports the implementation of international environmental conventions on biodiversity, climate change, chemicals, and desertification. Since 1991, it has provided more than $21.7 billion in grants and blended finance, and mobilized an additional $119 billion in co-financing for more than 5,000 projects and programs. Through its Small Grants Programme, the GEF has provided support to more than 26,000 civil society and community initiatives in 135 countries.
About SPREP
The Secretariat of the Pacific Regional Environment Programme (SPREP) provides assistance and promotes regional cooperation for the protection of the environment and sustainable management of natural resources. It was established in 1993, building on a joint initiative of the Pacific Community (SPC), South Pacific Bureau for Economic Cooperation (SPEC), United Nations Economic and Social Commission for Asia and the Pacific (UNESCAP) and United Nations Environment Programme (UNEP) and now serves as a component of UNEP's Regional Seas Programme. SPREP is headquartered in Apia, Samoa with offices in Fiji, the Republic of the Marshalls Islands and Vanuatu. 
About UN Environment Programme
UN Environment Programme is the leading global voice on the environment. It provides leadership and encourages partnership in caring for the environment by inspiring, informing, and enabling nations and peoples to improve their quality of life without compromising that of future generations. UN Environment Programme works with governments, the private sector, civil society and with other UN entities and international organizations across the world.