July 9, 2021 by
angelicas
Waste Management and Pollution Control
The fourth quiz of a 2021 series focussing on education on environmental issues in the Pacific is out now!
This latest quiz, created by the Secretariat of the Pacific Regional Programme (SPREP) following the success of last year's quiz series, will test participants on their knowledge of waste and how it impacts the Pacific region.
The quiz series is designed to support children and adults alike through a virtual, fun, and interactive way to learn and test their knowledge about the Pacific environment. Each quiz so far has been published in line with important environmental days, like Earth Day on 22 April, and International Day for Biological Diversity on 22 May. All quizzes are short with no more than 10 questions, and each centre around a different topic to be released every month.
To coincide with Plastic Free July, a global movement where individuals pledge to use no single-use plastic products for the whole month, this month's quiz aims to entertain audiences through education on waste management issues that impact our Pacific and global environment.
"Waste generated by humans that is not biodegradable is detrimental to not only our health, but also our environment," said Mr Anthony Talouli, Acting Director of Waste Management and Pollution Control Programme at SPREP. "The amount of waste we are seeing today is overwhelming our capacity to sustainably manage it, and we know for a fact that the waste that is not recycled has the potential to end up in our waterways and oceans."
"Individually, we need to properly manage our waste by practising the 4R's: refuse, reduce, reuse, and recycle. Globally, we need to put policies and legislation in place to support companies and business to move away from using plastic products and supporting them to make better choices towards good waste management," said Mr Talouli.
The added pressure of waste on the environment contributes to the worsening of the global climate crisis, the continued degradation of natural habitats and wildlife, and the negative impact on human health.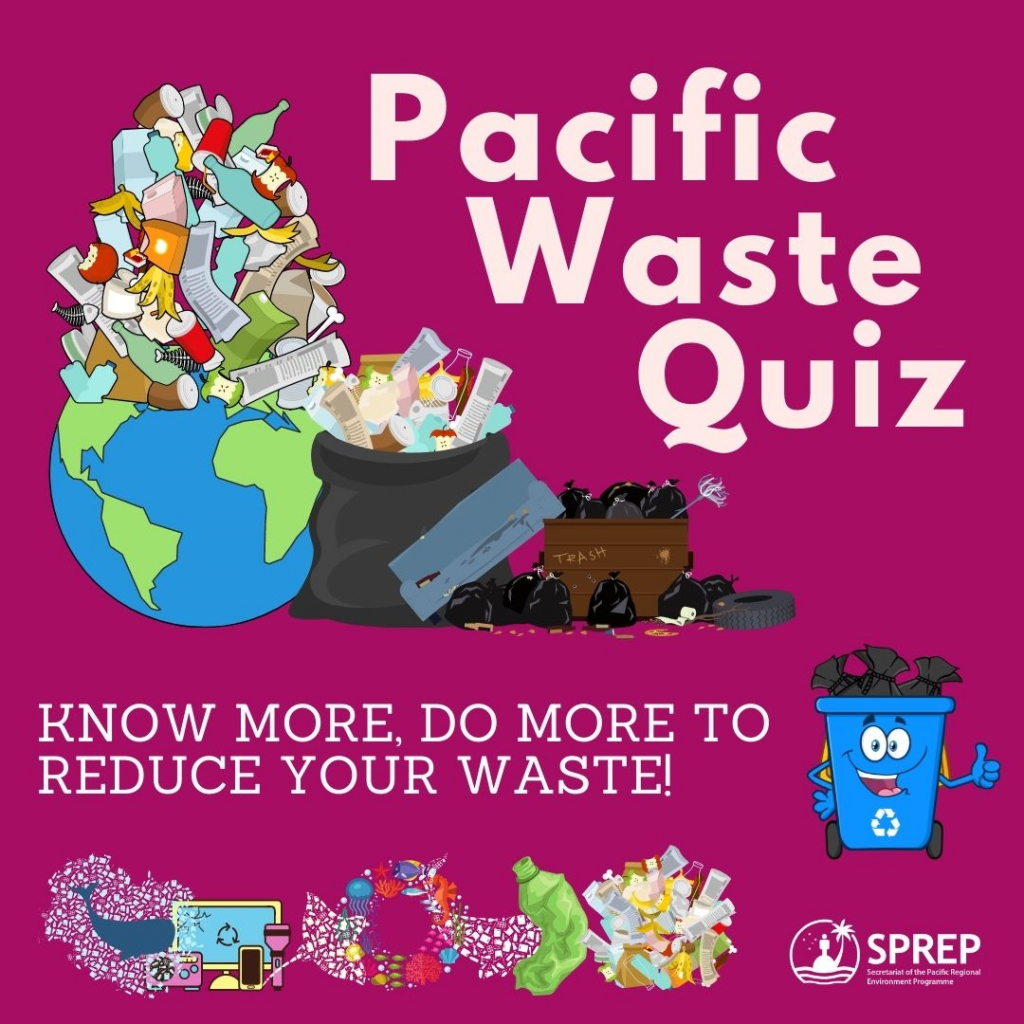 SPREP challenges you to find out more about the waste problem of the Pacific by participating in the Pacific Waste Quiz. A fun and educational way to learn more about the environmental challenges we are facing. Challenge your friends and family to see how much you know about waste.
To play the quiz and challenge others CLICK HERE or visit our website www.sprep.org, follow our Facebook (@SPREP.PEIN) or Twitter (@SprepChannel) to receive updates on new quizzes and upcoming release dates and topics. The Pacific Waste Quiz will be open for two weeks, closing on 23 July at 11.45 pm (Samoa Time). The top five players will be announced at the end of the game period.
To find out more about the quiz series or other information in the article, please contact us at [email protected].