January 27, 2011 by
admin
SPREP, the Secretariat of the Pacific Regional Environment Programme, and Commonwealth Secretariat are exploring areas where the two associations can further strengthen partnerships to deliver value to their citizens in protecting the environment, dealing with the effects of climate change and enhancing sustainable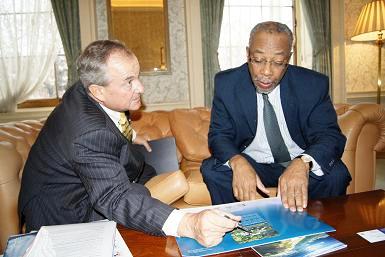 development.
This was the main message when SPREP director, David Sheppard visited Marlborough House, the head offices of the Commonwealth Secretariat, in London on 26 January 2011, where he was received by Commonwealth Deputy Secretary-General Ransford Smith.
"The Commonwealth is a very important grouping that covers all shades of experiences, and we at SPREP believe there are many areas where we can collaborate to amplify our energies for the good of our citizens," said Mr Sheppard.
Mr Smith said: "Yes, indeed, there is room for cross-regional collaboration."
A number of countries covered by the SPREP are Commonwealth member states.