September 13, 2013 by
admin
Natural solutions for building resilience to climate change – an integrated ecosystem approach
is the theme of the third Pacific Environment Forum hosted in Apia, Samoa on Monday.

The Pacific Environment Forum coordinated by the Secretariat of the Pacific Regional Environment Programme (SPREP) is a regional gathering of stakeholders in the environment of the Pacific Region to discuss key issues. This year the focus is on Ecosystem based Adaptation.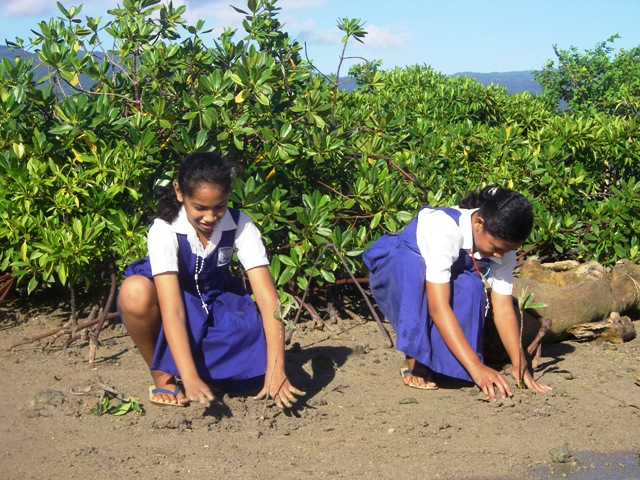 A natural solution to climate change, planting mangroves
"Ecosystem based Adaptation is focused on recognising the importance of intact ecosystems in providing protection and resilience, either through protecting intact areas or restoring impacted habitats," said Tim Carruthers, SPREP's Coastal and Marine Adviser.


"At this forum we'd like to provide participants with an introduction to Ecosystem based Adaptation and planning and from here we'll be able to discuss further implementation of natural solutions in the Pacific, as well as how to integrate natural solutions into planning for hard infrastructure approaches."


Participants will have an opportunity to hear about Ecosystem based Adaptation approaches in the Pacific and discuss how an integrated adaptation and planning approach can be developed.


A project currently underway in the Choiseul Province of the Solomon Islands will be featured at the Pacific Environment Forum in a presentation by Permanent Secretary of the Solomon Islands Ministry for Environment, Climate Change, Disaster Management and Meteorology, Dr. Melchior Mataki.  The EbA project in Choiseul is a partnership between many different organisations helping communities to strengthen their ecosystems in order to make them more resilient to the impacts of climate change.


The economic value of our environment; hybrid solutions to building resilience; and funding integrated approaches to climate change adaptation, are topics of presentations that will be featured on the day.


"If you have an interest in strengthening our environment to make us less vulnerable to the effects of climate change, then please join us on Monday."


The Pacific Environment Forum will be held at the Tanoa Tusitala Hotel Conference Room on Monday 16 September. Registration opens at 8.30 with the event ending at 5.00pm.
For more information please contact:  Tim Carruthers, SPREP's Coastal and Marine Adviser at

[email protected]