Island and Ocean Ecosystems
14 March 2011, Palau - Dugong protection in the Pacific Islands region will be highlighted this year as part of the Pacific Year of the Dugong. It is a boost to the conservation of the species and its seagrass habitats.
The regional campaign was launched in Korror, Palau this week by President Johnson Toribiong and Minister of Natural Resources, Environment & Tourism Harry Fritz.
Palau hosts the smallest, most remote and critically endangered dugong population in the region.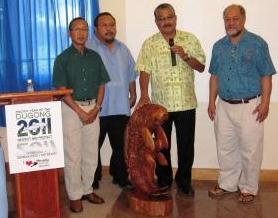 In launching the regional campaign Palau also commenced their national campaign with the reminder by President Toribiong that we are stewards of the environment and have a moral obligation to protect dugongs in the spirit of "I'll save you so some day you'll save me".
He requested support from other nations to join Palau to preserve, protect and cherish this important, unique dugong population.
Minister Fritz urged Palauans to take the task of education to protect, respect and love dugongs and their habitats.
It was also acknowledged at the launch of the Pacific Year of the Dugong 2011 that there is a need to address poaching which is the biggest threat to the fragile population in Palau. Authorities were urged to work together to enforce legislation to prevent this and it was highlighted that publicising arrests and convictions for poaching of dugongs would be an effective deterrent within the general community.
Raising the awareness on the status of dugongs and related aspects as well as the existing legislation was also raised as an important area for immediate attention.
Minister Yano closed the launch by confirming Palau's Government full commitment to support the Pacific Year of the Dugong campaign and shared a personal experience when a local woman released a dugong that was tied up signifying that a single act can make an important change.
Notes:
At the launch, about 60 invited guests, representing Government Ministries, NGOs, communities, students and industry groups were present. Opening remarks were given by the Honourable Minister of Natural Resources, Environment and Tourism. Guest speakers included SPREP and UNEP/CMS representatives. Presentations were given by the Koror State Rangers, Division of Fish and Wildlife of the Ministry of Justice and the Bureau of Marine Resources. The participants were entertained over lunch with the Palau Dugong song composed by Mr Edward Anastacio. The Minister of State, Mr Victor Yano gave closing remarks.