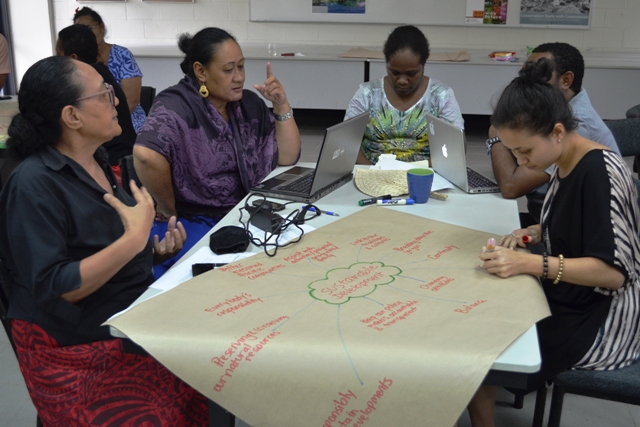 Group work, discussing sustainable development
Pacific island media are gearing up for the Third International Conference on Small Island Developing States (UNSIDS) with a three day gathering led by the Pacific Media Assistance Scheme (PACMAS) and the Secretariat of the Pacific Regional Environment Programme.
Opening on 26 August, the workshop brought together media from Fiji, Niue, Papua New Guinea, Samoa, Solomon Islands, Tonga, Vanuatu as well as members from PACNEWS Agency and Islands Business International.
The training aims to help media learn more about the thematic issues of the UNSIDS and to strengthen networks between Pacific experts in these areas and the media.
"The theme of this conference revolves around partnerships and this is a prime example of a successful partnership," said Mr. David Sheppard, Director General of SPREP as he welcomed the participants to the training.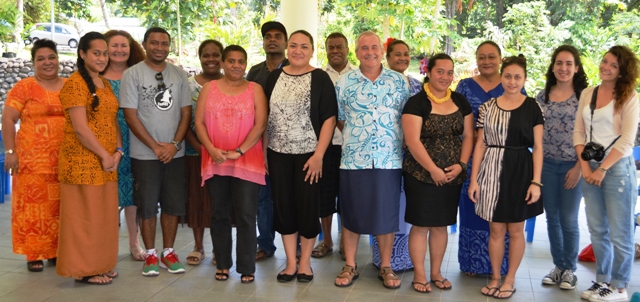 "We, working together with PACMAS and you, the media, the conveyers of our Pacific stories, have come together to help share the sustainable development messages. We look forward to your reports of the UNSIDS conference, it is through you that we can take the outcomes from this historic event for the Pacific and share it with our Pacific communities."
Not only does the training help prepare Pacific media for the coming conference, it also helps them to reflect upon the concept of sustainable development and the role of the media to facilitate this. Presentations from the United Nations and management of SPREP have helped provide a background to the overall theme of sustainable development and the UNSIDS Conference.
Domenic Friguglietti, the PACMAS Program Director, says supporting Pacific journalists and media professionals to communicate about development issues is a key goal of PACMAS.  "This workshop for UNSIDS enables Pacific communities across the region to access vital news, information and opinions about the key issues facing developing island states."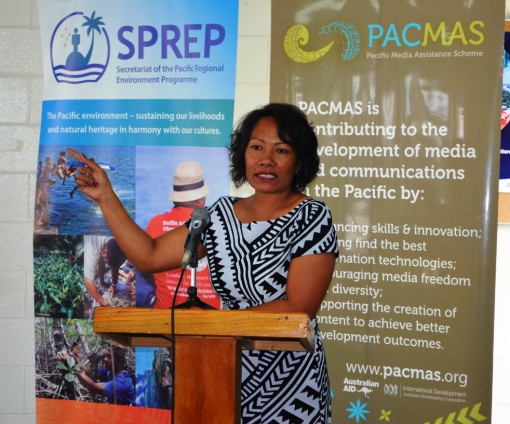 Presentation on 'Disasters and sustainable development' by Ms.Filomena Nelson, of the Samoa Disaster Management Office
The workshop closes on 28 August and is funded by PACMAS and coordinated by SPREP. It covers each of the six thematic areas of the UNSIDS and provides participants with a practical overview on covering the event.
Five of the participants are successful recipients of PACMAS fellowships to cover the UNSIDS.