Waste Management and Pollution Control
Overcoming the tyranny of distance to effectively manage the influx of E-waste is a major challenge for Pacific island nations. But a new PacWaste supported initiative in Cook Islands is a shining example of how – with the right combination of political, public and private sector engagement – proper E-waste management is not only possible, it can also be financially sustainable.

In many islands across the Pacific, communities have few options for safely disposing of broken or disused electronic equipment. Exporting intact E-waste is a very expensive venture which requires special hazardous waste permits. While some revenue can be generated from selling E-scrap, a major challenge for small islands is generating a large enough volume to offset the high cost of transport.

To try to address these issues the Pacific Hazardous Waste Management project (PacWaste) funded a joint initiative between the Cook Islands National Environment Service (NES) and the privately operated recycling company, Recycle Cook Islands Ltd (RCI) - which is the recycling entity of Cook Islands General Transport Ltd (CIGT) - to identify a business case for the sustainable management of E-waste through conversion to valuable E-scrap in a small island context.

PacWaste is a 7.85 million Euro project funded by the European Union and implemented by the Secretariat of the Pacific Regional Environment Programme (SPREP) to improve regional hazardous waste management across the Pacific.

Business Development Executive Jessie Sword of Cook Islands General Transport Ltd (CIGT), has been involved in recycling in the Cook Islands for more than 20 years and has witnessed, first hand, the exponential growth in E-waste:

"The requirements of islanders are no different from those living in New Zealand, Australia and abroad. All products we desire to make island life easy are imported, this in itself creates an issue when it is time to dispose of them. We have a responsibility to do something about managing the waste that imported products generate."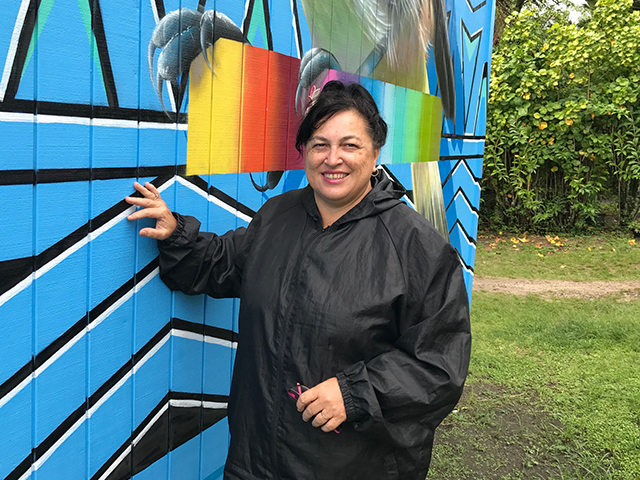 Business Development Executive, Ms Jessie Sword, believes that recycling on small islands can be sustainable but that it can and must be continual with the appropriate framework in place. Photo: A.Carvan/SPREP

Through the PacWaste pilot scheme, CIGT and the NES have been working together to explore the financial viability of collecting E-waste and dismantling it on island in preparation for export and sale to wholesalers, who then negotiate for the best possible price. By doing so, worthless E-waste can be transformed into valuable E-scrap.

Importantly, the initiative was not just designed to collect and export E-waste, but to build on existing experience within Cook Islands to develop a financially sustainable mode for E-waste collection and disposal.

In June 2016 the scheme was launched by way of a free household E-waste collection across Rarotonga. NES Environment Officer, Mr Ben Maxwell, explains that the collection enjoyed great support and interest from both local community members and the public and private sectors:

"People were very happy to be able to dispose of all the items that they had been storing in their homes, in some cases for many years. The collection was only funded for households initially, but then the Government of Cook Islands arranged to fund the removal of all their E-waste from the government offices. This made a big difference because we were trying to collect as much as we could and the government offices had very big stockpiles that helped us to increase the volume."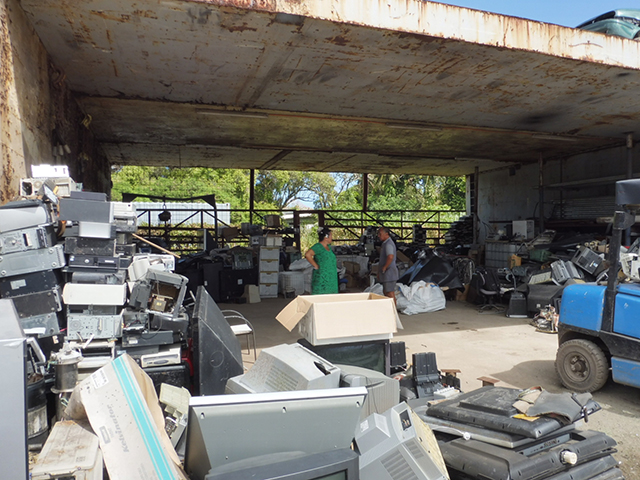 Over the space of four months 4,469 E-waste items were collected in Rarotonga through the E-waste scheme and sent to the premises of CIGT for dismantling and export. Photo: © Alice Leney

After collection, and in preparation for export, PacWaste delivered specialised training with staff from CIGT in how to safely strip and dismantle the E-waste into its component parts – for example, circuit boards, keyboards, metal cases and screens. Jessie explains that this process is very time-consuming, but it is also critical to maximising the potential value of the shipment:

"Some of these components are more valuable than others, and the high value items help to offset the cost of those components that have little or no value. Plastic, for example, is particularly hard to get rid of so we have had to be creative by negotiating with our wholesalers to do things like disposing of plastic housing from TVs and monitors and shipping them out with crushed vehicles and white ware."

Collected E-waste is dismantled into component parts for export. Photo: © Alice Leney.

To ensure that the exercise remains cost-effective, it is important that the container is filled to capacity with the E-scrap components. As such, CIGT has been proactive in negotiating to have E-waste from the outer island of Mauke transported to Rarotonga on a returning barge, which would otherwise have returned empty from delivering supplies.

Director of the Cook Islands National Environment Service, Mr Joseph Brider, explains that the pilot scheme has proven very beneficial in delivering knowledge and experience to the project partners. Additionally, the project has been able to identify cost gaps, which can now potentially be addressed through government legislation. Joseph explains:

"PacWaste has been instrumental in bringing different parties together to establish a model for E-waste to be collected from households and to put a cost on its disposal. Being able to see and experience a sustainable, working model for E-waste management has prompted a great deal of momentum, particularly for the idea of introducing an Advance Recycling Fee so that the cost of disposing of E-waste and bulky items is embedded into the price at the point of purchase."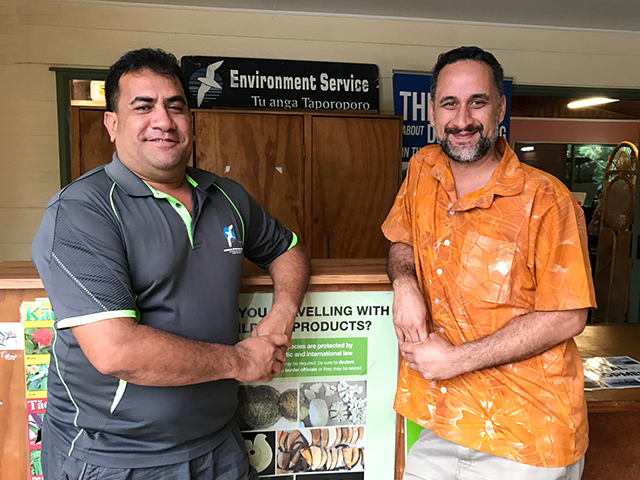 Director of the Cook Islands National Environment Service, Mr Joseph Brider (right) with Mr Vavia Tangatataia (Manager – Advisory and Compliance Division) at the office of the NES in Rarotonga. Photo: A.Carvan/SPREP.

Mr Stewart Williams, SPREP's PacWaste Project Manager, explains that successful private sector engagement – as demonstrated by CIGT and the Government of Cook Islands – is integral to sustainable waste management initiatives and is currently being tested in Kiribati, Republic of the Marshall Islands, Solomon Islands, Tonga and Vanuatu.

"The private sector in the Pacific is quite undeveloped in the waste and pollution sector but is also a critical element that needs to be enhanced. As we have seen in Cook Islands, the private sector has a wealth of knowledge on international commodity impacts as well as access to potential recyclable markets and logistical expertise. In many ways, the private sector has the potential to drive public sector initiative and innovation in the area of E-waste management."

Noting that the establishment of private sector engagement for recyclables is a priority of the Pacific Regional Waste and Pollution Management Strategy (Cleaner Pacific 2025), Mr Christoph Wagner, Head of Cooperation at the European Union Delegation for the Pacific believes that other island nations would be well served to look very closely at the successful Cook Islands model:

"This PacWaste pilot scheme had a seemingly perfect combination of strong community, public and private sector engagement combined with political will from the Government of Cook Islands – all of whom should be commended for showing such initiative. The European Union looks forward to continuing to support Pacific island countries to pursue Pacific-context best practice in sustainable waste management."