November 27, 2013 by
admin
It is vital that both women and men are involved for effective responses to climate change.
This was the message taken by the Pacific Adaptation to Climate Change (PACC) team to two recent events in the Cook Islands. The team made a presentation at the 6th Pacific Water Conference, held in Rarotonga 13–15 November, on water projects under the PACC programme, with a particular focus on gender issues and gender actions.
Interest from the audience was evident with high participation, and the team was delighted to receive the conference award for 'Best Presentation'.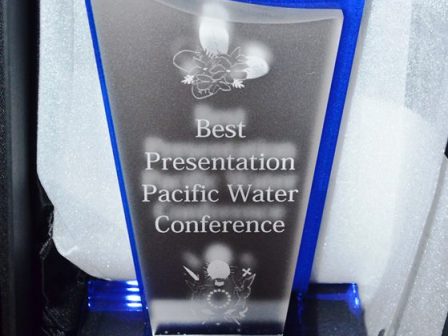 After this success, the team went on to Mangaia Island, site of the PACC pilot project in the Cook Islands, to join discussions at a workshop led by the Ministry of Internal Affairs.
Here, as well as raising awareness on the importance of gender in climate change, the team contributed to a significant practical step forward – agreement was reached to have a women's representative on the Island Council of Mangaia, the island's highest decision making body and formerly men-only.
"People are realising how important it is to consider gender in climate change activities at all levels," said Paul Maoate, PACC project coordinator in the Cook Islands.
"Women and men have vital roles to play as we tackle the climate challenge, and both need to be a hundred percent involved as we move forwards."
Paul also ensured that the presentation was fully understood by all participants by acting as translator into the local Maori language.
"We are really pleased with both of these achievements on behalf of the PACC programme," said Peni Leavai, PACC programme officer.
"We have been increasing our focus on gender, and it's very good to start seeing results. All of the 14 PACC projects are starting to address gender in their activities, which is greatly enhancing the programme and its benefits."
The PACC team recently worked with partners SPC, GIZ, UNDP and UN Women to develop a 'gender and climate change' toolkit for the region.
"The toolkit has just been released for general review. We are hoping it will be a practical help to our project coordinators, and others involved in climate change projects, to integrate gender into their work" said Peni.
The toolkit can be accessed via the
Pacific Climate Change Portal.
The PACC programme has demonstration projects in fourteen Pacific island countries, focusing on three key climate-sensitive sectors – water resources, food security, and coastal zone management.
The Programme is funded by the Global Environment Facility and the Australian Government with support from the United Nations Institute for Training and Research (UNITAR) Climate Change Capacity Development (C3D+). The Secretariat of the Pacific Regional Environment Programme (SPREP) is the implementing partner, and the United Nations Development Programme acts as implementing agency.