Waste Management and Pollution Control
28 May 2023, Paris, France - Blessed to live in the world's largest ocean, the Cook Islands are ramping up the call for the world's new Plastics Treaty to include Abandoned Lost Discarded Fishing Gear, also known as Ghost Gear.
The Cook Islands united with the Environmental Investigation Agency, Secretariat of the Pacific Regional Environment Programme, Norway, Ocean Care and the University of Wollongong to host a special event in Paris France – "Untangled:  The Plastic's Treaty's Critical Role in Tackling Fishing Gear."
640,000 tonnes of fishing gear are lost and abandoned in our ocean each year.  It is estimated that 5.7 per cent of all fishing nets, 8.6 per cent of all traps and 29 per cent of all lines are lost in our ocean annually, making ghost gear one of the most harmful forms of marine debris to ocean biodiversity. 
In Paris this week over 190 governments are coming together for the second session of the Intergovernmental Negotiating Committee (INC2) to develop an internationally legally binding instrument on plastic pollution, including in the marine environment.
While different initiatives and activities are working to address this issue of Abandoned Lost Discarded Fishing Gear (ALDFG), the problem itself is larger. 
"There's lots of great work out there but it's really fragmented," said Dr Julius Piercy, Lead Negotiator for the United Kingdom as he presented at the special event.
"There is a real opportunity here with the treaty to plug some of the gaps and bring all of this great work together and corral it in the same direction."
For the Cook Islands, ghost gear must be embedded within the new Plastics Treaty.
Mr Halatoa Fua, Director of the Cook Islands National Environment Service shared perspective on the resting place of ghost gear.
"Eighty-three countries have more than 50 per cent of their sovereign area as oceans, the Cook Islands has 99.995 per cent of its sovereign area is ocean and 0.0005 per cent as land.  It is the most of any country on earth," stated Mr Fua.
"This gives you an estimation of the size of our oceans and how ghost gear is a problem in entangling and killing protected marine animals and species, a significant cause for marine litter and the impact of ingesting microplastics for marine life and our marine food chain. We are now just stockpiling plastic.  This must stop."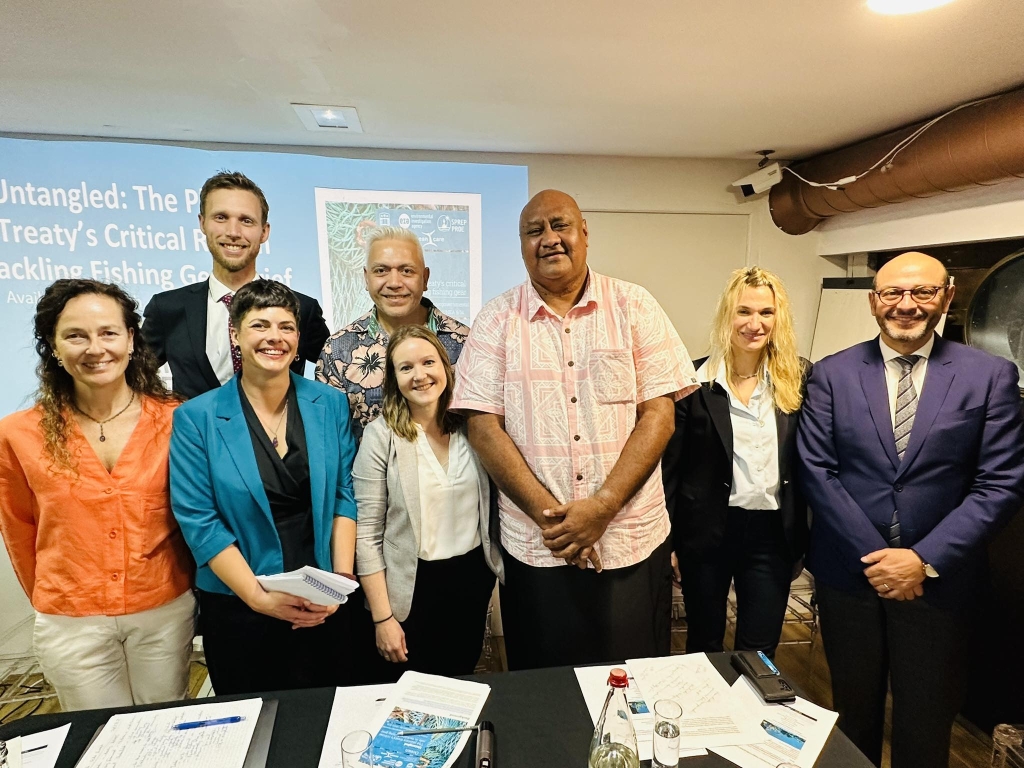 The Cook Islands are calling for five key points in the new legally binding agreement to address plastics.  This includes for the fishing gear to be designed to be safe and environmentally sound, the transparency and tracking of fishing gear to ensure accountability measures are in place and building awareness and reporting of ghost gear through financial resources for small communities and governments.
Further to this, the Cook Islands would like to see Regional Fisheries Management Organisations (RFMO) supported to strengthen their strategies to improve the quality of data collection and, to have safe remediation of stranded fishing gear that exists now in our ocean.
"We agree that provisions for fishing gear needs to be in the plastic treaty. Our engagement in the upstream and midstream level of influencing product design and eliminate problematic plastics, as well as providing means of implementation to strengthen our RFMOs and national efforts, will help address the growing issue of fishing gear in our region," said Mr Fua.
In its call for including ghost gear in the Plastic Treaty, the Cook Islands is supported by the Government of Norway.
"We think the most important thing that this treaty can assist us with is the design and production phase of the fishing gear to ensure there is a common approach for all that we can use, said Ms Stine Risdal Eriksen, Senior Advisor of the Norwegian Ministry of Climate and Environment.
"This can be linked to good waste management ensuring that the gear can be sorted and recycled.  We think this will also help improve our waste management facilities."
The Pacific Islands have demonstrated leadership when it comes to protecting our Ocean.  It is part and parcel of who Pacific Islanders are having carried traditional navigators across waters to new lands, it is the backbone of Pacific Island culture with legends and songs, and it is one of the foundations of Pacific economies. 
Protecting and conserving our ocean helps to ensure the survival of our Pacific way of life.
"If you look back in Pacific history, we have always led the cause when it comes to protecting our ocean – now this issue of plastics is our new frontier. It is something we have been working on individually as countries now have legislation and actions in place to phase out plastics long before the discussion on the global treaty came into place," said Mr Sefanaia Nawadra, Director-General of SPREP.
"We also have regional instruments in place with the regional marine litter action plan.  All of our work in the Pacific is now waiting for a global instrument.  There is only so much we can do as regions to fix this growing problem.  We need global action."
Also to present at the special event was Ambassador Luis Vayas Valdivieso Vice Minister of Foreign Affairs of Ecuador, Ms Fabienne McLellan Managing Director and Plastic Programme Lead of Ocean Care, and Dr Karen Raubenheimer Senior Lecturer University of Wollongong Australia.
The Untangled:  The Plastics Treaty's Critical Role in Tackling Fishing Gear event was held on 28 May 2023 in Paris France.  It was hosted by Cook Islands, Norway, the Environmental Investigation Agency, the Secretariat of the Pacific Regional Environment Programme (SPREP), Ocean Care and the University of Wollongong.
The second Intergovernmental negotiating committee to develop an international legally binding instrument on plastic pollution, including in the marine environment is taking place in Paris France from 29 May to 2 June 2023. The Pacific Islands are represented by the Cook Islands, Federated States of Micronesia, Fiji, Kiribati, Nauru, Niue, Palau, Papua New Guinea, Samoa, Solomon Islands, Tuvalu and Vanuatu through the support of the Government of Australia and the United Nations.
 They are supported by the Secretariat of the Pacific Regional Environment Programme (SPREP), working with partners the Pacific Islands Forum Secretariat, Office of the Pacific Ocean Commissioner, Environmental Investigation Agency, Centre for International Environmental Law, University of Wollongong, WWF and Massey University. For more information, visit: https://www.unep.org/events/conference/second-session-intergovernmental-negotiating-committee-develop-international
For more please email Mr Anthony Talouli, Director of Waste Management and Pollution Control of SPREP at [email protected] 
Image of turtle entangled in ALDFG courtesy of ©Alnitak - https://alnitak.org/