December 7, 2018 by
nanettew
Climate Change Resilience
The battle for 1.5 at the UN Climate Conference in Poland
6 December 2018, Katowice, Poland - While only a .5 Degree difference, the level of impacts associated with 2 degree warming versus a 1.5 degree warming are severe.  It's this half a degree difference that matters at the UN Climate Change Conference, given the impact it will make to the lives of many people.  Released in October, the Special Report on 1.5ᴼC by the Intergovernmental Panel on Climate Change lays bare the different impacts between a 1.5 degree world and a 2 degree world. 
The report was requested of the IPCC by COP21 in Paris to help countries understand the significance of a 1.5 goal, the pathways to reach it, and the technical and financial implications associated with it.  The Alliance of Small Island States worked hard at the 21st Conference of the Parties to the UNFCCC to ensure 1.5 language was included in the Paris Agreement.
The risks to marine biodiversity, fisheries, and ecosystems as well as their functions and services to humans are greatly reduced at 1.5°C compared to a 2˚C world; once we pass 1.5˚C the risk of passing critical thresholds leading to irreversible multi-metre sea level rise increases considerably which would be catastrophic for Pacific island nations and territories and; at 1.5°C some coral reefs will be able to adapt, while at 2°C their chances of survival are next-to-none.  This will have significant impact on this line of defense for islands and coastal communities.
These are just a few of the outcomes highlighted in the report.
"We must begin a serious political discussion on the system change required to achieve our global goal of limiting warming to below 1.5 degrees," presented H.E Baron Waqa, President of the Republic of Nauru as he addressed world leaders at the 24th Conference of the Parties to the UN Framework Convention on Climate Change (UNFCCC COP24).
"That, my friends, must be the benchmark for true leadership. That is the task that our children have now set for us. "
This same report has come under the spotlight at COP24 with Pacific island Parties and Small Islands Developing States calling for the report to be factored into decisions made to achieve the goals of the Paris Agreement.
While the Paris Agreement has countries committed to keeping global temperature rise well below 2ºC above per-industrial levels and even further to 1.5 ºC, countries need to do more for deeper greenhouse gas emission cuts to reach this goal. 
"The IPCC Special Report on 1.5 is very clear. We don't need another report to tell us that we need to shift our actions. We have enough scientific backing – we just need to act," said Ms Pepetua Latasi of the Tuvalu Delegation at the COP24.
"You always hear – 'time is running out' or people stressing the urgency - and yet we are still moving far too slowly. The science rings loud and clear. We cannot disagree with what science is telling us, we have crossed that bridge – we now need to see political will for action. Today, because if we don't act today, science has shown us just how scary our future is."
Another significant finding in the IPCC Special Report on 1.5 is that it is still feasible for the planet to limit global warming to 1.5 through ambitious and urgent changes.  The world will need to make an urgent switch from fossil fuels to renewables as this window of opportunity will soon close.
The electricity sector will need to be decarbonised by 2050, requiring an accelerated change in the energy transformation which has already started.  The current carbon dioxide emissions will need to be halved in the next ten years and coal will need to be phased out by 2050.
It is this ambitious change transformation that will require political will to make it happen, a political will that Pacific island Parties are calling for at COP24.
Under the Paris Agreement Parties are to submit Nationally Determined Contributions (NDCs), these are the national climate plans that outline climate action including targets, policies and measures to be undertaken to contribute to global climate action.
The next round of NDC's must be submitted in 2020, when implementation of the Paris Agreement effectively begins, and it is in this next round that Parties are asked to commit to deeper emission targets.
While the Pacific islands contribute a very minimal amount to the world's total greenhouse gas emissions, many are committed to reducing this amount as much as possible through national actions.  They are also asking other countries to do the same.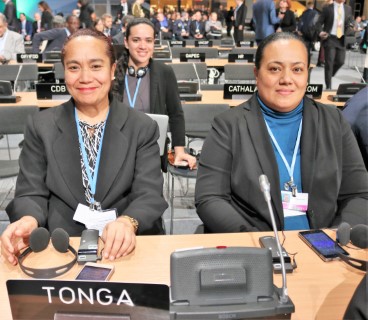 "We must pay attention to the IPCC Special Report on the impacts of 1.5ºC global warming above pre-industrial levels.  What happens to our planet, the legacy we leave behind is in our hands.  What is happening to us now, will happen to the rest of the world too.  We must be ambitious, realistic and act together," said Ms Luisa Tuiafitu Malolo, Director of Climate Change of the Ministry of Environment, Information, Disaster, Energy and Climate Change of the Government of Tonga. 
Ms Tuiafitu Malolo is a member of the Tonga delegation at the COP24.
"Tonga is committed to reducing its greenhouse gas emissions, despite our minuscule contribution to this global problem.  Tonga has a renewable energy target of 50% by 2020 and 30% by 2030 as it is stated in its Nationally Determined Contributions.  We are stepping up and we call upon our global community to do the same.  We still have time to reach 1.5ºC."
The IPCC Special Report on 1.5 was based upon over 6,000 research papers with an author team of 91 authors and editors from different countries, taking into account 42,000 comments throughout three different reviews. 
The UNFCCC COP24 is held in Katowice, Poland from 2 to 14 December, 2018.
For more information on the IPCC Special Report on 1.5 please visit: https://www.ipcc.ch/