Waste Management and Pollution Control
1 June 2023, Paris France - Many of us know it as just 'plastic', or 'single-use plastic' or even 'micro-plastics' but for those now negotiating a plastic treaty they know it as plastic polymers, "virgin" plastics and even "secondary" plastics. 
More than 190 governments have gathered in Paris France this week for the second meeting of the international negotiating committee (INC-2) to develop a legally binding instrument on plastic pollution including in the marine environment.
According to the United Nations Environment Programme (UNEP), one million plastic bottles are purchased every minute around the world, while up to five trillion plastic bags are used worldwide every year.
In total, half of all plastic produced is designed for single-use purposes, that is used just once and then thrown away.  An action that the plastics treaty will tackle.  It is also imperative that it recognises the special circumstances of Small Islands Developing States.
"We support a robust and effective instrument and, in this regard, global targets to reduce the production of primary plastic material are important," said Ms Teuru Passfield from the Cook Islands on behalf of fourteen Pacific Small Islands Developing States (PSIDS) who are uniting to ensure their voice is louder and stronger, in the negotiations that will build the new plastic treaty.
The Pacific Small Islands Developing States have strategically coordinated themselves so that different island nations state the asks on behalf of all 14 islands.  This helps amplify the voice of all our islands, all of whom can also state their countries 'asks' on behalf of their own Pacific island as well.  The Pacific Islands statements are agreed upon by all 14 before delivery.
"And these global targets should be supported by national obligations which are consistent with or even more ambitious than the identified global targets, taking into consideration the special circumstances of Small Islands Developing States," presented Ms Passfield.
How did we get here?
An Options Paper was presented to all governments negotiating the legally binding instrument on plastics, providing options for governments to agree upon in the actual text of the plastics treaty. 
The options paper was based on the results of an open call for submissions from interested parties as to what they would like to see in the final instrument to tackle the plastic pollution crisis.  Divided into two key parts – what it is that people would like to see in the plastics treaty and, how are we going to make this treaty happen – it is on day four of the five-day negotiations that the world continues to work together along these two different tracks.
Known as Contact Groups, these allow for every government to state what it is they would like to be included, removed, strengthened and considered as according to the proposed Options Paper.  All of this will then help form the basis of the Zero Draft of the legally binding instrument to be negotiated across three more INC sessions until a Treaty has been finalised for ratification by Parties to enter into effect.
One aspect of this Options Paper that the Obligations Contact Group is the phasing out and/or reducing the supply of demand for and use of primary plastic polymers. 
A polymer is a substance made from long chains of repeating groups of atoms.  Manufactured polymers include nylon and polyvinyl chloride also known as PVC.  Natural polymers include rubber and silk.  Reference to 'virgin' or 'primary' plastics and polymers is made when negotiators talk to plastics that have never been used before.
What do our Pacific Islands call for when it comes to banning, phasing out and/or reducing the production, consumption and use of chemicals and polymers of concern?
"In order to address the plastics problem we need effective regulation of primary plastic polymers. We support reducing with a view to eliminating the manufacture, export and import of virgin polymers," stated Ms Passfield on behalf of 14 Pacific Islands today in the Contact Group.
"Moreover, given the various forms of plastic polymers, we ask that additives be recognised as a category of plastic polymers that this instrument should regulate."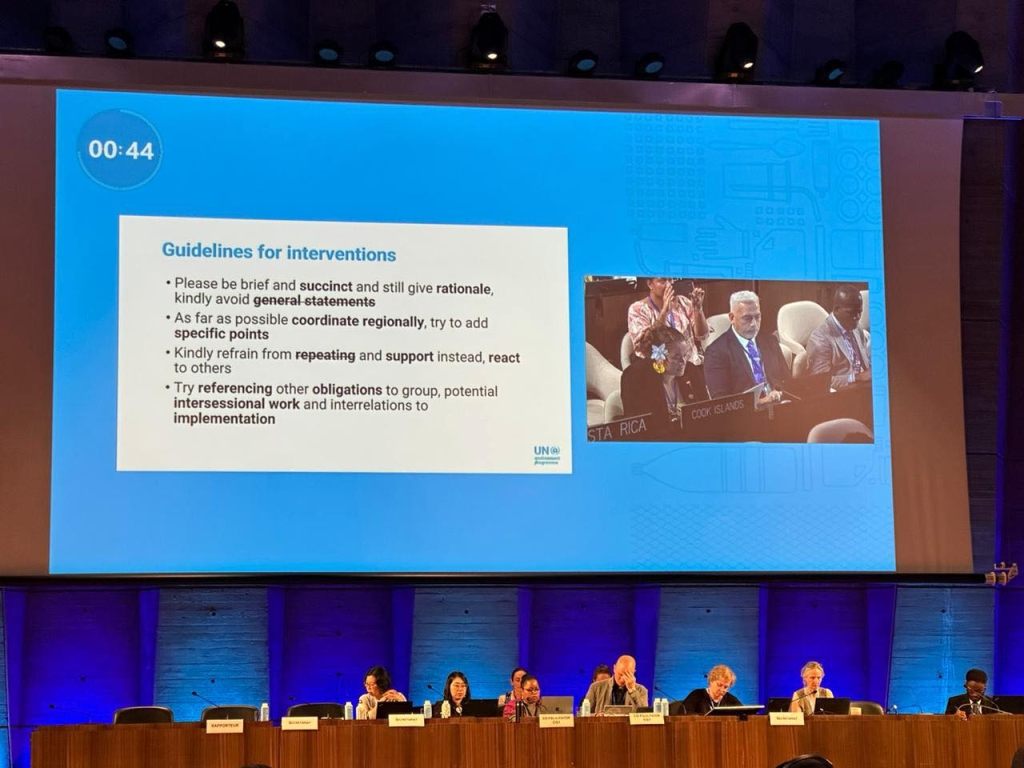 Additives are those which are added to the plastics such as colouring, glitter or other additions that help make plastic more heat resistant and otherwise.  There is substantial evidence that these plastics-associated chemicals, such as plasticisers and flame retardants, can enter the body and are linked to health concerns.
The Pacific Small Islands Developing States have called for the plastics treaty to include market-based measures that will support the global fight against plastic pollution.  These are financial aspects that can both deter the production of plastics, while empowering the increased use of alternative uses to plastic.
"On market-based measures, we support the inclusion of incentive and disincentive measures that reduce the production of and demand for plastic products," said Ms Passfield as she spoke for 14 Pacific Islands.
"In this vein, the removal of fiscal incentives that encourage the production of plastic should be clearly stated in the instrument."
The two contact groups run until the final day of the INC2 allowing for all potential parties to clearly state their asks they would like to see reflected in the plastics treaty.
The second Intergovernmental negotiating committee to develop an international legally binding instrument on plastic pollution, including in the marine environment is taking place in Paris France from 29 May to 2 June 2023.  
The Pacific Islands are represented by the Cook Islands, Federated States of Micronesia, Fiji, Kiribati, Nauru, Niue, Palau, Papua New Guinea, Samoa, Solomon Islands, Tuvalu and Vanuatu through the support of the Government of Australia and the United Nations.
They are supported by the Secretariat of the Pacific Regional Environment Programme (SPREP), working with partners the Pacific Islands Forum Secretariat, Office of the Pacific Ocean Commissioner, Environmental Investigation Agency, Centre for International Environmental Law, University of Wollongong, WWF and Massey University.
For more information, visit: https://www.unep.org/events/conference/second-session-intergovernmental-negotiating-committee-develop-international
To view the Options Paper please visit: https://wedocs.unep.org/xmlui/bitstream/handle/20.500.11822/42190/UNEP-PP-INC.2-4%20English.pdf?sequence=13&isAllowed=y