September 3, 2014 by
admin
Samisoni Pareti, Group Editor-in-Chief, Islands Business Magazine 
1 September 2014, Apia, Samoa
- A leading climate change scientist in the Pacific has revealed that sea level rise projections were applied in the construction of Samoa's new parliament building.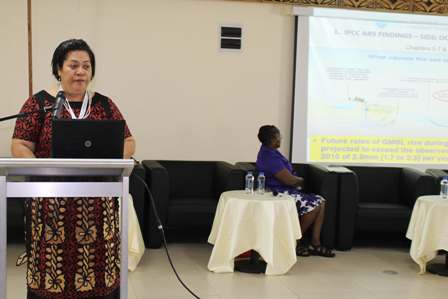 Dr Netatua Pelesikoti works for SPREP – the Secretariat of the Pacific Regional Environment Programme – as Director of its Climate Change Division. She was also an author of chapter 29 of the recent Inter-Governmental Panel on Climate Change (IPCC) Report.
For better decision-making, Dr Pelesikoti said good scientific data collection is imperative.
When it comes to projected levels of sea rise in the coming years, installation of tide gauges around the region, as well as the Pacific Ocean Observation System which gather data from buoys and satellites among others, help produce critical information.
"It was through analysing tide gauge data and projecting the future state of sea level rise that the location of the new parliament building of Samoa in Mulinu'u was determined, as well as the height of its floor," said Dr Pelesikoti.
"A similar exercise happened when a new water catchment tank was installed underground in Tuvalu."
The impact of climate change and storm surges was highlighted by a marine scientist from Barbados Dr Lorna Inniss. She spoke of the millions of dollars worth of work the Barbados Government is sinking into protecting its eroding shoreline and beaches. In 1983, this exercise cost $300 million. By 2011, the rehabilitation work cost $42.2 billion.
"We have no choice but to use that kind of money because 70 per cent of our economy is tourism."
Recently Dr Inniss said Crane Beach in Barbados, once declared as among the world's top 10 beautiful beaches lost most of its sand, and also its world placing, during a storm surge. To restore the beach, the government of Barbados would need an additional $5 million.
These presentations were made at the Coping with and adapting to ocean threats for resilient SIDS communities side event on Monday, 1 September at the Third International Conference on Small Islands Developing States.