December 3, 2019 by
leannem
Climate Change Resilience
2 December 2019, Madrid, Spain - The time to act is now. 

This message echoed through the halls of the IFEMA Convention Centre in Madrid, Spain this morning, where the 25th Conference of the Parties to the United Nations Framework Convention on Climate Change (UNFCCC COP25) is being held over the next two weeks. 

The United Nations Secretary General Antonio Guttieres did not mince his words when he spoke of the seriousness of the climate emergency which the planet is now facing.

"By the end of the coming decade, we will be on one of two paths. One is the path of surrender, where we will have sleepwalked past the point of no return, jeopardising the health and safety of everyone. Do we really want to be the generation that buried its head in the sand and fiddled while the planet burned?" Guttieres said. 

"The other path is a path of hope, of resolve, of sustainable solutions, where fossil fuels remain where they should be – in the ground – and where we will be on our way to carbon neutrality by 2050."

"To address the climate change emergency, we need a rapid and deep change in how we do business, how we generate power, how we build cities, how we move, and how we feed the world. If we don't urgently change our way of life, we jeopardise life itself."

The COP25 was originally scheduled to be held in Santiago, Chile, but the Government reluctantly pulled out of hosting the world's biggest climate conference a month before it was due to convene, due to civil unrests which saw violence erupt in the nation's capital.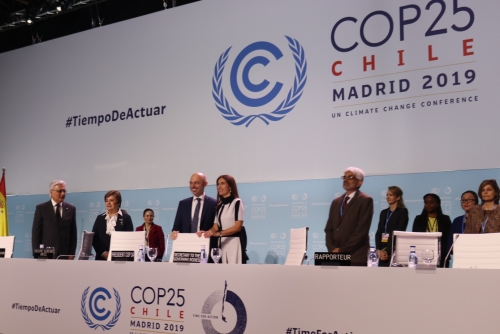 Ms. Carolina Schmidt, the Minister of Environment for Chile and the current President of COP25, declared that "The climate crisis is the most important challenge humanity faces today, and science has spoken loud and clear: It is time to act!"

"The opening of this meeting in Madrid, under the Presidency of Chile, and held in Spain, is testimony to the extraordinary things that multilateralism can achieve when we work towards a common goal. May this be the inspiration that speeds our negotiations over the next two weeks," she concluded.

The COP25 is a significantly important COP, as it is the final one before 2020, which is the year the Paris Agreement will come into force, where countries agreed to step up efforts to limit global warming to 1.5°C above pre-industrial levels and boost climate action financing, which is among the many elements that need to be ironed out. 

197 countries are party to the UNFCCC, and around 25,000 people have gathered in Madrid, which was declared the global capital of the fight against climate change by the Prime Minister of Spain, Hon. Pedro Sanchez. 

The UNFCCC COP25 is being held from 2 – 13 December 2019 in Madrid, Spain.