September 3, 2015 by
admin
Empowering, engaging and encouraging Youth to be leaders in their community advocating for the environment is at the core of support from the Secretariat of the Pacific Regional Environment Programme (SPREP) to the Voices of the Athletes (VOA) Champions Program.
Funded by the Oceania National Olympic Committees (ONOC), United Nations Educational, Scientific and Cultural Organization and Oceania Regional Anti-Doping Organisation (ORADO), the Voices of the Athletes Program was launched at the South Pacific Games in Samoa in 2007.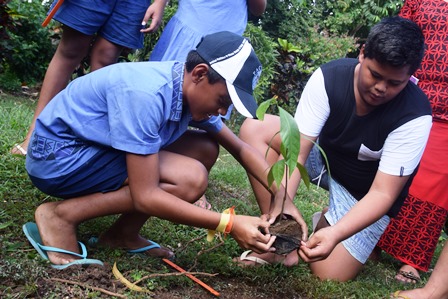 Youth of Samoa planting trees during the SPREP Open Day
It aims to empower youth to be leaders in the four key areas of - a Doping Free Culture; Healthy Lifestyle; HIV and AIDS Education and Prevention; and the Environment with the key messages being – Play True; Play Safe; Go Green; and Stay Healthy.
"This is a great initiative and we're really pleased to be able to help where we can so that Pacific youth learn more about protecting and caring for our environment," said Ms. Melanie Bradley, the Environmental Planning Officer of SPREP.
"It's great that the Environment has been considered as a feature for our youth leaders to help advocate and we look forward to the results that will come from this, it's brilliant!"
Since this activity was launched in 2007 it has featured in other national, regional and sub-regional sporting events. It will once again take centre stage in Samoa at the upcoming Commonwealth Youth Games, to be held in Apia from 5 to 11 September, 2015.
Three-day Oceania Sport Education Program (OSEP) Training was held last month for especially selected youth ambassadors to enable them to become VOA Educators. There were two separate training activities held – one for VOA Champions who are the selected athletes from Samoa who will work to deliver the messages in the communities and one for VOA Educators who will provide mentor support and assistance to the VOA Champions as they undertake their role.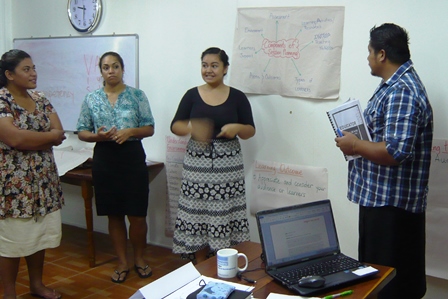 Oceanic Sport Education Program Training in Samoa.  Photo courtesy of Nii Yusuke
The main purpose of these trainings was not only for VOA champions, but the VOA Educators as well to develop facilitation skills and gain more confidence in order to deliver these messages effectively. It is hoped that through having young champions and athletes facilitating these sessions helps to inspire students to become future leaders and athletes.
The SPREP Youth Ambassador, Ms. Brianna Fruean as well as Ms. Sabrina Reupena a Finance Officer of SPREP who is also a national touch rugby representative for Samoa, are part of this Ambassadorship program. They are mentors to the VOA Champions who will hold the training and awareness sessions with selected schools in Samoa.
The Voices of the Athletes Champions Program will also help raise awareness with the athletes attending the 2015 Commonwealth Youth Games in Samoa. In all there are five VOA Champions and five VOA Educators.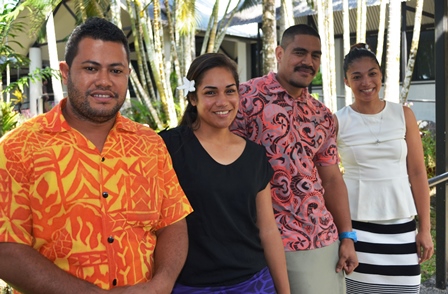 Ms. Sabrina Reupena, second from left, with her colleagues at SPREP
"We're really proud to be part of this activity, not only representing SPREP but also our fellow Samoa and Pacific island youth," said Ms. Sabrina Reupena, a VOA Educator.
"As an athlete myself, I really look forward to working with other young athletes as they take the principles of good sportsmanship and leadership out into the community to help other young people learn more about these really pressing issues of our time. The more that young people learn and know then the more that we can make informed decisions as we grow older. This is an excellent initiative and as I said, I'm proud to be part of it."
The Voices of Athletes Champions Program will not only help the VOA Educators and Champions strengthen networks nationally, but they'll also build networks with other youth sport leaders from around the region.
Partner agencies to this 2015 initiative are the ONOC, ORADO, Samoa Association of Sports and National Olympic Committee (SASNOC), SPREP, Sustainable Coastlines, UNESCO, UNAIDS and the United Nations Development Program (UNDP).
For more information on the Voices of the Athletes Champions Program please visit:
www.oceaniasport.com/athletes