News and Events
Coral reefs in the South Pacific: Outlook from the Global Reef Expedition

Webinar, 18 August 2022, 11:00 AM-12:30 PM UTC +13

 

The Pacific is home to around 27% of the world's corals, spread out over vast areas. The remoteness of reefs and capacity constraints present unique challenges for Pacific States to gather scientific information.


The Khaled bin Sultan Living Oceans Foundation completed one of the largest coral reef studies in history: the Global Reef Expedition. Over the course of 10 years, the Expedition circumnavigated the globe aboard the M/Y Golden Shadow surveying some of the most remote reefs on the planet.


Between 2012 and 2015 the Golden Shadow carried scientists and crew to the Pacific Islands Region where they were joined by researchers from the region to conduct extensive coral, benthic and fish surveys. The results of this work represent a huge contribution to understanding of coral reefs in the region.


This Webinar will share the findings of this voyage in the Pacific Region, both wonderful and disturbing.


Both SPREP and KSLOF have endorsed Actions under the IOC Decade for Ocean Science. This webinar will provide a platform to explore science needs for the Pacific and to form future collaborations.

Agenda

Opening remarks from SPREP
Introduction to the Khaled Bin Sultan Living Oceans Foundation and to the Global Reef Expedition 
State of the Corals and Reef Fish in the South Pacific 
Comparison of reefs in the South Pacific to reefs in the Caribbean and the Indian Ocean
KSLOF resources available to use for conservation
Q&A – Discussion

Registration

Webinar will take place from 11:00am – 12:30pm, Apia, Samoa (UTC+13) on 18 August 2022.

English - French Interpretation provided (meeting will be recorded and made available)


If you are interested in joining us for this online event, register here: 

https://sprep.zoom.us/j/95838382943?pwd=eXJhUFVkMnRlbm1VS1Q3MzRYOXZoQT09 
Vision
"By 2030, the resilience and health of reef ecosystems in the Pacific islands are improved."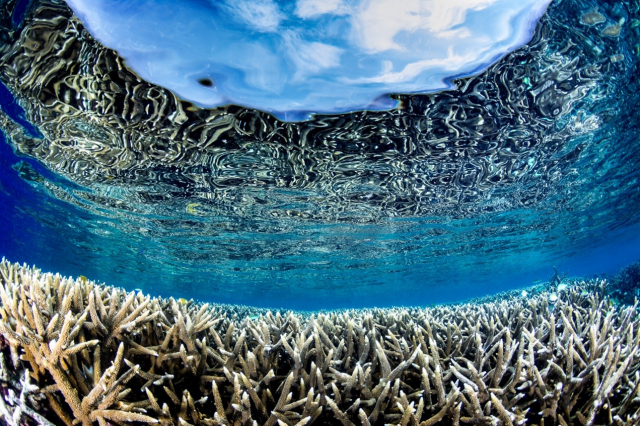 Coral reefs of the Pacific
Coral reefs occur throughout the Pacific islands. There are no other places in the world where coral reefs are so prevalent and have flourished and evolved, as they have in parts of the Pacific. The Pacific region is home to approximately 25 per cent of the world's corals. The reefs are ecologically and socially important for the islands and their people, biodiversity and economies. They nourish and stabilise shorelines, provide income through tourism and fishing, are a vital source of protein for many people, and are part of cultural identity. The region's coral reefs not only benefit the Pacific but also the world, in terms of their contribution to biodiversity, habitat and the fishing industry
Many Pacific coral reefs are being damaged by habitat disturbance, pollution, fishing and climate change; climate change is believed to be the greatest human-induced threat to corals in the Pacific region. To prevent Pacific coral reefs degrading further, substantial effort is needed. In recent years, Pacific Island countries and territories have implemented various coral-reef conservation projects but more action is needed. A regional approach driving collaboration, exchange and partnerships is therefore vital to help secure the future of the region's reefs and the livelihoods of its people.
Pacific Coral Reef Action Plan 2021–2030
Developed with SPREP's members and adopted in September 2021 at the 30th SPREP meeting, the Pacific Coral Reef Action Plan 2021-2030 enables leaders of Pacific Island countries, coral-reef managers and community members to coordinate their efforts to protect these valuable ecosystems. The Pacific coral reef action plan 2021–2030 intends to focus the region's coral-reef conservation and management on four priorities over the next ten years:
Conservation of habitats and biodiversity
Sustainable fisheries and food security
Resilience and adaptation to climate change
Sustainable tourism
Local awareness, custodianship and traditional knowledge make an important contribution to each of these priorities.
Action Areas
The plan identifies 8 action areas where efforts and funding should concentrate.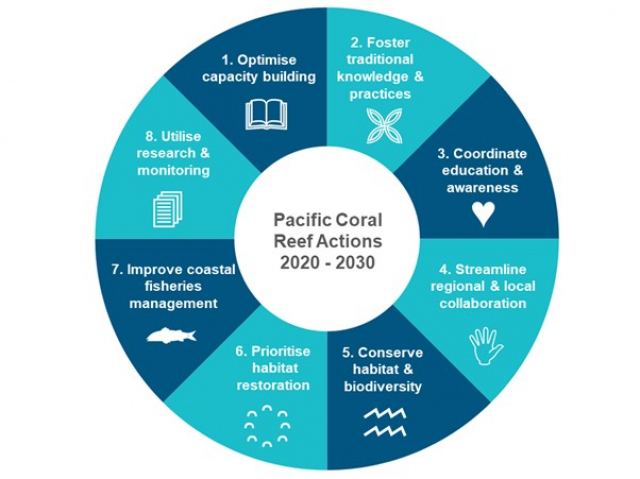 Access the Pacific Coral Reef Action Plan 2021–2030
Resources
To know more about the Coral Reefs of the Pacific Island region :
•    The Sixth Status of Corals of the World: 2020 Report and its Specific chapter on the Pacific region
•    The State of Environment and Conservation in the Pacific Islands: 2020 Regional Report
Additional resources
•    International Coral Reef Initiative website:
•    The United Nations Decade of Ocean Science for Sustainable Development (2021-2030)
PAST EVENTS
The science we need for healthy and resilient coral reefs in the Pacific

10 March 2022

This Decade of Ocean Science Satellite event on A Healthy and Resilient Ocean gathered coral reef scientists, young scientists and students, donors, institutions and NGOs to discuss the Pacific Coral Reef Action Plan and the science and knowledge needed to contribute to conserving, restoring and managing 25% of the world's corals.

This event was part of the United Nations Decade of Ocean Science for Sustainable Development 2021-2030 Ocean Decade Laboratories series, sponsored by the Federal Ministry of Education and Research and the UNESCO Intergovernmental Oceanic Commission.

 

View the wrap up of the Healthy and Resilient Ocean Laboratory

(Go to 1:17:35 for This event summary)

French Polynesia © Hannes Klostermann / Ocean Image Bank