10 August 2011, Majuro Marshall Islands - Regional Meteorological Directors from around the Pacific came together in Majuro this week, to discuss proposals for enhancing national meteorological services.
The fourteenth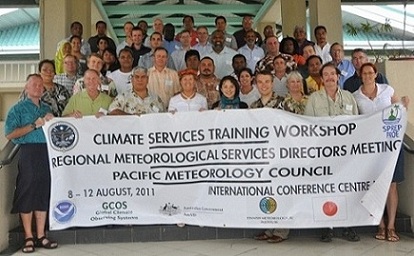 meeting of the Regional Meteorological Services Directors (RMSD) was opened on Tuesday 9th of August, in the International Conference Centre, with a key note address from Honourable Ruben Zackhras, the Minister in Assistance to the President of the Marshall Islands.
The Minister noted that the Pacific is a major driver of the global climate system while on the other hand the Pacific Islands are also the smallest and most vulnerable to climate change. He also stressed the importance of the role of the meteorological services in providing advice and assistance to policy and decision makers.
Dr Netatua Pelesikoti, Manager of the Pacific Futures Programme at the Secretariat of the Pacific Regional Environment Programme (SPREP) spoke on behalf of the SPREP Director. She noted that the RMSD was launching a new era in the field of meteorology in the region, through a number of new initiatives such as a new draft strategic plan and partnerships, which will provide much needed assistance to the national meteorological services.
Meteorological Offices around the region provide us with services that are vital to many aspects of our national development. For example, rainfall data allows us to better predict floods and droughts and take actions to build the resilience of vital food crops. The tourism industry also depends upon these services, as flights coming into the islands would not be possible without data from meteorological services. Added to this is the need to provide information on climate change, so that policy makers can better monitor the impacts that climate change is having on our region and make informed decisions on how to better adapt to such impacts.
The meeting is currently in progress, and expects to formalise its outcomes on Friday, 12 August.