January 18, 2023
By Mr Sefanaia Nawadra, Director General, Secretariat of the Pacific Regional Environment Programme (SPREP)
I am excited for 2023 as our 30th anniversary and as the winds of political change sweep through our region in recent months – Australia, Samoa and most recently Fiji. I began my role as Director General of SPREP in April, change gives all of us the opportunity to recommit to our vision, principles and ideals.
We stand united with you all in the promise of what this new era will bring after two years of COVID-19 lockdowns and travel restrictions, excited by the potential our Pacific future holds. We have the opportunity to "build back better" and need to collectively commit to making this happen.
Upon the opening of borders, our global community re-engaged in governance gatherings for Multilateral Environment Agreements (MEAs).  It is in these spaces that our Pacific Small Islands Developing States (PSIDS) seek to amplify our Islands' voice and effectively advocate our Pacific Island issues. SPREP was true to its calling to lead and coordinate the support from regional agencies, the UN and partners.
Across November and December, there were three significant MEA events with implications beyond the environment sector in which our Members, Secretariat and Partners were engaged.  The 27th Conference of the Parties to the UN Framework Convention on Climate Change (COP27), the First Session of the International Negotiating Committee (INC1) on Plastic Pollution and the 15th Conference of the Parties to the UN Convention on Biological Diversity (CBD COP15) were held consecutively across November and December resulting in outcomes that will echo throughout our region.
We commend the work undertaken by our Pacific Islands Members as we engaged at these events for the best possible outcome for our region. We extend our appreciation to the Governments of New Zealand and Australia for their financial support in helping our voices be heard across the three global events.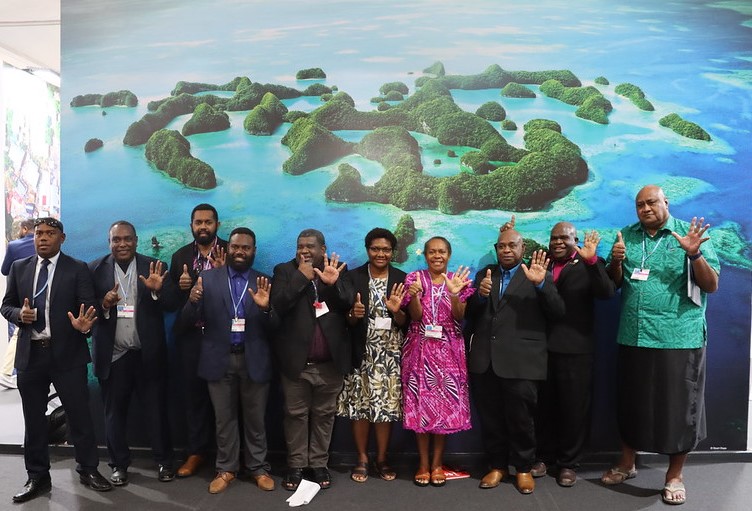 I was so proud of the collective effort of our regional and national teams who went over and beyond the call of duty. Most do not understand the physical, mental and emotional effort that is part of global negotiations, especially for small delegations as we strive to keep connected to the myriad of complex negotiation streams.  SPREP is grateful to have worked with you all throughout these different spaces to help amplify our Pacific voice on the international stage. Especially rewarding is the strengthened linkages and work relationship with our missions in New York, especially the Permanent Mission of Samoa and H.E Ambassador Fatumanava-o-Upolu III Pa'olelei Luteru, as they led Pacific SIDS and in 2023 the Alliance of Small Islands States (AOSIS). We are also liaising closely with the Permanent Mission of Palau who will be handed the leadership baton in New York, and at the end of 2024 of AOSIS so we can continue to offer our support.
In 2017 we had our final Pacific Climate Change Roundtable (PCCR) as we transitioned to Pacific Resilience Meetings underpinned by the Framework for Resilient Development in the Pacific: An Integrated Approach to Address Climate Change and Disaster Risk Management. Unfortunately, the functions of the PCCR were lost in transition and there is currently no functioning coordinating body for regional action on climate change pulling together Members, Regional Organisations, the UN, NGOs, the Private Sector and Academia as the PCCR used to do. Many Members and Partners have raised issues that point towards the need for coordination within the region. SPREP already provides this coordination for climate advocacy through the One CROP Plus (Council of Regional Organisations of the Pacific plus others) mechanism and is best placed to also cover coordination of regional action.
This year we will reconvene the PCCR, as a platform and forum for coordination, exchange of information, approaches and lessons learnt for climate change-related actions at both the national and regional levels. We will cover both mitigation and adaptation and emerging areas of loss and damage, ecological security and focus on natural solutions and ecosystem-based adaptation We will link this to global networks such as the Asia Pacific Adaptation Network, Global Adaptation Network and the Nationally Determined Contribution (NDC) Hubs. We will be engaging with all our Members and Partners in this initiative.
A new legally binding instrument on plastic pollution, including in the marine environment must be in place by the end of 2024.  SPREP is tasked with ensuring we are actively and effectively engaged in this important global process. The INC1 on plastic pollution including in the marine environment was held in November 2022 in Punta del Este, Uruguay.  The second INC will be held in May this year in Paris, France.
SPREP will continue working with you, our Members to build our capacity and strategise so our Pacific Islands voice in the INC processes will be heard and our asks reflected in the final instrument. We will help empower your engagement through preparatory meetings and briefs, negotiation resource development, building our negotiation skillsets, provision of technical support at the negotiations and providing platforms and meeting space. We are grateful for the continued support from Australia which allows us to provide this assistance to Members.
SPREP leads the One-CROP Plus mechanism works for our Pacific engagement in the UNFCCC COP processes. We are applying a similar approach for the INC and the CBD but utilising the regional coordinating mechanisms that SPREP has established – The Cleaner Pacific Roundtable for INC and The Nature Conservation Network/Pacific Island Roundtable for Nature Conservation for CBD.
Enhancing informed decision-making is on our priority list for 2023 as we aim to continue building the ability to collect, analyse, store and share data across our Pacific islands.  This information is essential for informed, and effective, decision-making, monitoring the effectiveness of interventions and reporting national actions and global obligations.  Five years ago we started the Inform Project, funded by the Global Environment Facility which will end in 2023. It established a strong nucleus of national data portals, agreed indicators and trained practitioners but it does need continued support.
The 2022 SPREP Executive Board Meeting endorsed the development of a project to continue this work through country STAR (System for Transparent Allocation of Resources) under the 8th replenishment of the Global Environment Facility.  The first formal letter of support was received from the Cook Islands with many countries indicating they will follow suit.  We will work to develop a full project document in 2023 and look forward to working together with our Members and partners to make this happen.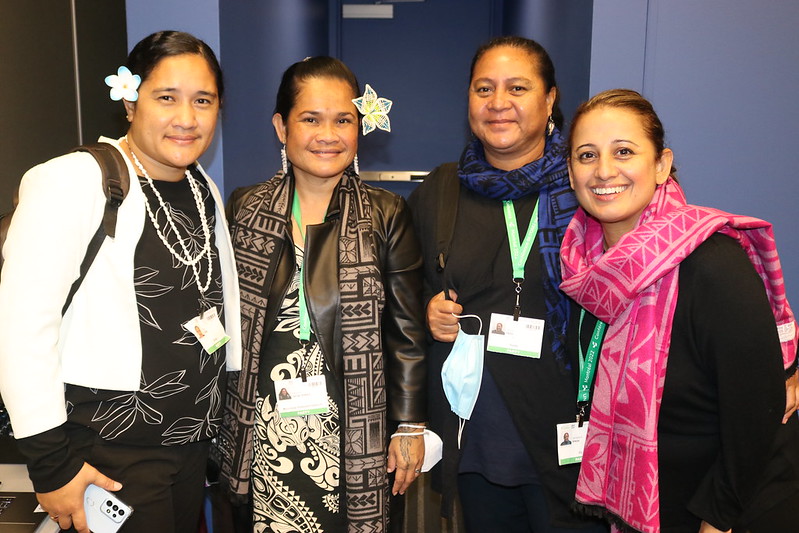 CBD COP 15 endorsed the new Post-2020 Global Biodiversity Framework consisting of four goals and twenty-three targets to be achieved by 2030 to halt and reverse the loss of biodiversity.  We will need to revise the Pacific Island Framework for Nature Conservation and Protected Areas 2021 – 2025 in light of the GBF and these will guide our nature conservation work across our islands region over the coming years.
SPREP will manage and implement the European Union-funded Pacific Biodiversity and Sustainable LandSeascapes (Pacific BioScapes) Programme that will contribute to the sustainable development of Pacific Small Islands Developing States by supporting and improving the management and sustainable use of marine and coastal resources. It provides an opportunity to address critical issues concerning coastal and marine biodiversity, and ecosystem-based responses to climate change adaptation.
As well as region-wide and sub-regional activities, 11 Pacific countries (Cook Islands, Fiji, Kiribati, Republic of the Marshall Islands, Federated States of Micronesia, Palau, Papua New Guinea, Samoa, Solomon Islands, Tonga and Vanuatu) will implement activities to be funded by the Programme with support ranging from national to community levels. SPREP will work with a number of nationally and regionally based NGO and civil society partners to facilitate effective in-country and sub-regional delivery of activities.
This year is a pivotal one for all of us as we reflect upon thirty years of work, and impact in our Pacific islands region as we united for a sustainable environment.  We sit on the cusp of new and emerging environmental challenges that we will work together to address.  Our future is wide open, adorned with our years of experience, lessons learnt and technical expertise in our Pacific islands' capacity.  We know that together, across 2023 and the many years ahead - we can achieve our SPREP vision of a Pacific environment that sustains our livelihoods and natural heritage in harmony with our cultures. 
A key organisational approach that we will continue in 2023 is to strengthen our sub-regional and national presence. We will opportunistically do this through projects – we will be considerably strengthening our Fiji Office from a current complement of three to around 15 staff including our Director of our Islands and Oceans Ecosystems. The presence of a member of our Senior Leadership team in Fiji will allow for better engagement with our regional, UN and NGO partners who are based out of Fiji. The majority of Members now also have missions in Fiji. We are recruiting national officers in all countries to facilitate the implementation of our waste projects. We are also exploring opportunities to strengthen our North Pacific Office.
Finally, SPREP is looking forward to the discussions on the implementation arrangements for the 2050 Blue Pacific Strategy. We have well-established regional frameworks and networks in our mandated areas of biodiversity, climate change, waste and pollution and oceans-marine environment protection that we have offered to be utilised for implementation. The 2050 Strategy belongs to all of us, and it is important that we effectively use existing resources so that we don't duplicate or waste effort and resources. I have personally committed to working with our CROP Heads and organisationally through the CROP Working Groups and the fledgling coordination mechanisms with the UN. Here also SPREP is well placed, already housing within our campus the regional offices of the World Meteorological Organisation (WMO) and the UN Environment Programme (UNEP) and jointly implementing with them Memorandums of Understanding, and Programmes of Work.
Our cup is full and overflowing in 2023, we look forward to sitting at the table with you all to strengthen our Pacific island's biodiversity, the backbone of our livelihoods, culture and traditional practices. As we embark on our 2023 journey, we would like to thank our Members and our Partners.  All the work that we do is made possible with the generous support of donors and partners. The confidence in our abilities expressed by our generous donors and partners who have chosen to support the work we do is very much appreciated.
We will be seeking pacific wide participation as we commemorate our 30th year of SPREP, our celebration is a reflection of our joint commitment, work and partnership.  Our focus must always be to serve the needs of our Pacific members, to whom we owe our existence as an organisation.   We will continue to magnify our work through this lens, as it is the well-being of our Pacific Islands people and environment that continues to guide us on our journey.
I and our team look forward to working with you all to make 2023 a memorable year for all of us. May our Lord, Jesus Christ continue to strengthen and bless us all.