September 16, 2013 by
admin
16 September 2013, Apia Samoa, 24SM
- "SPREP is the lead agency in the Pacific region for climate change," reiterated Hon. Prime Minister of Samoa. Afioga Tuilaepa Lupesoli'ai Sailele Malielegaoi, during his opening address at the opening of the
24th meeting of the Pacific Regional Environment Programme.
"The last 20 years has seen environment becoming a more important issue and it has also seen a strengthening of the role and importance of SPREP. When SPREP came here it had a small but dedicated staff. Since that time the organisation has grown to address a range of critical issues for the Pacific."


"SPREP's programme now supports practical programmes in all Pacific countries, including on protecting biodiversity, reducing and better managing solid waste and hazardous material, and addressing the impacts of climate change."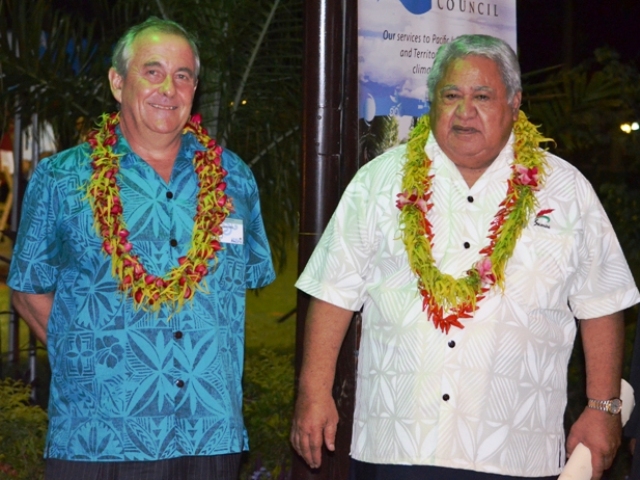 Director-General of SPREP with the Prime Minister of Samoa
A commemoration of SPREP's 20 years of service to the Pacific island region was a strong theme throughout the opening ceremony of the 24th Annual Meeting.


A brief look back through the history of SPREP, born from an agreement signed in the hall of a girls school after Cyclones Ofa and Val destroyed many buildings and homes in Apia, showcased how far SPREP has expanded over the last two decades.


"Since that time SPREP has grown, but so have the environmental challenges facing our region," said Director-General Mr. David Sheppard during the opening.


"The Pacific Islands Forum Leaders Meeting held in the Republic of the Marshall Isalnds two weeks ago issued a Communiqué which places strong emphasis on environmental, issues, including invasive species and the management and conservation of the Pacific Ocean.


"Leaders highlighted climate change as the greatest threat to the peoples of the Pacific and issued a statement on "Marshalling the Pacific Response to Climate Change."


"This high prominence reflects the fact that the environment cannot be separated from sustainable development and the livelihoods of people in our region. This linkage has underlined the approach of SPREP since our beginning."


The SPREP meeting is an opportunity for members and partners to celebrate their achievements over the previous year and agree on next steps in realising their vision for a "Pacific environment - sustaining our livelihoods and natural heritage in harmony with our cultures".


The 24th Annual Meeting of the Pacific Regional Environment Programme is held in Apia, Samoa from 17 to 19 September, chaired by the Government of Nauru and brings together 24 of the 26 members of SPREP, including the newest member, the Government of the United Kingdom.


Former host and chair of the 2012 Annual SPREP Meeting was New Caledonia.