September 3, 2014 by
admin
2 September 2014, Apia, Samoa -
A parallel event on Access and Benefit Sharing (ABS) on Marine Bioprospecting was held at the Secretariat of the Pacific Regional Environment Programme (SPREP) campus during the UN SIDS conference in Samoa.
The presenters were Clark Peteru, Legal Adviser at SPREP, Dr Andreas Drews, Coordinator of the ABS Capacity Development Initiative of GIZ (

German Federal Enterprise for International Cooperation

), and Ms Katarina Atalifo-Malo, Fiji Sub-regional Coordinator of the Global Environment Fund's Small Grant Programme (GEF-SGP).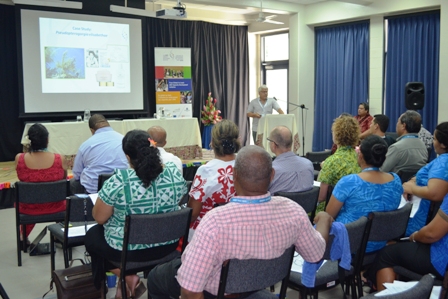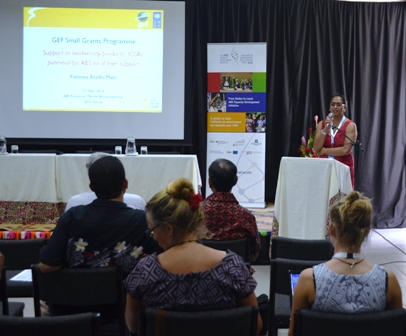 Ms Katarina Atalifo-Malo, Fiji Sub-regional Coordinator of the Global Environment Fund's Small                                                                    Grant Programme (GEF- SGP)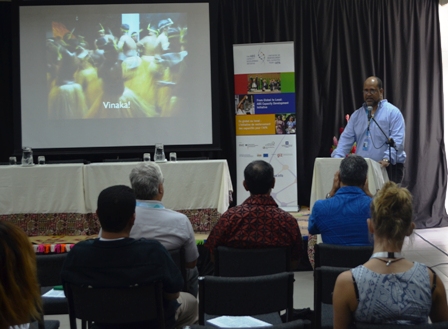 Mr. Giles Romulus, National Coordinator, GEF-SGP (Saint Lucia)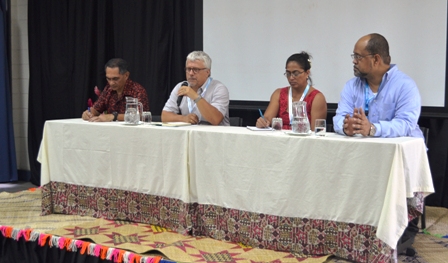 The Panelists L - R Mr. Clark Peteru SPREP, Dr. Andreas Drews GIZ, Ms Katarina Atalifo-Malo                           GEF-SGP Fiji Sub-regional Office, Mr. Giles Romulus GEF-SGP Saint Lucia 
The forum's focus was the relevance of marine bio-prospecting for ABS frameworks, offering countries some suggestions for consideration for effective national ABS frameworks.
·

        
Evidence shows that bio-prospecting mostly takes place in national territories, including many accesses in the deep-se and extreme environments.
·

        
National ABS frameworks in coastal states need to establish institutional structures that allow for effective access procedures in the marine territory
·

        
Countries need to establish effective monitoring and compliance measures to ensure legal utilisation of marine genetic resources and associated traditional knowledge.
·

        
Miniscule concentrations of most Marine Natural Products in marine organisms necessitate the establishment of sustainable harvesting and aquaculture or chemical synthesis and fermentation to avoid over exploitation and extinction.
·

        
All stages of the value chain - especially those using synthetic Marine Natural Products - need to be covered in benefit sharing agreements to enable countries to benefit from the financially significant commercial phase.
·

        
The access permit should include all organisms harvested together with the main genetic resource
·

        
Monetary and non-monetary benefit sharing should be specifically targeted to support the protection of marine genetic resources and to establish sustainable ways of sourcing of the raw material.
The ABS Capacity Development Needs in SIDS Parallel Event was on the Dimensions and potentials of Marine Bioprospecting.  It was held on Tuesday, 2 September at the SPREP Headquarters.