Island and Ocean Ecosystems
Climate Change Resilience
Environmental Monitoring and Governance
Waste Management and Pollution Control
General News
15 June 2023, Apia Samoa - More than a hundred students from schools across Samoa have made a collective commitment to preserve the Pacific environment - sustaining our livelihoods and natural heritage in harmony with our cultures.  
They made the commitment when they joined the celebration of the 30th birthday of the Secretariat of the Pacific Regional Environment Programme (SPREP) at Vailima Samoa, on Thursday 15 June 2023.
To mark the 30th Anniversary of the signing of the SPREP Treaty, which established the Secretariat as a fully autonomous body in 1993, an Open Day was hosted at the SPREP Campus attended by 13 local schools and two tertiary institutions. The Open Day was an opportunity for students from around Samoa, and those who joined virtually from around the region, to learn about the important work the Secretariat has done and continues to do to protect our unique Pacific environment.
Speaking on behalf of all the students who attended, Ms Dolce So'oalo, of Fa'atuatua Christian College, delivered an emotional address about their role in the preservation of the environment.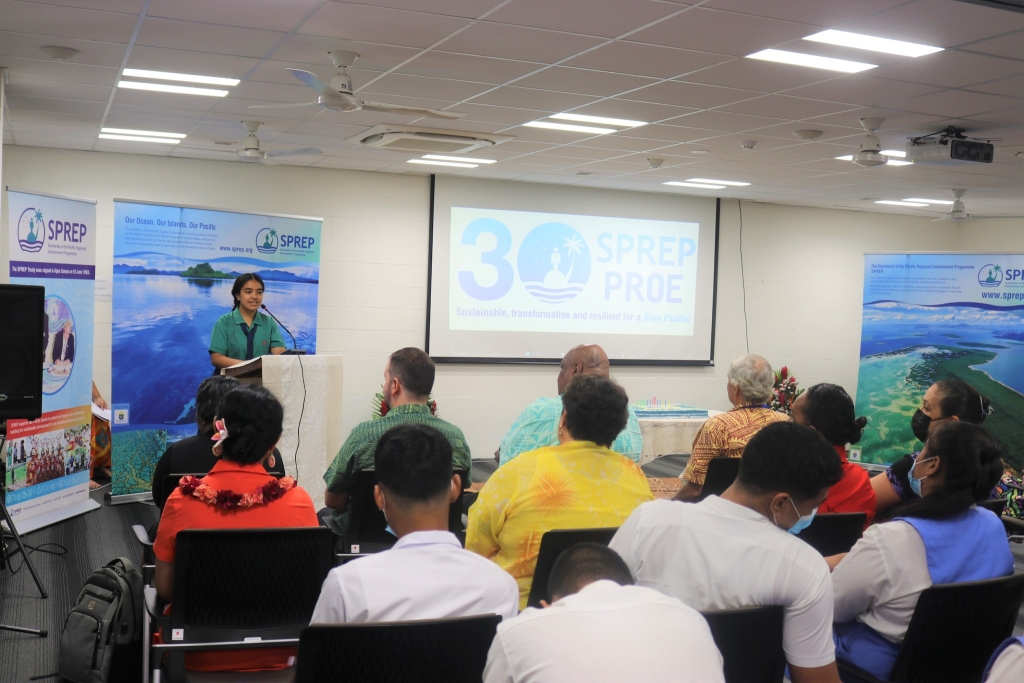 "As future guardians of our ocean and environment, today's invite is an awesome opportunity to help educate us to be more responsible members of the Samoan society as well as the Pacific islands region," she said. "Our collective response to your invitation today is our commitment that together we vow to join you to help promote cooperation, protect and promote sustainable development so that your efforts and hard work today is continued and strengthened by us, the future generation, tomorrow."
SPREP began life in the late 1970s as a joint initiative of SPC, SPEC, ESCAP and UNEP - eventually functioning as a component of UNEP's Regional Seas Programme. The Programme received further impetus as a result of the 1982 Conference on the Human Environment in the South Pacific. Following a period of expansion and long deliberations, SPREP left SPC in Noumea in 1992 and relocated to Samoa. It achieved autonomy as an independent inter-governmental organisation with the signing of the Agreement Establishing SPREP in Apia on 16 June 1993.
"Thank  you SPREP for continually leading the way in assisting Pacific islands develop capacity in environmental governance, policy and planning development, environmental impact assessment and monitoring to name a few," Ms So'oalo said. "Thank you for caring for our Pacific islands as you help preserve and protect its fragile beauty and all the while helping our people overcome environmental challenges. Thank you for 30 years of promoting and caring for our islands and our oceans."
SPREP's Director General, Mr Sefanaia Nawadra, said as the region's key inter-governmental organisation for environment and sustainable development, it was important for the Secretariat to engage with students and members of the Pacific communities to promote and raise awareness about the work being done. The Open Day is one of those key engagements.
"As people of the Pacific, we have a high moral position when it comes to addressing a lot of the environmental challenges the world is confronting today.  We don't contribute to the issues that have caused these problems in the first place but unfortunately we are amongst the first countries to feel the impact of these actions," said Mr Nawadra. "We need to continue to be the world's conscience on the issues affecting our environment and getting young people on board is extremely important."
During the Open Day, students were divided into groups and taken to different stations set up around the campus representing the four programmes, Waste Management and Pollution Control (WMPC), Island and Ocean Ecosystems (IOE), Environmental Monitoring and Governance (EMG) and Climate Change Resilience (CCR), as well as the Finance and Administration Department, Human Resources Department, Legal, Internal Audit, Communications and Outreach, Strategic Planning and Project Coordination, and Information Services. 
A special virtual station and virtual tour of the SPREP Open Day activities were set up for student joining virtually from Tonga High School and the University of the South Pacific (USP) Tuvalu campus.

The schools that attended included Fa'atuatua Christian College, Chanel College, Seventh Day Adventist College, Anoama'a College, St. Mary's Primary School, Robert Louis Stevenson Primary School, Vaivase Primary School, Vaigaga Primary School, Divine Mercy Primary School, Vaimea Primary School and Apia Primary School. Students from the National University of Samoa (NUS) and the University of the South Pacific (USP) were also present.