December 16, 2016 by
admin
Island and Ocean Ecosystems
15 December 2016, CBD COP13, Cancun Mexico
- How much do you know about the Cartagena Protocol on biosafety and why it is important for the Pacific islands?
There are ten Pacific parties to this Protocol which aims to ensure the safe transport, handling and use of living modified organisms (LMO) resulting from modern biotechnology that may have adverse effects on biodiversity.
Fiji, Kiribati, Marshall Islands, Nauru, Niue, Palau, PNG, Samoa, Solomon Islands, and Tonga are party to the Protocol which is linked to the Convention on Biodiversity, which, helps to protect Pacific communities and biodiversity from the consequences of living modified organisms.
The Cartagena Protocol was adopted on 29 January 2000 as a supplementary agreement to the Convention on Biological Diversity and entered into force on 11 September 2003.
So why is this Protocol important for our region?
This protocol helps to ensure the safe transport, handling and use of these LMO's from biotechnology. It would require putting in place enabling environments through proper legislative frameworks, laboratory facilities and technology including technical capabilities to enable countries to detect, measure and monitor LMOs that come into the country.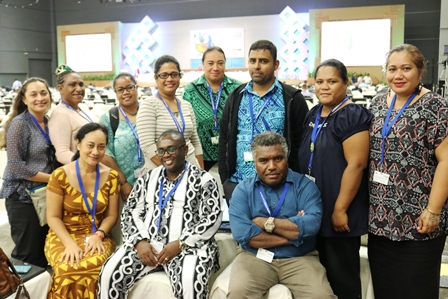 Pacific island parties to the Cartegena Protocol with Easter Galuvao of SPREP and the
UNEP-GEF Biosafety Portfolio Manager, Alex Owusu-Biney, at a brief meeting at the CBD COP13
The Cartagena Protocol is on the agenda at the Thirteenth Conference of the Parties to the Convention on Biodiversity in Cancun (CBD COP13), for which the Pacific islands are calling for targetted technical and technological support to help implement.
Currently different countries are at varying stages of implementing the Protocol.
Fiji began consultation with the Ministry of Agriculture early this year to design ways to move forward on this, moving the responsibility of this protocol to the Agricultural ministry may be one way to address it.
In Papua New Guinea, there is a national framework on biosafety as well as a draft bill awaiting approval. The University of Papua New Guinea are also trying to source funding to review all the work carried out under this protocol and to recommend a way forward.
A biosafety legislation has been drafted for Palau, which is still under review. The priority for Palau at this stage is to develop the biosecurity management plan for Palau which is in the pipeline.
Tonga has developed a national biosafety planning framework which needs to be updated, yet for further work, resourcing and building their ability to carry out the protocol is needed.
"We are hoping that here, at the CBD COP13, we can see a formal acknowledgement of the need for more capacity to help us implement work under this protocol and more support put to that," said Ms Atelaite Lupe Matoto Director for Environment, Ministry of Meteorology, Energy, Information, Disaster Management, Environment, Climate Change & Communications (MEIDECC) of Tonga.
"We face the challenge of not having enough technical advice and support to really help make this work well for us in Tonga. This is our call at the negotiations and we really hope to see a positive outcome so we see enhanced skills, more training, strengthened expertise nationally, and financial support."
The sentiments of Tonga, are also echoed by FSM which is not a Member to the Cartagena Protocol, but this island nation is aware that this has implications on them as a country in the region.
"Yes, we need the technical support to help us fully comprehend the implications of biosafety impacting small islands within our Pacific region as we are challenged by human capacity to address this issue and its implications to the genetic resources in the context of the Nagoya Protocol which we are a member of," said Ms Alissa Takesy, Assistant Secretary of FSM Department of Resources and Development.
"We are hopeful that here, working together as one Pacific voice, that our call for more support and capacity building for these agreements, will be heard."
The CBD COP13 is being held from 4 – 17 as well as the eighth Conference of the Meeting of the Parties (COP-MOP) of the Cartagena Protocol (COP-MOP 8) and the second COP-MOP Nagoya Protocol (COP-MOP 2).
- #PacificProtectedAreas

For more information on the Cartegena Protocol please visit:
https://bch.cbd.int/protocol/