September 16, 2013 by
admin
Opening Statement to the 24th SPREP Meeting Apia, Samoa


Statement by the SPREP Director General, David Sheppard


Honourable Prime Minister


Ministers


SPREP Members


Ladies and gentlemen
Good evening, Bon Soir, Talofa
Thank you Reverend for your wise words.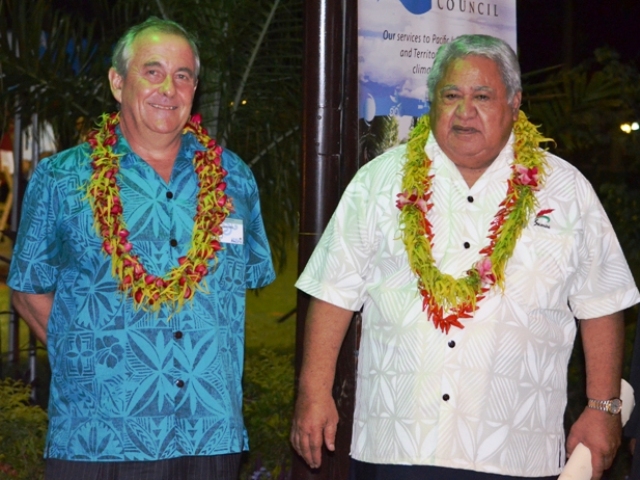 Thank you Prime Minister for honouring us with your presence this evening.
I would like to extend a warm welcome to you all to this Official Opening Ceremony for the
24th SPREP Meeting
.
I hope your journey here was a safe one, and that the week ahead will be a productive and enjoyable one.


I am well aware this is a busy time for all of us working in the environmental field and that you are all busy people. Thank you for making the time to attend this very important meeting.


It is pleasing to note that 24 out of the 26 Members of SPREP are attending this years'
SPREP Meeting
, including our newest member, the Government of the United Kingdom.
In total this SPREP Meeting will welcome around 150 participants, including over 20 partner organisations. For SPREP this represents a record - congratulations to you all on being part of such a record breaking event.


16 June this year was a special day for SPREP, marking 20 years since the SPREP Agreement came into force. We celebrated with a great party at SPREP and a very large birthday cake.


The Agreement was signed in one of the halls at the Papauta Girls School just down the road from SPREP's current campus.


Why it was held there ? Well, at that time there were not many places in Apia large enough to hold more than the 100 people who came for the meeting, particularly after cyclones Ofa and Val in 1990 and 1991 had destroyed many buildings and homes in town.


Former SPREP Director, Joe Reti tells me that it was an interesting meeting, with some heated discussions, particularly regarding who could, and who could not, sign the Agreement. However Joe noted that all issues were resolved through discussion and good will on all sides - in line with our Pacific way.


Since that time SPREP has grown but so have the environmental challenges facing our region.


The Pacific Islands Forum Leaders Meeting held in the Republic of the Marshall Islands two weeks ago issued a
Communique
which places strong emphasis on environmental issues, including invasive species and the management and conservation of the Pacific Ocean.
Leaders highlighted climate change as the greatest threat to the peoples of the Pacific and issued a statement on "Marshalling the Pacific Response to Climate Change".


This high prominence reflects the fact that the environment cannot be separated from sustainable development and the livelihoods of people in our region. This linkage has underlined the approach of SPREP since our beginning.


The challenges in our region are unique, immense and they are growing.


The Forum Meeting Leaders Meeting in Majuro noted that many Pacific countries and territories are taking decisive action to adapt to climate change. In the words of President Loeak of the Republic of the Marshall Islands to the Forum: "In the Pacific we are doing more than waving our hands in distress" and he added: "these actions send a clear message to the rest of the world that if we can do it, you can too, if we can reduce our emissions by 30% than so can you".


This spirit of developing "Pacific solutions to Pacific problems" runs through many of the programmes at SPREP and many activities undertaken in Samoa.


On the theme of Pacific solutions, I would highlight a world first from Tokelau which now generates 100% of its energy from solar energy rather than from expensive imported diesel.


SPREP's Clean Pacific Campaign
has highlighted the need for tailored responses to waste and pollution in the Pacific. This Campaign emphasized that "every action counts".
The take home message for you all in the audience is to think about what you can do to address environmental issues - in your home, in your village, in your community.


Think about what you can do and remember that "every action counts"


SPREP is putting our money where our mouth is. Some examples of how we are "walking the talk" include running our vehicles on coconut biodiesel - all are running well -applying composting and recycling at our compound, and aiming to have our meetings, such as this years' SPREP Meeting, paper free.


We have a busy week ahead of us with many matters of pressing importance for our region.


We look forward to benefitting from your collective wisdom and guidance as we move forward.


We will be reporting to this meeting on many positive developments at SPREP over the last year.


As one key example, I am very pleased that SPREP has more than doubled the level of financial and technical advice and support to our Pacific island members over the last few years, and we will continue and strengthen this support.


The outcomes from this years' SPREP Meeting will feed directly into a number of key events.


Secondly, and most importantly, the landmark
Small Islands Developing States Conference
which will be held in Samoa in September next year, and will provide a once in a lifetime opportunity for our region and for SIDS.
In closing, I would like to acknowledge the hard work of SPREP staff, over the last year.


Many of you have had the opportunity to work directly with our staff members. We look forward to strengthening the bonds of this relationship – both professional and personal - over the coming week and beyond.


I thank and applaud the efforts of SPREP Members to ensure a better Pacific environment is passed on to our children and to future generations.


Thanks are due to our host country. Samoa is a beautiful country and I hope you will be able to visit some of its sites and attractions. SPREP is indeed fortunate to be so generously and graciously hosted by the Government of Samoa. We deeply appreciate this support and generosity.


Thank you Prime Minister for your continued and strong support for SPREP over many years.


I look forward to a positive, busy and enjoyable week together.


Thank you, Merci beaucoup