September 20, 2017 by
admin
Environmental Monitoring and Governance
Experience has shown over time that ad-hoc, uncoordinated national actions coupled with fragmented data and inadequate policies and strategies have contributed little to improving environmental quality in the Pacific Islands region. The Kiribati Integrated Environment Policy or KIEP,developed with the support of the Secretariat of the Pacific Regional Environment Programme (SPREP), represents a first attempt by a Pacific island country to address these issues through the consolidation of its environment-related priorities and obligations under one coordinating mechanism and overarching framework.
Five years on from its commencement, how far has the KIEP achieved its objective as an 'all-in-one' approachfor improving environmental management at the national level and integrating environmental priorities into national development planning processes?
To answer this question, this article draws upon two milestonesthat have gained momentum through the KIEP.
Setting up an Environment Information Management System (EMIS)
With support from the United Nations Development Programme - Global Environment Facility (UNDP-GEF), an Environment Management Information System (EMIS) was developed in 2016 with the aim of assisting Kiribati to fulfil its national reporting requirements to international conventions. The EMIS integrates relevant data and information on cross cutting issues from various national stakeholders.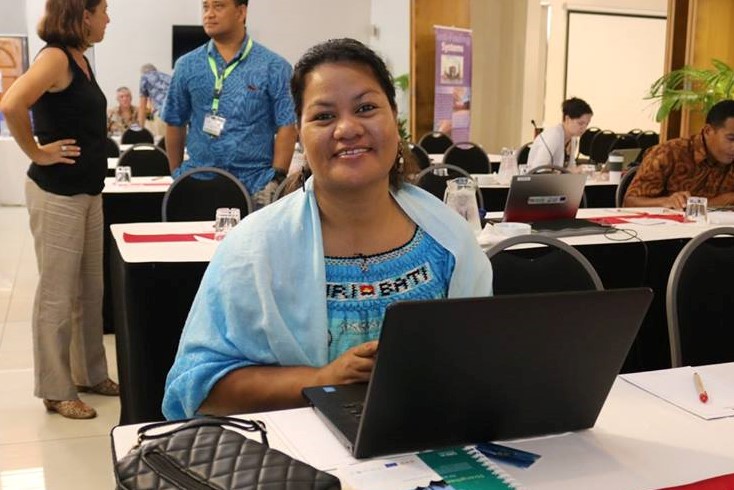 Ms Taouea Titaake-Reiher, Deputy Director fof the Environment and Conservation Division,
Ministry of Environment, Lands and Agricultural Development, Kiribati. Photo: SPREP
"The EMIS is one of the outcomes of the KIEP. The system stores all environmental information, in particular,our national environment indicators that are useful for helping us to meet our reporting under the Rio Conventions. The comprehensiveness of the EMIS datasets depends very much on acquiring data from our stakeholders and it has been a real challenge. To remedy this, we are looking into a position dedicated to the collection of relevant data from our stakeholders," said Mrs. Taouea Titaake-Reiher, Deputy Director of the Environment and Conservation Division, Ministry of Environment, Lands and Agricultural Development (ECD-MELAD).
Increased budgetary allocation to support biodiversity programmes
Additional resources were committed in 2014 and 2016 to create two Biodiversity Conservation Officer position sunder ECD-MELAD, with salary and operating budgets integrated into the core MELAD budget.
"Another notable outcome of the KIEP was the recent establishment ofthese new positions, supported by our recurrent budget, focusing on biodiversity conservation. Two officer positions have been established and resources allocated to enable them to carry out their work. This has significantly increased our human resource capacity to deliver on our national biodiversity conservation priorities" said Mrs. Titaake-Reiher
There has been great traction gained through the integrated approach embodied by the KIEP, however challenges still remain. For example, there is currently no system in place to track progress of strategic indicators led and implemented by other sectors.But there are opportunities to address such challenges. Overall, the KIEP represents a willingness and commitment by national government to break down cross sectoral barriers, increase national coordination and dialogue and minimise the duplication of efforts – a model worthy of replication across our region.
The Kiribati Integrated Environment Policy was created with assistance from SPREP in partnership with the United Nations Environment Programme (UN Environment) as part of the European Union-funded initiative for the Africa, Caribbean, and Pacific regions for supporting Multilateral Environmental Agreements (ACP-MEAs).