November 23, 2016 by
admin
Island and Ocean Ecosystems
Training on participatory Three-Dimensional Modelling or P3DM was successfully completed last week for the island of 'Eua, Kingdom of Tonga. ʻEua is a small hilly island close to Tongatapu and is home to one of Tonga's four national parks and supports nationally rare and endangered species. 
The training was coordinated and delivered by the Tonga Department of Environment, Ministry of Meteorology, Energy, Information, Disaster Management, Climate Change and Communications (DOE-MEIDECC) with support and assistance from the Secretariat of the Pacific Regional Environment Programme (SPREP) and the Technical Centre for Agricultural and Rural Cooperation (CTA).
This was an activity under the GEFPAS Integrated Island Biodiversity (IIB) project, which brought together community members, government officials and school children over four days to construct a three-dimensional model of their island. The P3D model is a powerful tool that provides the community with a birds-eye view of important areas within their island and it will greatly assist the communities of Eua with further planning for the management of their national park ('Eua national park) and for island-wide conservation planning.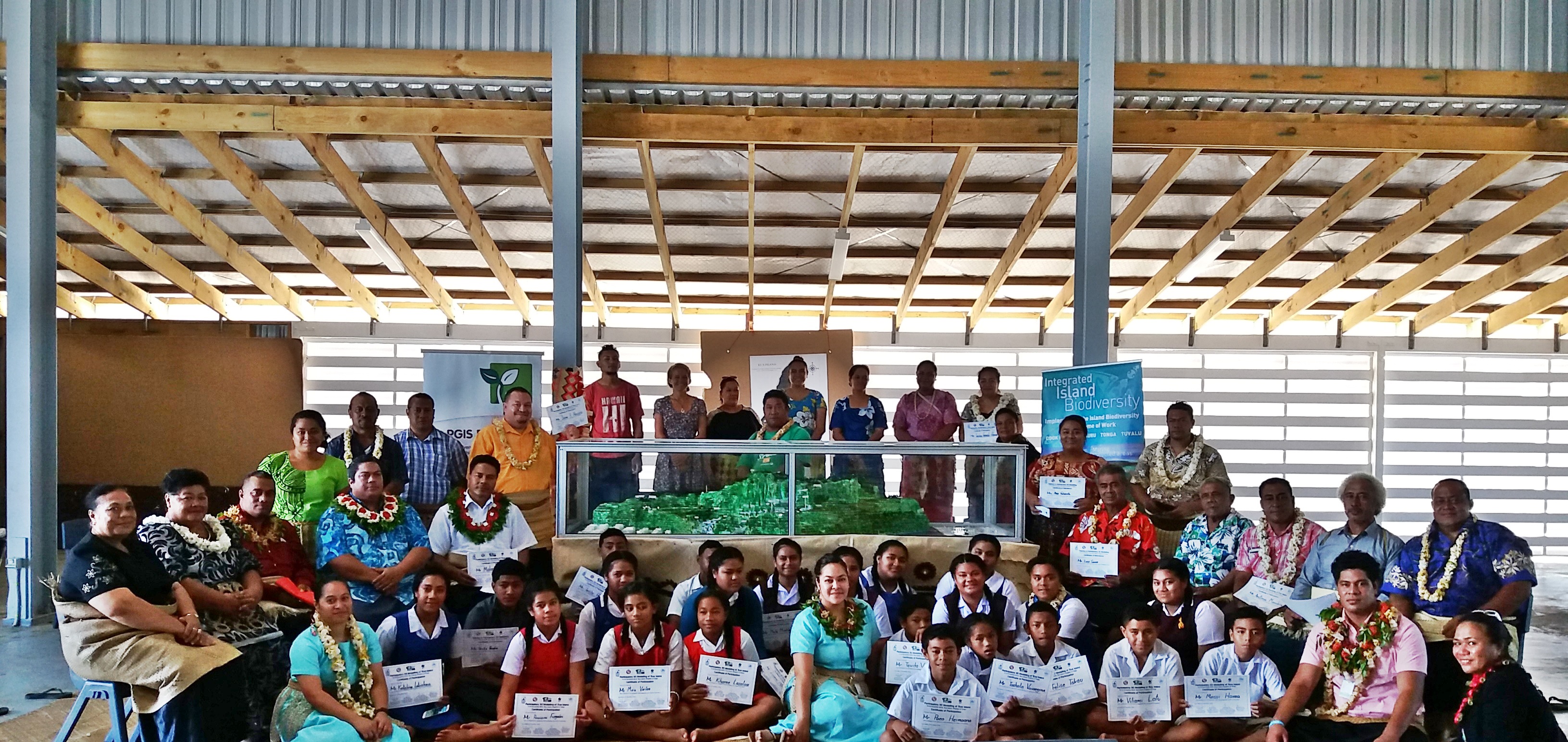 Eua community with their completed 3D model. Photo: SPREP


Schools children who participated found the training a useful experience: "The activity has helped me to have a good understanding of the locations of different natural features and man- made features on the island of Eua. Taking part in this activity will help me with my studies in geography," said Etivise Taulaga of 'Eua High School.
District administrators were happy with the training and the potential of the 3D model as a living tool to inform their work.
"This one of the most important initiatives to be held in Eua, it was especially important to see our community working together with government. I would like to thank the Environment ministry (MEIDECC) as well as other partners who supported this training," said the District Officer for 'Eua, Ms. Sisifa Fili.
"My work involves village boundaries, so the model will assist me with my work on this issue. The model will be useful for our schools, our community and tourists visiting our island. I am very glad to have witnessed and taken part in the training this week."
The training was officially closed last Friday with Mr. Maloni Havea government representative for 'Eua, unveiling of the new 3-dimensional model.
"This training has highlighted the important role of the 3D model, it has helped students to understand the value of spatial information, it has provided a more holistic understanding of the social, cultural and biophysical environment of 'Eua and has highlighted the importance of the community working together towards a common goal, that of the security of our island's natural resources" said Mr Havea.
Other government ministries that took part in the training found that the model will be an important tool for their own work with communities.
"A useful aspect of this training for me was the ability to see in reality the layout of 'Eua Island. The island has great potential for sustainable agricultural production. As there is a lot arable land on but access to this land remains a challenge. The potential to develop livestock and fisheries is great and this model will assist greatly with our ministries' planning in the coming years," said Ms. Pelenatita Kara of the Tonga Ministry of Agriculture.
The training started on Monday 14 November 2016 in 'Eua whic h has an area of 87.44 square kilometres and a population of 5,016 people, as of 2011. 'Eua island, along with other uninhabited volcanic islands hold the majority of Tonga's natural forests, it is important for whale watching and is the only island in Tonga that has a river.
The P3DM training was produced as an activity of Tonga's GEFPAS Integrated Island Biodiversity (IIB) project in collaboration with SPREP and the Technical Centre for Agricultural and Rural Cooperation (CTA), and all the key national agencies, organisations and communities in 'Eua.