December 6, 2022
Waste Management and Pollution Control
05 December 2022, Punta del Este - Pacific delegates who amplified our Pacific's voice during the first session of the International Negotiating Committee (INC1) working to develop a legally binding agreement on plastic pollution, including in the marine environment, are returning home with a better understanding of foundation principles that will allow them to constructively engage and contribute to the ongoing negotiations.
The first round of the INC at Punta del Este, Uruguay, ended on Friday with some unanswered questions, the key ones being on whether goals and efforts under the treaty should be global, mandatory, voluntary and country-led. These questions and more will be further discussed at INC2 scheduled for Paris France, in May 2023, where negotiators are expected to delve deeper into the issues.
On Friday at the Punta del Este Convention and Exhibition Centre, more than 2,000 delegates celebrated the first steps to put in motion a treaty, the Pacific Small Island Developing States say is critical to the survival of communities, who are already struggling with the impacts of the climate crisis.
Plastic pollution has a huge impact upon our ocean.  Ninety eight percent of the Pacific region is ocean. Our Exclusive Economic Zone's comprise over 10% of the world's ocean providing vital ecosystem services valued in many billions of dollars and underpinning economic sustainability in the region.  As a region, we contribute as little as 1.3% of global plastic pollution, however, we are grossly and disproportionately affected by its impacts on our land and in our ocean.
The Chair of PSIDs and incoming chair of the Alliance of Small Island States (AOSIS), Samoa's Permanent Representative to the United Nations (UN), His Excellency Fatumanava-o-Upolu III Dr. Pa'olelei Luteru, said amplifying our Pacific voice in Punta del Este this week was very important.
"Our statement at the start of the plenary referred to the fact that we as a region are responsible for 1.3% of the plastics but the impact on us is disproportionate so I think for us this is similar to climate change and being able to make our voice heard clearly and articulating the concerns that we have is extremely important," Ambassador Fatumanava said at the end of the meeting.
"This is why in all our statements on behalf of all PSIDS, we've tried to ensure they are all inclusive, that we had the different countries to deliver them, not just the Chair of PSIDS. In my view, we are all involved and that's important because we need to stay united and support each other. Amplifying our Pacific voice is extremely important, and as we move along the process I am confident that the Pacific will become even more effective in terms of how they will articulate and fight for what is important to us."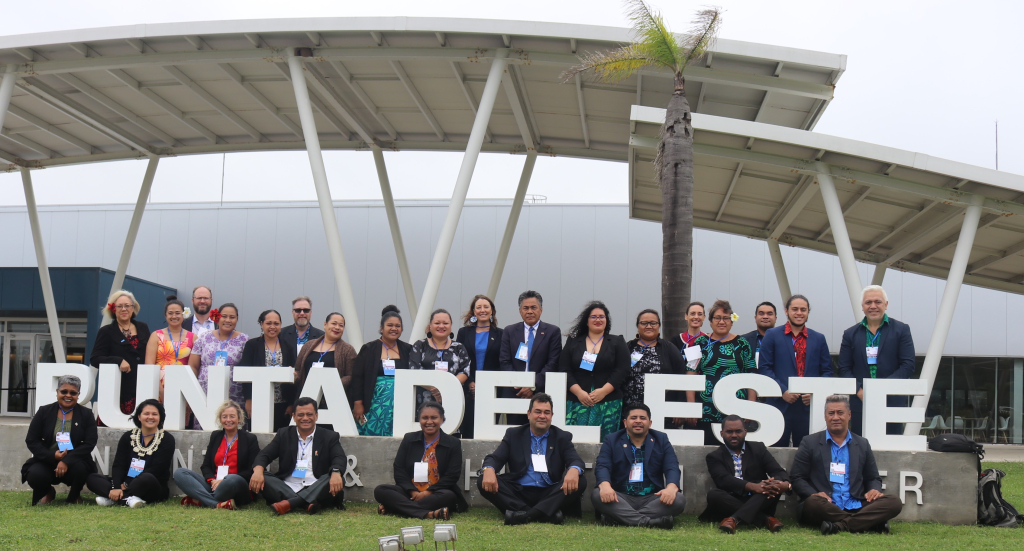 INC1 follows a historical decision by 175 countries at the United Nations Environment Assembly to endorse a resolution on plastic. Countries then tasked the UN Environment Programme (UNEP) with convening and managing the INC process. The meeting in Uruguay took place amidst a mounting plastic crisis that experts say threatens the environment, human health and the economy.
Research shows that humanity produces around 460 million metric tonnes of plastic a year, and without urgent action, this will triple by 2060. According to one UNEP study, over 14 million metric tonnes of plastic enters and damages aquatic ecosystems annually, and greenhouse gas emissions associated with plastics are expected to account for 15 per cent of the total emissions allowable by 2050 if humanity is to limit global warming to 1.5°C.
Ambassador Fatumanava said INC1 was very instructive for PSIDS in terms of the process.
"We have been able during the week to lay down some of foundation principles upon which to build for the coming INCs. Obviously we cannot agree on everything at this stage but I think we have to be careful that we don't become too prescriptive at this stage, and that we need to make room for flexibility because the more difficult part of these negotiations has yet to come," the Ambassador said.
"So we need to look, or agree on the core objective. For example, what is the goal of this legally binding instrument because that will frame the direction in which we should move. Secondly, I think in terms of obligations it is very important to know what are the obligations of countries.
"We also need to have a look at the whole issue of plastics, production, the manufacturing of it, in terms of how you deal with implementation, or the means of implementation. In addition, it is extremely important that we also clearly define what we mean by plastic. In a sense, we can't really talk about something we haven't yet clearly defined because that is also important."
The Pacific Islands were represented at INC1 by Cook Islands, Federated States of Micronesia, Fiji, Kiribati, Niue, Palau, Papua New Guinea, Republic of the Marshall Islands, Samoa, Solomon Islands, Tonga, and Tuvalu through the support of the Government of Australia and the United Nations.
The Secretariat of the Pacific Regional Environment Programme (SPREP) provided support to all the delegations, and worked with PSIDS to coordinate the amplification of our Pacific voice. Ambassador Fatumanava said there is a lot of work to be done.
"The challenge that I see for us in the next INCs is really to get down to the issues that are of concern to us in the Pacific. It's important we look at our own issues and challenges and try to articulate them," he said. "One of the things that's important is to look at how we should strategise, it means forming coalitions with other groups that are of a similar views with those that we hold. At the end of the day, the more support we are able to gather the better our chances are of getting the issues that are key to us approved."
Ambassador Fatumanava also cautioned that there will be pushback from some countries.
"But that's the nature of these things. There is also the issue of consensus and voting which is part of that, if it is by consensus then that means if two or three countries don't agree, then we don't get anywhere.
"We only have two years and there is still a lot of work to be done. We also have to recognise that it's not just about having the instrument approved and endorsed by member states but what comes after that, I'm talking about the implementation part. So it's been instructive and I am hopeful."
From 1 January 2023, Samoa will assume the Chairmanship role AOSIS for a period of two years. For the Pacific Small Island Developing States (PSIDS) group, Palau will assume the Chairmanship role, and follow Samoa into the AOSIS Chairmanship position at the conclusion of Samoa's two-year tenure.
"It's important that the Pacific take the lead, through the chair of AOSIS, because for the next two years at least, some of the issues I believe are important, and we need to amplify our voice and fight for, are those at the forefront of concerns to the Pacific," said Ambassador Fatumanava. "If you look at the nexus between climate and the ocean, but more specifically the ocean, there are so many other interconnected issues that are of critical importance to us, sea level rise, the impact of maritime zone, fisheries, all these are important to us. The issue of biodiversity is also very important, there is the current discussion on BBNJ, hopefully we can have that concluded early next year, so AOSIS will have a voice in that. In addition to that we have this Multidimensional vulnerability index, which I believe is very important for us. So it's not just one thing, there is a multitude of competing priorities as well and it will not be easy but I look forward to working with everyone to advance the agenda of AOSIS and our Pacific countries."
The meeting in Uruguay was the first of a planned five sessions of the Intergovernmental Negotiating Committee (INC), aim to develop the first legally binding agreement on plastic pollution by the end of 2024. The next INC is in Paris, with INC3, INC4, INC5 to follow in Kenya, Canada and South Korea.
The Chair of INC1, Mr Gustavo Meza Cuadra, Director of Diplomatic Academy for Peru, said the outcome of discussions in Punta del Este was ambitious but doable. He quoted the Secretary General of the United Nations, Mr Antonio Guterres, who tweeted: "Plastics are fossil fuels in another form & pose a serious threat to human rights, the climate & biodiversity. As negotiations towards an agreement to #BeatPlasticPollution continue, I call on countries to look beyond waste and turn off the tap on plastic."
The first Intergovernmental negotiating committee to develop an international legally binding instrument on plastic pollution, including in the marine environment is taking place in Punta del Este, Uruguay from 28 November–2 December 2022. 
The Pacific Islands are represented by Cook Islands, Federated States of Micronesia, Fiji, Kiribati, Niue, Palau, Papua New Guinea, Republic of the Marshall Islands, Samoa, Solomon Islands, Tonga, and Tuvalu through the support of the Government of Australia and the United Nations.
They are supported by the Secretariat of the Pacific Regional Environment Programme (SPREP) with financial assistance from the Government of Australia.  SPREP is working with partners the Pacific Islands Forum Secretariat, Office of the Pacific Ocean Commissioner, University of Newcastle, Environmental Investigation Agency, Centre for International Environmental Law, University of Wollongong, WWF and Massey University.