October 17, 2018
Environmental Monitoring and Governance
SPREP is celebrating its 25th anniversary this year through a series of national level activities in Pacific island member countries.
The Federated States of Micronesia marked the occasion last week and which coincided with a mission by the SPREP Environment Monitoring and Governance Programme to provide technical support on the FSM State of the Environment (SoE) reporting and National Environment Management Strategy (NEMS) processes, as well as the launch of the online environment data portal which will facilitate data sharing for informed environmental decision making.
The special celebration was held on Thursday 11th October, 2018, at the headquarters of the Department of Environment, Climate Change & Emergency Management and was attended by national government officials, state representatives, SPREP staff and partners.
Speaking at the occasion marking SPREP's 25th Anniversary was the Deputy Secretary for the Department of Foreign Affairs, Mr. Samson E. Pretrick who reflected on some major accomplishments by SPREP in FSM, recalling in 1992 when the first State of Environment Report was developed with technical assistance from SPREP and financial contributions from ADB.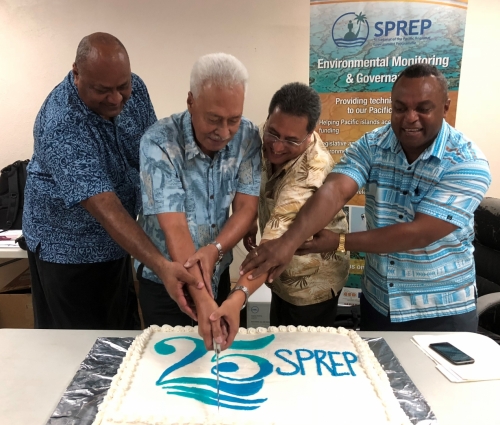 Hon. Marion Henry, Secretary for the Department of Resources and Development was one of the high level dignitaries attending the celebration which was symbolic given his instrumental role in the development of the first State of Environment Report for FSM in 1992.
"Five years later in 1997, FSM hosted the 6th Conference on Nature and Protected Areas, led by SPREP focusing specifically on conservation and protected areas.  In 2002, Mr. Asterio Takesy of FSM was appointed Director of SPREP, being the first FSM citizen to hold the position, serving all full terms as Director until 2008', said Mr. Pretrick.
"SPREP remains one of the most economically and technologically advanced organizations in the region, all due to hard working people of the organization. I commend SPREP for pursuing the path to environmental development by enhancing friendly relations and mutual beneficial cooperation with most countries".
Mr. Pretrick acknowledged the high value that FSM places on its relationship with SPREP and one which is based on cooperation and coordination. He also conveyed his appreciation of the many technical projects for environment, resource development and many others that FSM continues to benefit from. "Once again, I want to offer FSM's sincere congratulations to SPREP on its' 25th years of services in the FSM. We look forward to further strengthening our ties with continued assistance and building efforts from SPREP". 
Some of the work that SPREP had delivered and implemented in FSM in the last 25 years included the two conservation areas in Pohnpei and Kosrae respectively which were supported through the South Pacific Biodiversity Conservation Project, a regional project executed by SPREP in the late 90's. Other SPREP assistance delivered include policy and technical advisory support; capacity building and training; and project implementation covering all key areas of SPREP work in climate change resilience, biodiversity and ecosystem management, waste management and pollution control, and environmental monitoring and governance.
SPREP Director General, Mr. Kosi Latu in an earlier anniversary event held at SPREP said, "This year, SPREP commemorates 25 years of service to the Pacific island region, having signed the agreement establishing the Pacific intergovernmental regional environment organisation in June, 1993.  SPREP is here to serve its Members and I am pleased to say that our support to FSM over the last 25 years has contributed substantively in addressing some of FSM's key environmental priorities. I look forward to continue our partnership with the Government as work towards a resilience and sustainable Pacific community".  
For more information on the SPREP EMG programme, please contact programme leader, Ms. Easter Galuvao on Email: [email protected].
For more information on the SoE reporting, please contact Environmental Planning Officer, Mr. Jope Davetanivalu: [email protected].

To learn more about the ACPMEAs project, please visit http://www.sprep.org/Projects/acp-meas-project

For more information on the Inform Project, contact Mr. Paul Anderson, Inform Project Manager on email: [email protected]. 
To learn more about the Inform project, please visit http://www.sprep.org/inform/home