May 5, 2023
Island and Ocean Ecosystems
04 May 2023, Apia Samoa - The values of gender and social inclusion in managing invasive species are crucial to achieving better outcomes for the environment in the Pacific.
This point was emphasised during a Talanoa at the Battler Lounge on Thursday, hosted by the Secretariat of the Pacific Regional Environment Programme (SPREP) Invasive Species Team and guided by the theme: "Invasive Species or Community Resilience: Why is gender and social inclusion crucial for managing invasive species?"
Gender and social inclusion refers to giving equal access, opportunities and removing the barriers of discrimination towards women and other marginalised and vulnerable members of the community.
Deputy Director General of SPREP and SPREP Gender Champion, Ms Easter Chu Shing, opened the Talanoa and said that conversations on gender equality and social inclusion in relation to environment and conservation is broad and challenging, especially for the Pacific with its diverse ethnic makeup and multi-layered cultural dimensions. The first female Deputy Director General for SPREP acknowledged differences between and within societies in the Pacific; and there are groups like women, youth, people living with disabilities and those vulnerable and marginalised groups, who generally have less involvement in decision-making.
But this is why Talanoa sessions such as the session in the Battler Lounge are critical stepping stones towards building a stronger understanding of such complex and important relationships to identify appropriate responses in our Pacific Island contexts to keep invasive species at bay.
"It is no secret that invasive species have considerable negative impacts, thus how they are prevented and controlled is important. Gender influences people's natural resource management experiences, concerns, and capacities, and gender relations influence how habitats are managed and used across time. Invasive species impact livelihoods and natural resource sustainability" Ms Chu Shing said.
"Having a gender perspective is helpful when assessing problems, creating, and implementing solutions, and monitoring and evaluating outcomes. Like other concerns in natural resource management, a gender perspective on invasive species can improve our own understanding of the impacts, increase the effectiveness of invasive species prevention and management and contribute to social equality."
The Deputy Director General added that a gendered and socially inclusive approach to invasive species can also boost the efficacy of programmes and contribute to social equality and equity.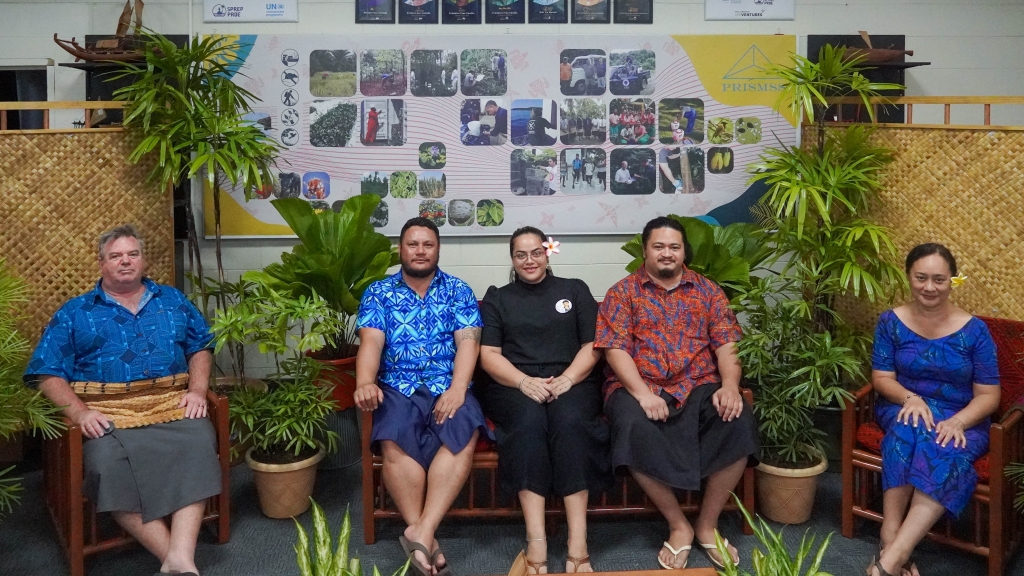 The Talanoa also featured the work of Mr William Young, a PRISMSS Researcher at the University of Newcastle. To better understand the relationship between communities and invasive species in the Pacific, Mr Young interviewed households in Samoa, Tonga and Niue. This process will be used to develop a Pacific Protocol for countries to adapt gender and social inclusivity in invasive species programmes.
"A lot of people ask, why is the social dimension important? If you want something to be sustainable in the long run, if you want something to be practical within communities, you have to hear what everybody has to say," Mr Young said. "Within traditional communities, the chiefs, and the elders are the ones who make decisions, right? But the people who actually carry out the work within the communities are the youth, and the women, and also the children. Their interactions with the environment is different, because they are there on a daily basis, in the forest or at t sea, interacting with nature. You need to bring them together too, to be able to have a space for them to share."
Ms Melania Bulimaitoga , Conservation Officer, Seabird Island Restoration Programme, BirdLife International - Pacific Partnership, spoke about their experience in Fiji.
"For us in Fiji, we have rankings in the communities, in the villages where we have the chiefs, the males ranking down to the women. And I think we need to have special consideration to also go to the women so that we have equal participation in projects," she said. "Sometimes it is the men that are dominant in the community, but we also need to hear out what the women may think because what they think is different from what men think."
Ms Entole Simanu, of Samoa, said gender and social inclusion is about making sure "no one is left behind." "Gender and social inclusion is a very good opportunity to have all the people, not only just the matai systems here in Samoa but to ensure that everyone is counted," she said.
Mr Francis Liyeg, Invasive Species Coordinator, Environmental Protection Agency, in the Federated States of Micronesia (Yap State) agrees.
 "If you want to deal with invasives, it's good to talk to the women because they are the ones who usually go work on their lands. So they'll know what kind of invasive species you want to eradicate," he said.
The Battler Lounge Talanoa was a success, providing a platform to intensify efforts to create a sustainable, equitable, and safe environment for Pacific people today and tomorrow. The Battler Lounge and the Resilient Ecosystem Resilient Communities research is made possible with funding from the New Zealand Ministry for Foreign Affairs as part of Managing Invasive Species for Climate Change Adaptation in the Pacific (MISCCAP): a PRISMSS-NZ Collaboration for Pacific Resilience.
For more information on this, please contact [email protected].