Environmental Monitoring and Governance
08 September 2023, Apia Samoa - On the margins of 31st SPREP Meeting of Officials: Environment Ministers High Level Talanoa at Taumeasina Island Resort in Samoa, the ACP MEA Phase 3 project hosted a Ministerial networking lunch for Pacific Environment Ministers on Friday.
The networking event was for Ministers to informally share reflections on the Panel 1 Dialogue focusing on Climate Change and Biodiversity.
The ACP MEAs Programme aims to build capacity support to ACP States to meet their obligations as Parties to Multilateral Environmental Agreements (MEAs) and to tackle the environmental issues they face.
The programme intends to mainstream and implement the MEAs related to biodiversity and chemicals and waste such in agriculture, management of chemicals and waste, reinforce compliance and enforcement measures, strengthen implementation of the Regional Seas Convention in the ACP States. Palau as PSIDS Chair, represented at the Ministerial Talanoa by the Minister of State, Hon. Gustav Aitaro, acknowledged the work of ACP MEA Phase 3 Project in the Pacific region and that MEAs must complement, align and support our Pacific way of life. Palau's commitment to balance protection and production to provide for the people of Palau and safeguard a healthy environment.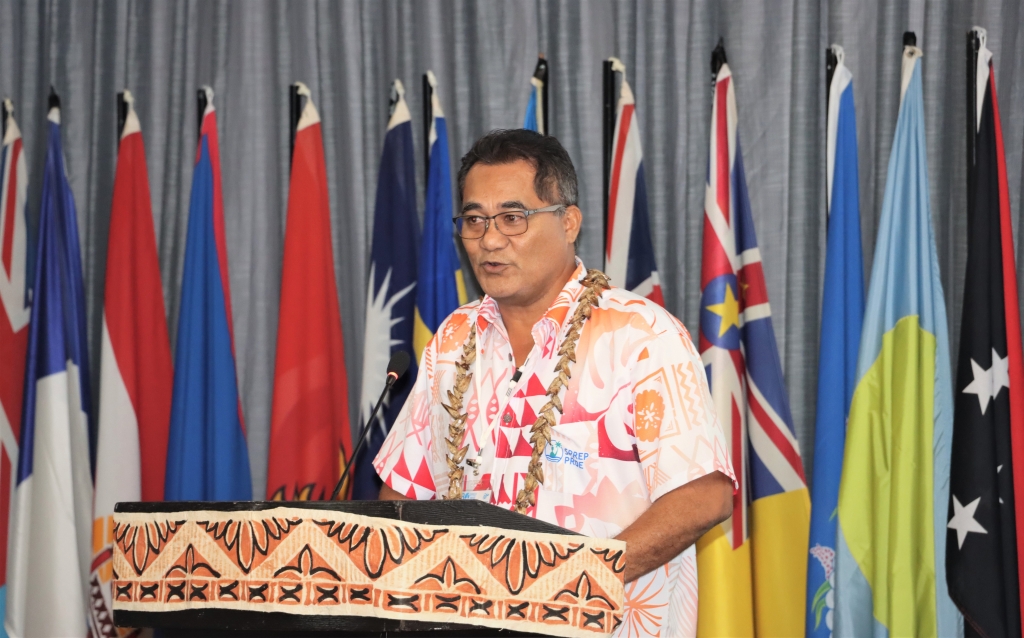 Samoa as AOSIS Chair, represented by the Minister of Natural Resources and Environment, Hon. Toeolesulusulu Cedric Schuster, highlighted the need to strengthen the One CROP engagement in MEAs where regional coordination needs to improve.
Both Ministers reiterated the need for strengthened regional leadership to address the triple planetary crisis facing humanity and as Hon. Minister Steven Victor echoed at the 15th Conference of the Parties to the Convention on Biological Diversity, where he said our work should be a collective progress that is inclusive, informed by science and taken into account our diverse traditional knowledge, leverages necessary resources and builds capacity at all levels of society.
The 31st SPREP Meeting of Officials and associated meetings are taking place at Taumeasina Island Resort in Samoa this week, from 4-8 September 2023. The meetings are guided by the theme: "SPREP@30th Sustainable, transformative and resilient for a Blue Pacific."
The 31st SPREP Meeting of Officials and associated meetings bring together SPREP's 20 Pacific Island Member countries, 5 Metropolitan Members and partners to discuss strategic issues pertaining to the organisation, and to approve the 2024-2025 work plan.
The 21 Pacific Island Member countries and territories of SPREP are: American Samoa, Commonwealth of the Northern Marianas, Cook Islands, Federated States of Micronesia, Fiji, French Polynesia, Guam, Kiribati, Marshall Islands, Nauru, New Caledonia, Niue, Palau, Papua New Guinea, Samoa, Solomon Islands, Tokelau, Tonga, Vanuatu and Wallis and Futuna. The five Metropolitan members of SPREP are: Australia, France, New Zealand, United Kingdom and the United States of America.
In our efforts to fulfil our vision of 'a resilient Pacific environment, sustaining our livelihoods and natural heritage in harmony with our cultures', SPREP is extremely grateful to our valued Members,
development partners, donors, our CROP family, and stakeholders. For more information on the 31SM, please contact: [email protected]