Island and Ocean Ecosystems
Malekula, Vanuatu. "We have to do everything we can to save Vanuatu's sea turtles," says Noel Kaibaba of Bamboo Bay, Malekula. "Baby turtles are being hit hard by climate change, wild dogs, fishing nets and even people still eating their eggs."
Noel is a Ni-Vanuatu turtle champion who started working to protect marine turtles in 2005. Since then, he has tagged over 100 turtles and protected the nests of more than 500,000 baby hatchling green, hawksbill and leatherback turtles. Noel's village at Bamboo Bay is home to one of Vanuatu's most important marine turtle nesting sites, with both black and white sand beaches free from major development activities that threaten them. 
"This season was one of the best we have ever had. So far, I have marked almost 200 nests just on this one beach, and we have eleven beaches in our area of South-West Malekula."
The Secretariat of the Pacific Regional Environment Programme (SPREP) is leading the By-catch and Integrated Ecosystem Management (BIEM) Initiative of the Pacific-European Union Marine Partnership (PEUMP) programme funded by the European Union and the Government of Sweden. Several partners, including the Vanuatu Fisheries Department, the Department of Environmental Protection and Conservation, the Oceans Office and Wan Smolbag are working together with SPREP to support community monitoring and protection of Vanuatu's endangered species. 
One of the key BIEM project activities is to support two marine turtle nesting sites on Malekula, Vanuatu's second largest island, by developing and implementing community turtle management plans.
Marine turtles play a significant role in the customs and traditions of Pacific Island communities, featuring in many stories, songs, and traditions. In Vanuatu, the unique and complex tradition of sand drawings are used to communicate and illustrate traditional ecological knowledge and practices. Kastom sea turtle sand drawings are an important part of South-West Malekula cultures and are featured in the management plans.
Turtles are also important for maintaining healthy seagrass beds and coral reefs, providing key habitat for other marine life, helping to balance marine food webs, and facilitating nutrient cycling from water to land. As highly migratory animals, turtles in Vanuatu can travel thousands of miles across the Pacific to breed, nest and feed over their average lifespan of 50-100 years. 
Sadly, marine turtles are globally at risk of extinction, including all five species found in Vanuatu: the leatherback (Dermochelys coriacea), the hawksbill: (Eretmochelys imbricata), the loggerhead (Caretta caretta), the green (Chelonia mydas), and the olive ridley (Lepidochelys olivacea) turtles.
Further up the western coast of Malekula, Childson Nihapi of Wiawi Village is busy entering his turtle nest data into a new online smart-phone data collection app. 
"Every year I used to send turtle nest data to Port Vila. Now as soon as the nest hatches, I count the eggs, and everyone around the world can automatically get access to this information via the app. Technology is helping us protect our turtles," explains Childson.
Wiawi has one of the oldest community conservation areas in Vanuatu with traditional custom rules protecting land and sea resources. Hawksbill turtles are critically endangered globally, and lay nests every year along the village's undeveloped beaches.
Childson and his father Golen Nihapi have been working to protect these endangered species for more than a decade.
"We want to improve the way we work, so we are developing a sea turtle management plan which promotes the way we are protecting our environment with our custom and culture," says Childson.
"Our sea turtle management plan includes new activities like fixing up our turtle nest relocation site, putting cages over vulnerable nests so dogs don't eat the eggs, and joining up with other villages in Malekula in a network."
Since November 2021, chiefs, community leaders, turtle champions, and youth in Bamboo Bay and Wiawi have been working with environmental experts to develop their communities' management plans.
Together, they want to increase the effectiveness and expand the conservation outcomes of the decade long work of the two communities.
Their management plans confirm the local ownership and resource management systems, and indicate how government agencies, nongovernment organisations, and external experts will provide support to the two communities to protect their coastal areas, where needed. 
The integrated ecosystem management plans are also gender and human rights sensitive and consider how the two communities can support sustainable livelihoods and reduce poverty.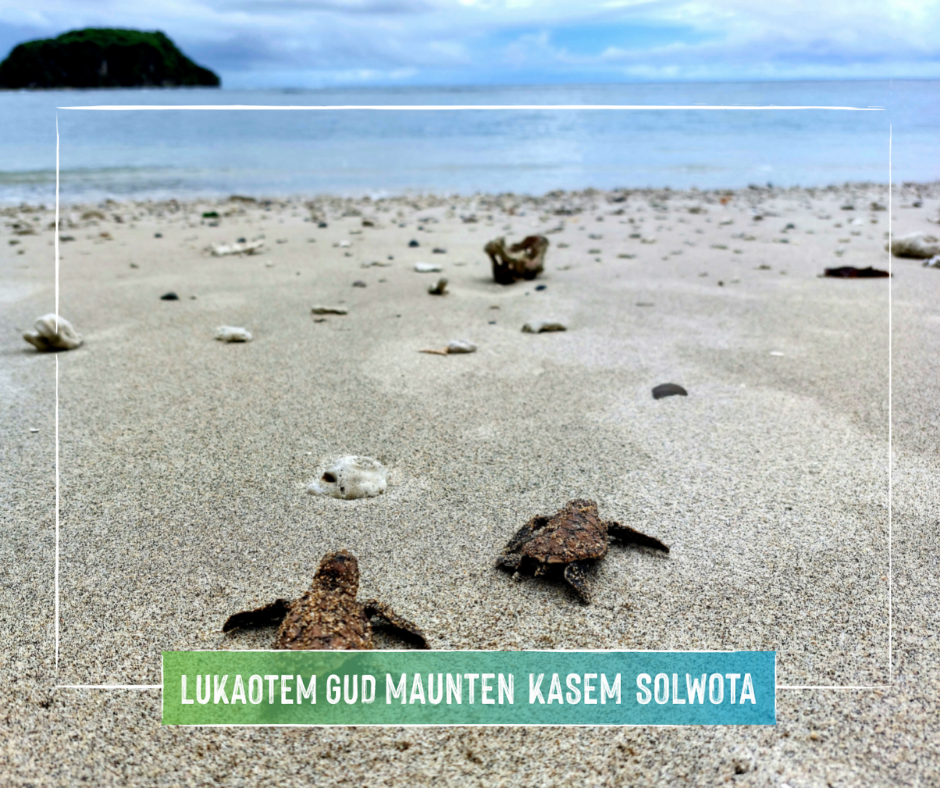 In partnership with the local Area Council of the Malekula Provincial Government, a major environmental meeting with representatives from all villages along the coast of western Malekula is being planned for when Vanuatu's current travel restrictions are lifted and inter-island travel resumes. The Bamboo Bay and Wiawi villages' community turtle management plans will be formally launched then. 
There are also plans for a major marine turtle kastom festival. Visitors will be able to patrol the beaches with local guides to witness the incredible crawl by female turtles to their nesting sites and watch as they lay their eggs in their beach nests. Malekula's sand drawing 'living' heritage will also feature to interpret the marine turtles' cultural significance.
"We have been working hard as volunteers for so many years, and protected hundreds of turtles and thousands of nests. We want everyone to know that turtles are in danger and that it will take everyone working together to protect these animals for future generations," concludes Golen.
Funded by the European Union and the Government of Sweden, the €45 million PEUMP programme promotes sustainable management and sound ocean governance for food security and economic growth, while addressing climate change resilience and conservation of marine biodiversity. It follows a comprehensive approach, integrating issues related to oceanic fisheries, coastal fisheries, community development, marine conservation, and capacity building under one single regional action.
Media Contacts
Please contact Florida Tumulango at [email protected] to arrange interviews with:
Mr. Kalo Pakoa, SPREP Coordinator of the BIEM Initiative in Vanuatu
Media Resources
Image
Image Caption: Noel Kaibaba and Philip Vanuau of Bamboo Bay, Malekula are entering turtle nest data into a new online smart-phone data collection app as part of the By-catch and Integrated Ecosystem Management (BIEM) Initiative in Vanuatu. Image Credit: Christopher Bartlett, Resilience
About Us
The Secretariat of the Pacific Regional Environment Programme (SPREP) is the premiere intergovernmental regional environmental organisation of the Pacific, with 21 Pacific Island Members and five metropolitan Members.  SPREP's mandate is to promote cooperation in the Pacific region and provide assistance in order to protect and improve its environment and to ensure sustainable development for present and future generations.  SPREP's core priorities are Climate Change Resilience, Ecosystem and Biodiversity Protection, Environmental Governance, and Waste Management and Pollution Control.  It is guided by its vision for the future: "A resilient Pacific environment, sustaining our livelihoods and natural heritage in harmony with our cultures."  For more please visit www.sprep.org
The Pacific-European Union Marine Partnership (PEUMP) Programme addresses some of the most serious challenges faced by Pacific countries. Among these are the increasing depletion of coastal fisheries resources; the threats to marine biodiversity, including negative impacts of climate change and disasters; the uneven contribution of oceanic fisheries to national economic development; the need for improved education and training; and the need to mainstream a rights-based approach and to promote greater recognition of gender issues to ensure inclusiveness and positive changes for Pacific Island people.  This seven-year PEUMP programme is funded by the European Union (EUR 35 million) and the government of Sweden (EUR 10 million). It is implemented by the Pacific Community (SPC), the Forum Fisheries Agency (FFA), the Secretariat of the Pacific Regional Environment Programme (SPREP) and the University of the South Pacific (USP) in close collaboration with Non-Government Organisations and the national authorities.