November 4, 2011
Waste Management and Pollution Control
3 November 2011 - As part of Environment Week, Samoan partners have come together for an environment project on Manono Island to help local residents cope with added waste pressures they have faced after the 2010 tsunami.
The Ministry of Natural Resources and Environment of the Government of Samoa (MNRE), the Secretariat of the Pacific Regional Environment Programme (SPREP), Rotary Club of Apia, and the Samoan recycling company – Pacific Recycles, have joined forces for this project on Manono Island.
"SPREP is pleased to be assisting the Manono community with this project and we are glad that this approach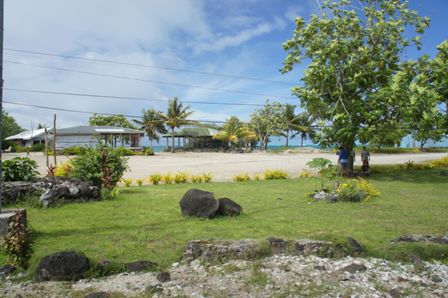 has been taken by the partners, it is a good way to raise awareness and help bring about something positive for the environment," said David Sheppard, Director General of SPREP.
"As a Rotarian with strong family links to Manono I am grateful to all the volunteers who are giving up their time to help keep Manono Island pristine," said Louise Main of the Rotary Club of Apia.
"Manono Island is a unique historical place in Samoa's history and a favourite destination with tourists. Helping conserve the turtles and our marine life will enhance the residents' livelihoods as well as the attractiveness of the island."
The first phase of this project took place on Saturday at Manono with two awareness community workshops for Manono villages; Faleu, Lepuia, Salua, and Apai. Present at the workshops were the council of chiefs, school children and the general community.
This was the opportunity to help strengthen understanding of the different types of waste, the benefits of composting or recycling wastes, and the impact of marine debris upon marine turtles.
"Minimising the amount of rubbish on the island will also decrease the amount that reaches the sea," said SPREP's Marine Species Officer, Mr. Lui Bell.
"And this will help protect turtles and other marine life into the future. Manono communities have strong traditional ties to marine turtles, and their conservation is very important to everyone living on the island".
At the end of the session the community members were provided with awareness materials from SPREP, as well as rubbish bags from the SPREP waste management programme to ensure they are well equipped for the second phase of the project, which is happening this week – the collection and separation of rubbish by families in the villages.
Each family was provided with 5 rubbish bags.
The next phase of the project will take place this Saturday and will involve collection of rubbish by volunteers from the Rotary Club of Apia and SPREP.