September 3, 2012 by
admin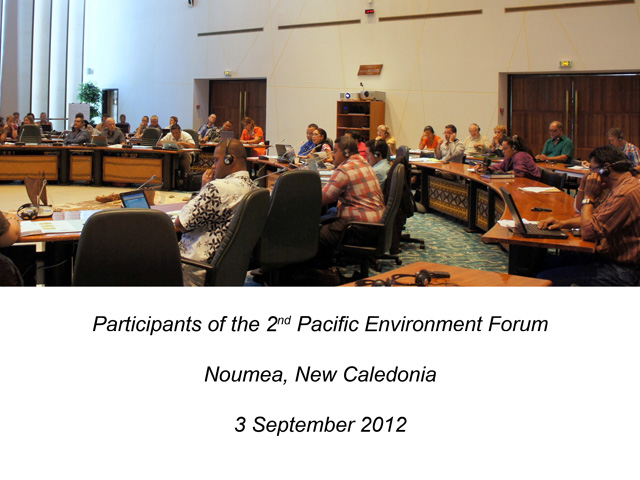 Noumea, New Caledonia, 3 September, 2012 -- Consistent state of environment reporting is an essential tool for guiding appropriate policy and decision-making.
This was the general consensus of the 80 participants attending the 2nd Pacific Environment Forum held in Noumea, New Caledonia, today. The Pacific Environment Forum is an opportunity for Pacific stakeholders to discuss environmental issues before the annual meeting of the Secretariat of the Pacific Regional Environment Programme (SPREP).
This year, the focus of the Forum was the development of a mechanism for national State of Environment monitoring and reporting that will synergise with a broader regional framework.
"Although the whole idea of state of environment reporting can be daunting, it is an incredibly valuable tool – not just for reporting purposes but for actually seeing how well we have been doing in terms of on-ground changes to the environment and sustainable development," said Ms Tuiolo Schuster of Samoa.
Samoa, which is currently completing its State of Environment assessment, has used the opportunity to build this into classroom learning and involved children in the process.
"It is exciting to see the numbers coming to life," said Ms Schuster. "Suddenly we are no longer looking at a set of numbers but at the actual health of our mangroves and coral reefs for which we are responsible."
David Sheppard, Director-General of SPREP, said that State of Environment reports are extremely valuable tools for planning and decision-making and should be nested with other development tools such as the Millennium Development Goals, National Sustainable Development Strategies and National Environment Management Strategies.
"Perhaps the most important thing that we heard today was that SOE approaches must be tailored to country needs and constraints," said Mr Sheppard. "It is better to start small, keep things simple and ensure that our assessments are tailored to the needs of the users."
He referred to the example of Australia, which has, over several years, taken a staggered approach to assessing its state of environment and has focused on the audience and end use when developing the assessment processes.
"Australia's report card format is very useful and has obviously been well-received by different audiences," he said.
Other SPREP member countries and territories are at different phases of assessing the state of their environment. French Polynesia completed its SOE in 2006 and will be conducting a review of this soon; New Caledonia is focusing on assessing the state of its biodiversity under the National Biodiversity and Strategic Action Plan; and Fiji and Kiribati are in the process of starting their assessments.
The Pacific Environment Forum concluded with three major outputs: agreement on a framework and approach for developing a regional state of environment assessment; guidance on development of indicators; and a recommended roadmap for action. These will be presented to the SPREP Meeting this week for further consideration.
The 23rd Annual SPREP Meeting will be held in Noumea, New Caledonia at the SPC Conference Rooms from Tuesday 4 to Friday 7 September.
---
Event details:
(1) The Pacific Environment Forum was held on Monday 3 September at the SPC Convention Centre.
(2) The 23rd Meeting of the Secretariat of the Pacific Regional Environment Programme will commence on Tuesday 4 September at 8.30am and conclude with a high level meeting of Pacific Ministers on Friday 7 September.
---
For more information, contact:
Jean-Noel Royer (SPC) ph: 263171
Seema Deo (SPREP) ph: 262000 ext 315.