June 29, 2018 by
angelicas
Waste Management and Pollution Control
Pacific actions to reduce plastic are to be commended as we count down to 1 July, 2018. 
From the first of July this year, plastic straws, single use plastic shopping bags and polystyrene takeaway boxes will no longer be allowed for sale or distribution in Vanuatu. This was the outcome of three Orders made under the Vanuatu Waste Management Act in February this year. 
Samoa is also in consultation with stakeholders from private and public sectors as well as the local community, on phasing out of unnecessary single use plastic and putting into legislation a ban on single-use plastic shopping bags and plastic straws which will be effective January 2019.
Support to both Pacific islands has been provided by the Secretariat of the Pacific Regional Environment Programme (SPREP) as they take steps to remove the amount of plastic used.
"We congratulate our Pacific people and islands for their actions to address this global issue, and we stand ready to provide the assistance needed as many of our Members move towards a more plastic-free environment," said Mr Anthony Talouli, Pollution Adviser of the Secretariat of the Pacific Regional Environment Organisation (SPREP).
"Although a lot has been done, there is still lots more to do. This is not an area that we can be complacent on. Our support has ranged from providing policy and technical advice to communications and awareness assistance. We are available to help our SPREP Members in any way that we can to make positive environmental changes on the ground and to stop plastics harming our natural resources."
The global awareness of the challenges brought about by plastic debris is calling for a shift in people's perspectives around single use plastic and their choices as consumers.  This has seen a huge momentum in the Pacific with islands making changes on the national level to ban a range of single-use plastic. 
There are at least 51 trillion pieces of micro plastic particles in our ocean, and each year eight million tonnes of plastic makes its way into our ocean.  Fifty percent of birds and marine mammal species have eaten plastic with recent studies showing microplastics are ingested by fish, fish which are then ingested by humans.
On a smaller scale, local businesses in the Pacific are taking matters into their own hands doing what they can, now. In Samoa alone, popular cafes and restaurants have stopped using plastic take away containers and straws, replacing them with cardboard containers, paper and aluminium straws.
One such business is Myna's Supermarket located in Vaoala, Samoa, who will start scaling back on single use plastic shopping bags starting from 1 July, 2018. In an effort to create consumer awareness around waste and pollution, Myna's Supermarket wants to discourage customers from using plastic shopping bags, and reward those who bring their own reusable shopping bags.
"We want to encourage locals, as well as visitors, to be mindful of plastic waste. While we can't completely ban plastic shopping bags right now, we can start small by giving prizes to people who bring their own bags or not give a plastic shopping bag to people who only purchased one or two items which we see a lot," said Mrs Myna Vaitupu, Supervisor and Accounts Manager of Myna's Supermarket.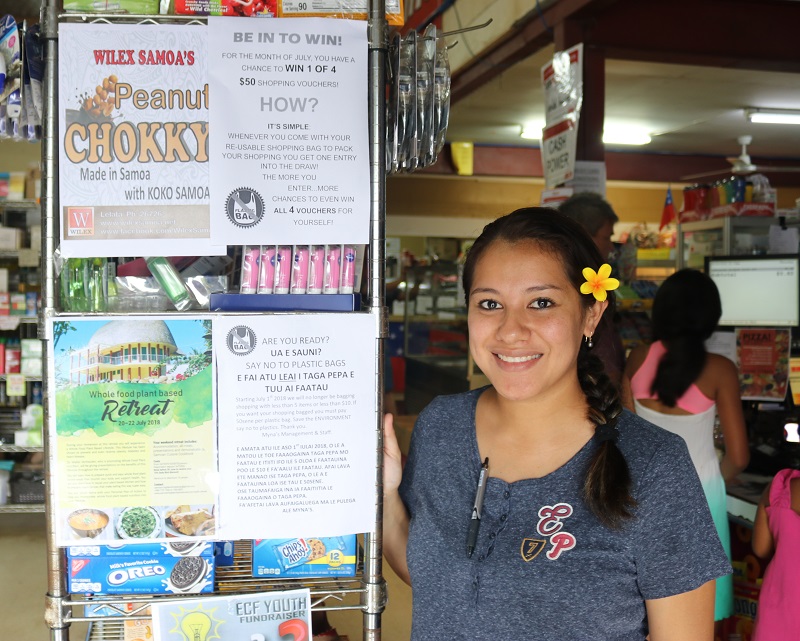 When asked about what she thought of the Government of Samoa's plan to ban unnecessary single use plastic items by January 2019, Mrs Vaitupu said, "We honestly had no idea they were planning to ban plastic shopping bags when we came up with this idea. So when we saw it just this week in the news, we were really happy. It's good that we are starting to cut back on plastic shopping bags now so our customers can adjust to the change that is coming next year."
Countries that have banned single-use plastic shopping bags include American Samoa, Commonwealth of the Northern Mariana Islands, Guam, Pohnpei and Yap States of the Federated States of Micronesia, Palau, Republic of the Marshall Islands, Samoa and Vanuatu.  Fiji has placed a levy upon single-use plastic shopping bags. - #BeatPlasticPollution #SPREP25