Environmental Monitoring and Governance
10 May 2022 - Pacific Island environmental impact assessment and safeguard administrators and practitioners will benefit from a recent upgrade of Secretariat of the Pacific Regional Environment Programme's (SPREP) Pacific Network for Environmental Assessment (PNEA) Portal, bringing new functionalities and improved security to the portal.
SPREP, through its Environmental Monitoring and Governance (EMG) Programme, is the lead regional agency on Environmental Impact Assessment (EIA capacity building in the region, with over 25 years supporting environmental assessment awareness and training programmes.
To further strengthen and enhance the support effort to its members, the PNEA – an online community of practice for EIA and Environmental and Social Sustainability (ESS) practitioners in the Pacific region – was founded in 2016 to support the face-to-face work that has been carried out since the early 1990s.
Since its initial launch in 2016, the PNEA has grown in membership and now has over 300 members and 600 subscribers from across the Pacific, becoming the largest and fastest growing community of practice for EIA and ESS in the region. The role of the PNEA portal has also grown since the COVID-19 pandemic as global border restrictions have prevented Pacific practitioners from attending face to face trainings or conferences and have become reliant on virtual support.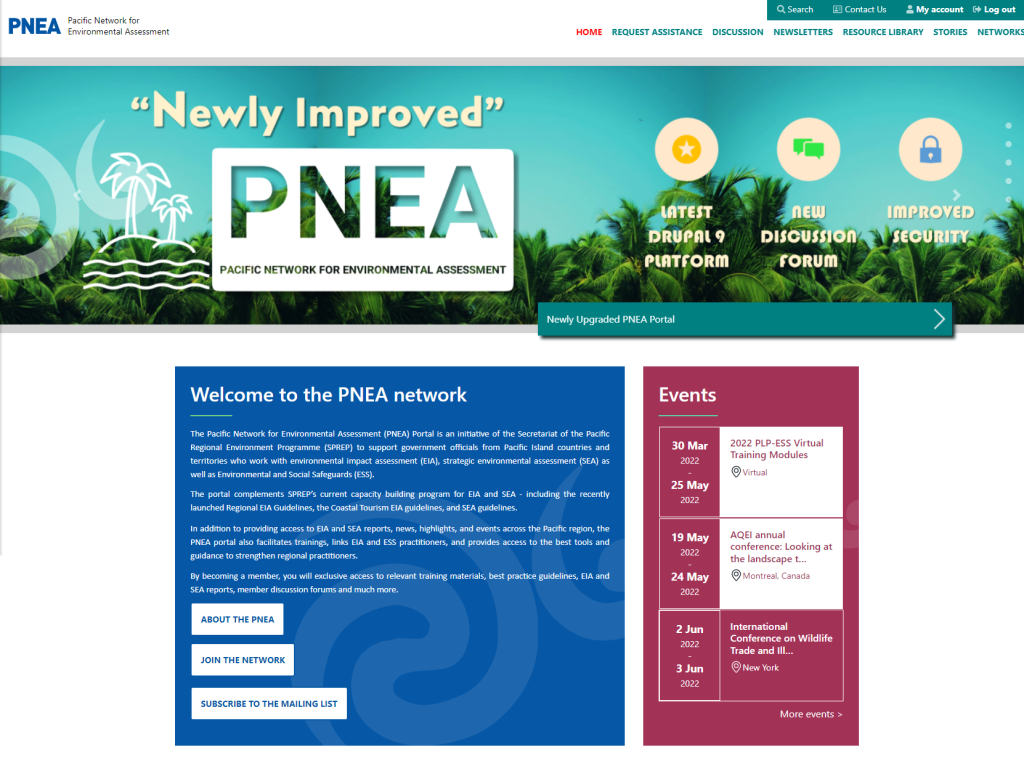 As a community of practice built on member feedback and engagement, the PNEA hosted several online surveys and a Virtual Talanoa on 08 October 2021 to discuss a shared vision for the network and how the portal can better support impact assessment practitioners in the region. Through these consultations, key areas of revision and enhancements were identified for the PNEA portal.
"It is great to be part of such a rich and active community of practice, the PNEA has gone from strength to strength over the past few years and this portal upgrade will further support this by improving the appeal and versatility of the portal," said SPREP Environmental Assessment and Planning Officer, Dr. Gregory Barbara.
"Although you need to login to access the full functionality, registered users and visitors can reach the portal from anywhere in the world and post queries or search for content related to impact assessments."
As part of the recent upgrade, the PNEA Portal now runs on the latest Drupal 9 platform, incorporating all the latest security updates and additional features from the global open-source community. Along with a revamped user interface for ease of use and overall improved stability, the portal also hosts a newly designed discussion forum enabling practitioners to network and discuss with more ease. The new upgrade also brings access level controls ensuring better privacy and security for non-public resources such as draft EIA reports.
Also new to the portal are events and stories, a refined search function, and a new resource management system which improves communication and data harvesting from the Pacific Environment Portal and the SPREP Virtual Library.
Speaking on the upgraded portal, the PNEA Technical Support Officer, Mr Ivan Diarra, said "We're constantly working with environmental assessment practitioners and administrators in the Pacific and this upgrade highlights our commitment to ensuring they are equipped with the latest tools, knowledge and resources to strengthen and benefit their practice".
The PNEA Portal upgrade was achieved with funding support from the European Union initiated capacity building project titled "Capacity Building related to Multilateral Environmental Agreements in African, Caribbean and Pacific Countries" (ACPMEA phase 3).
To access the newly upgraded PNEA portal, simply visit www.pnea.sprep.org.
For more information, please contact Mr Ivan Diarra, PNEA Technical Support Officer, at [email protected] or Mr Jope Davetanivalu Director of Environmental Monitoring and Governance  [email protected].