Island and Ocean Ecosystems
"We recognise the value and importance that whales play in our oceans, environment, economy and more importantly, our culture." – Hon Kiriau Turepu, Minister of Environment, Cook Islands
4 April, 2017, Nuku'alofa, Tonga -
The Cook Islands is a beacon of hope at the Whales in a Changing Ocean Conference, now underway in the Kingdom of Tonga, highlighting its strong testament to raising standards on ocean stewardship and management of its natural resources.
Just days since announcing all water within 50 nautical miles of the island nation is now under protection from commercial fishing, the Cook Islands has further stressed this aims to reduce the interactions between the commercial fishing sector and whales within Cook Islands waters.
Likewise this decision aligns with an existing commitment from the Cook Islands to exclude any possible future sea bed mineral activities from within 50 nautical miles of any islands.
                                     Hon Kiriau Turepu, Minister of Environment, Cook Islands
"The Cook Islands has also declared its entire EEZ as a Marae Moana – Marine Park," presented the Cook Islands Minister of Environment, Hon. Kiriau Turepu during the Ministerial dialogue during the Whales in a Changing Ocean Conference today.
"We recognise the value and importance that these majestic creatures play in our oceans, environment, economy and more importantly, our culture. We have recorded calving occurring in our waters, which makes these individuals even more special to Cook Island people."
The Humpback Whale, a well-known species to the Cook Islands, visits from June to October each year, using the island nation as a corridor to migrate to its true breeding ground in Tonga.
A unique characteristic of the Cook Island Humpback population is the observation of zero fidelity. In seven years of research, only two whales have returned to the Cook Islands, with all other whales recorded in Cook Islands waters being new visitors. This is extremely unusual as humpbacks tend to return to the same area during their lifetime.
"We continue to strengthen our commitment to recognising the value of whales in the Cook Islands, having declared our entire EEZ, an area of almost 2 million square kilometres as a Sanctuary for Whales in 2001," said Minister Turepu.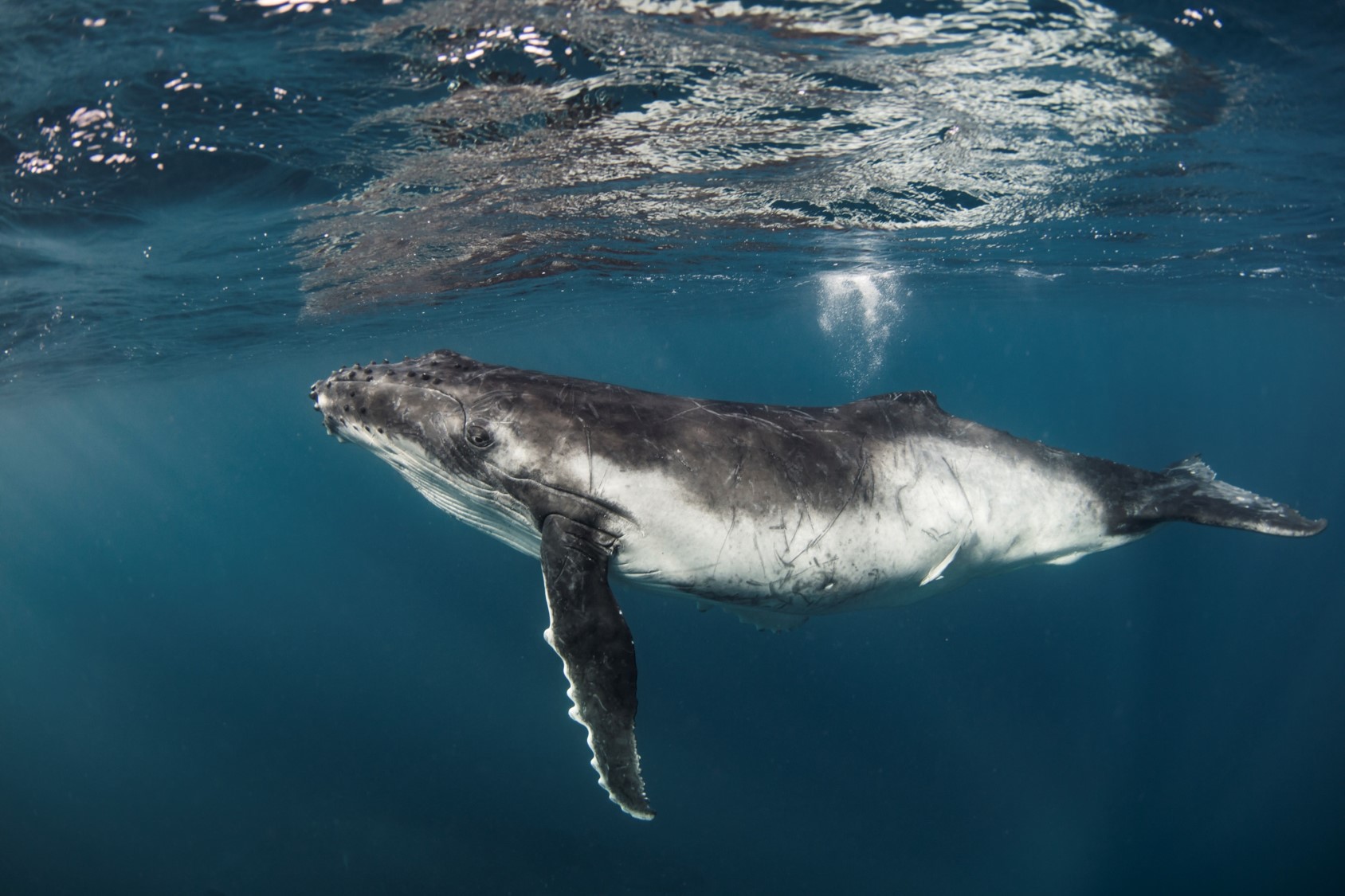 Image courtesy of Tourism Tonga
It was through this declaration 16 years ago that the Cook Islands committed to promoting non-lethal scientific research on whales, collaboration for information exchange, education and awareness initiatives as well as best practice management for the interactions with whales in its waters.
Since the declaration, civil society and government worked together to establish rules that were published and enforced through consent and cooperation. Now wanting to ramp up these efforts, Hon. Minister Turepu announced the Cook Islands are looking to formalise the Whale Sanctuary Declaration through a consultative legislative process that will maintain the spirit and intentions of the 2001 Declaration.
"The Cook Islands are currently on a pathway to develop the necessary legislative framework that will also focus on managing interactions from unlawful take, fisheries and strandings to name a few."
"It is my hope that the Cook Islands will demonstrate once again its innovation and leadership by making the waters of the Cooks Islands a true sanctuary, a unique place in the South Pacific where whales can thrive in harmony with human activity." – Whales in a Changing Ocean Conference
NOTES:
The Whales in a Changing Ocean Conference from 4 – 6 April, 2017 in Nuku'alofa, Tonga, is coordinated by the Government of Tonga, the Secretariat of the Pacific Regional Environment Programme (SPREP) and the Auckland Institute of Studies (AIS).Sponsoring the event with the Government of Tonga, SPREP and AIS - is the Government of Australia; Government of New Zealand; Government of Sweden; the Okeanos Foundation; European Union through the Pacific Community and the INTEGRE project; Fonds Pacifique; Digicel; and Deep Blue Diving Tonga.Uniting with conference coordinators and sponsors to partner for the Whales in a Changing Ocean Conference are the Animal Welfare Institute; Blue Climate Solutions; CET Law; Humane Society International; International Fund for Animal Welfare; Pattillo Ltd: South Pacific Tourism Organisation; South Pacific Whale Research Consortium; Tanoa International Dateline Hotel; Vava'u Environment Protection Association; and World Cetacean Alliance.The Whales in a Changing Ocean Conference is held from 4 – 6 April at the Tanoa International Dateline Hotel in Nuku'alofa, Tonga.For further information please visit: http://www.sprep.org/whales-in-a-changing-ocean-conference-2017/home