December 10, 2019 by
leannem
Environmental Monitoring and Governance
SPREP's Environmental Monitoring and Governance programme facilitated a regional consultation to review the draft Strategic Environmental Assessment (SEA) Guidelines held in Auckland, New Zealand on 26 November 2019.

The regional consultation was attended by 20 participants representing 11 Pacific islands countries and territories including American Samoa, Cook Islands, Federated States of Micronesia, Fiji, Kiribati, Marshall Islands, New Caledonia, Solomon Islands, Tokelau, Tonga, and Tuvalu. 

While the Environmental Impact Assessment (EIA) process identifies impacts at the project and location level; SEA promotes sustainable and resilient development by embedding sound environmental management within policies, plans and programmes. SEA is a strategic sustainability tool that can inform at the policy and planning level.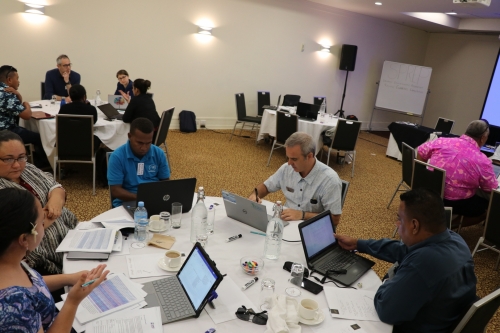 The regional SEA consultation implements the 29 SPREP Meeting decision for further input and feedback from Members to ensure its content is relevant and appropriate to the Pacific context.

"There are a very few examples of SEA application in our region hence the reason why the proposed Guidelines is important to assist PICTs in ensuring strategic environmental considerations are integrated into national and sectoral policies, plans and programmes to support the achievement of sustainable development," said SPREP Director General, Mr Kosi Latu in his opening remarks.  

"This is an important planning tool that would also assist in addressing new and emerging issues facing our region including those that are trans-boundary in nature". 

The regional consultation succeeded in producing two tangible outputs - an updated draft SEA Guidelines incorporating inputs and comments from participants who attended the consultation; and a roadmap outlining a realistic process with key milestones and action points towards finalising the Guidelines for submission to the SPREP Executive Board in 2020. 

The SEA consultation concluded with substantive feedback and input from the 11 attending PICTs . It was also an excellent platform for capacity building, learning and sharing of experiences amongst country delegates. 

At the end of the consultation Directors of Environment for Tuvalu and Cook Islands made concluding remarks. 

Mr Soseala Tinilau, Tuvalu Director of Environment commented on the usefulness of the SEA consultation which has helped him to better understand the difference between an SEA and EIA. He thanked those countries that shared their experiences on SEA and EIA and said that he had learnt a lot from the consultation. 

Mr Nga Puna, Cook Islands Director of Environment, said: "I liken this process to the tapa making, it is a long process – we bring all the strands together and with patience we fill the gaps and pound the strands together to create our tapa. It is a hard process and at times tedious but we make it with love. I have learned a lot today, linking my own ideas and thinking to how the SEA process can be applied. We will build from here and I hope that we continue to build this dialogue for this much needed tool in the Pacific."

The SPREP team facilitating the consultation was led by the SPREP Director General supported by Environmental Planning Adviser Mr Jope Davetanivalu, Environmental Assessment Planning Officer, Dr Gregory Barbara, and EMG Programme Assistant, Ms Faasipa Lemalu. The consultant Mr Tim Strange was engaged by SPREP to assist with the consultation. The consultation was made possible with funding support from the Government of Sweden through the UN Environment Programme.