Island and Ocean Ecosystems
Samoa has announced a shark sanctuary within its 128,000 sq km Exclusive Economic Zone (EEZ), making it the eighth Pacific island country that has designated its national waters as a protected sanctuary for all sharks and rays.
The launch was commemorated with ministers and officials now in Samoa for the very first Pacific Shark Ministerial Symposium held 1-2 March.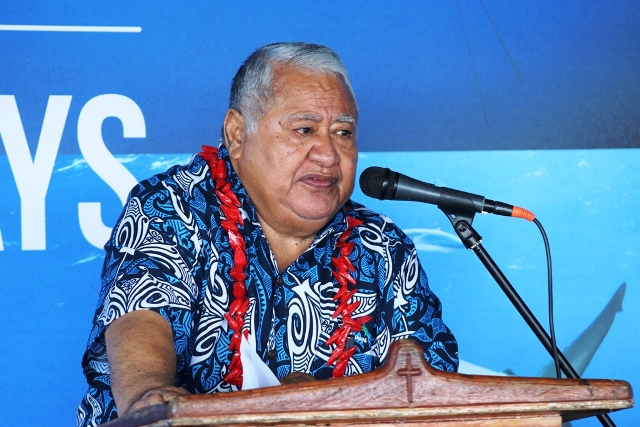 Prime Minister of Samoa, Hon. Tuilaepa Dr Sailele Malielegaoi
"We will not sit idly by while the demand for shark products robs our future generations of these culturally, ecologically and economically valuable species. Let us together continue to safeguard these species for our future generations," said the Prime Minister of Samoa, Hon. Tuilaepa Dr Sailele Malielegaoi.
Samoa's announcement increases the total area in established as shark sanctuaries in the Pacific islands to an estimated 17 million sq. km. This consists of the EEZs of the Federated States of Micronesia, French Polynesia, Kiribati, New Caledonia, Palau, Republic of Marshall Islands, and Samoa.
Acting Director General of SPREP, Mr Roger Cornforth
"We congratulate the Government and people of Samoa for designating their national waters a sanctuary for all sharks and rays," said Acting Director General Mr Roger Cornforth of the Secretariat of the Pacific Regional Environment Programme (SPREP).
The establishment of the Samoa shark sanctuary is another example of the country's leadership in the Pacific. In October last year, Samoa successfully lobbied for the inclusion of blue sharks on Appendix II of the Convention on Migratory Species. The blue shark is classified as Near Threatened on the IUCN Red List and it is estimated that over 20 million blue sharks are caught annually.
"Samoa's shark sanctuary will be a platform in the global community to promote conservation awareness. We as island leaders have been charged with the protection and sustainable development of the region's marine environment," said the Hon Prime Minister Tuilaepa.
"Not only will the complete ban of commercial fishing, sale and trade for all sharks and rays in our waters provide much needed relief to declining populations, it will also help further degradation to the health of our oceans and continue to draw tourists for a chance to experience these magnificent creatures in their natural habitat."
Pacific unity was in display as Samoa announced their shark sanctuary, with New Caledonia offering to share their experiences as a shark sanctuary with all Pacific islands.
Hon. Didier Poidyaliwane, of the Government of New Caledonia
"As Minister of sustainable development, ecology and custom affairs I want to express my deep consideration to Samoa for the creation of a shark sanctuary. I congratulate all stakeholders who have been involved in this great effort. It is great news, for Samoa, for sharks and the Pacific Ocean. It is a new piece in the Pacific puzzle, providing a safe ocean for these species of immense conservation and cultural value," said Hon. Didier
Poidyaliwane, Minister of Ecology, Sustainable Development and Customary Affairs of the Government of New Caledonia.
These words of congratulations were also echoed by the Pew Charitable Trusts who, with SPREP, presented the gift of a shark carving to the Prime Minister of Samoa in commemoration of this special announcement.
"By establishing a shark sanctuary; countries like Samoa, make it clear that these top predators are vulnerable and warrant the same status of protection. Samoa has placed itself at the forefront of shark and ray conservation, not only in the region, but worldwide and we look forward to continuing this partnership," said Ms Jennifer Sawada, Director of Global Shark Conservation of The Pew Charitable Trusts.
The announcement of the Samoa Shark Sanctuary was made on 1 March, 2018. It comes on day one of the Pacific Shark Ministerial Symposium 2018, a partnership between SPREP, the Ministry of Natural Resources and Environment of the Government of Samoa, The Pew Charitable Trusts and the Paul. G Allen Philanthropies.