September 1, 2014 by
admin
Ms. Makereta Komai, Editor PACNEWS
1 September, 2014, Apia, Samoa -
Developing States Conference that gets underway in Samoa today, has been hailed as a 'rarity' in the history of the United Nations.
The SAMOA Pathway, as its known, was negotiated and endorsed by member countries in New York, months before the Samoa meeting.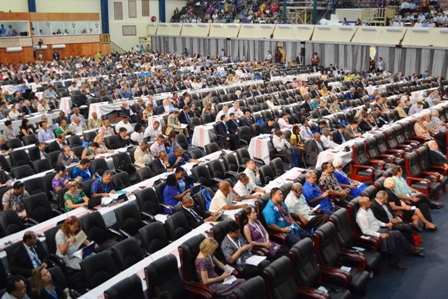 Prime Minister of Samoa, Hon. Tuilaepa Sailele Malielegaoi acknowledged the leadership of New Zealand and Singapore in getting consensus, leaving the time in Samoa to discuss concrete proposals for partnerships.
"This is a rarity for any international conference. It's clear signal of the good faith that member countries showed towards Small Islands Developing States and demonstrates genuine partnership from all United Nations member countries, said the Prime Minister.
The draft outcome,
SIDS Accelerated Modalities of Action (SAMOA Pathway)
, which is still in draft form will not be opened for negotiations here in Apia. But PACNEWS understands that it can be re-opened if a member country wants to revisit any of the priority areas in the document.
Prime Minister Tuilaepa paid tribute to the United Nations for considering 2014 as the Year for Small Island Developing Countries.
"Never before has the UN placed much emphasis and clear focus on SIDS. This is a special year for SIDS. It's the first time that our small island nations have been given special recognition by the United Nations.
The current President of the United Nations General Assembly, John Ashe from the island of Antigua and Barbuda in the Caribbean is a further recognition of SIDS leading the work of the world body.
"One of the biggest breakthrough for us is the potential that 'Oceans' will become a stand-alone goal in the post 2015 development agenda. This is possible through our persistence advocacy for Oceans. As you all know we share the ocean resources and it connects our nations, said Tuilaepa.
The hand-over of the leadership of the Alliance of Small Island States (AOSIS) from the Pacific to the Indian Ocean was also highlighted by the Samoan Prime Minister.
Nauru is the chair of group on behalf of Pacific Island Countries. It will hand over chairmanship of the group to one of the islands in the Indian Ocean.
"We in the Pacific will continue to support the work of the new chair of AOSIS, said Prime Minister Tuilaepa.
4,000 delegates from government, private sector and civil societies have registered for the four day UN conference on Small Island Developing States in Apia.  The Third International Conference on Small Islands Developing States is from 1 - 4 September, 2014.