A community river cleanup with a difference will be held this Saturday, 7 June. The cleanup will target the Vaisigano and Mulivai Rivers, which flow into the Apia Harbour, and will involve those living along the banks for the rivers.
What makes this clean up different?
"It will be the first time that we will sort the rubbish to try and find out what are the main types, volumes and brand names of things people are throwing into the river," said Suluimalo Amataga Penaia, CEO of the Ministry of Natural Resources and Environment (MNRE). "If we know what rubbish there is, we can work with people to help them find better ways to get rid of their rubbish, such as recycling, for example. It also allows us to work with manufacturers and vendors whose products are most common, to reduce the source of rubbish."
The different community groups from the villages along the banks of the two rivers will work together with the responsible organisations to remove rubbish found along and in the water. Eight collection points will ensure that large stretches of both rivers are covered. The rubbish will then be sorted and weighed before being sent to the Tafaigata Landfill.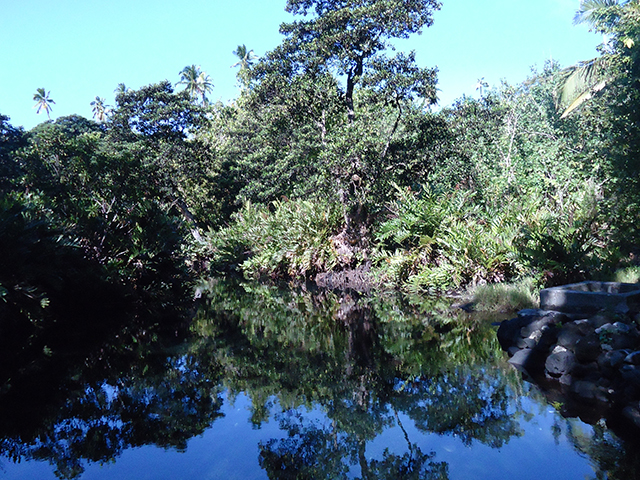 "There have been several cleanup activities over the years," said Mr Sefanaia Nawadra of the Secretariat of the Pacific Regional Environment Programme (SPREP). "However, we find that the rubbish, particularly plastic products are thrown back again into the water. We want to send a message to all users of our rivers that the river is not a rubbish dump and that there are better things we can do with our waste." This is being supported by a follow-up training for communities on plastic art, which will involve the recycling of plastic products into creative pieces of art that can be sold to tourists and the public.
Emphasis on proper waste management is the main message behind this awareness campaign in Keeping Samoa Clean, especially in the lead up to the SIDS Conference in September. Rubbish being disposed directly into the Vaisigano and Mulivai Rivers is a major issue for the township of Apia as it is an eyesore, and during times of heavy rainfall, the rubbish either gets washed into the harbour or blocks the drains and causes flooding.
MNRE and SPREP are coordinating this activity with additional support from the Japanese Technical Cooperation Project for Promotion of Regional Initiative on Solid Waste Management in Pacific Island Countries (J-PRISM)/Japan International Cooperation Agency (JICA). Funding for the activity is from the United Nations Environment Programme (UNEP).
For more information contact:
Fata Eti Malolo, Water Resources Division, MNRE. Ph: 23800 ext 235 or Mob: 7751609.
Anama Solofa, SPREP. Ph: 21929 or Mob: 7749098