The European Union's contribution to an improved environment and to sustainable development, health and growth in the Pacific islands will be highlighted in an upcoming series of activities from the Secretariat of the Pacific Regional Environment Programme (SPREP).
In Apia this week, SPREP outlined a range of actions to support the recent launch of the 2015 European Year for Development. Known as EYD2015, the campaign will showcase the strong commitment of the European Union (EU), its Member States and key partners to eradicating povertyworldwide.
In formally announcing SPREP's support for the campaign, Director General David Sheppard, explained:
"Here at SPREP we are working in partnership with the European Union on a number of important projects including the €7.85M Pacific Hazardous Waste project known as PacWaste. Another EU supported initiative, implemented by SPREP, is the ACP/MEAs project which builds Pacific regional capacity related to Multilateral Environment Agreements. Both these projects have already demonstrated positive outcomes for people in the region and for the Pacific environment."
The SPREP activities proposed as part of EYD2015 will communicate the positive impact on the Pacific region of work undertaken in partnership with the European Union.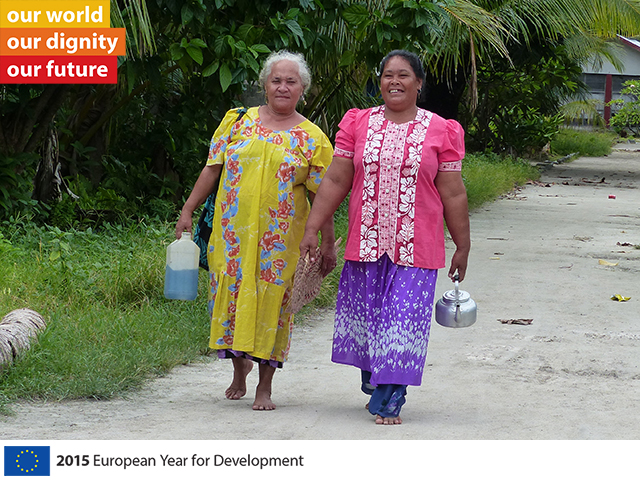 Nukufetau atoll, Tuvalu. Photo: Amber Carvan/SPREP
They will include an online documentary about the recent emergency removal of hazardous asbestos from the Tamavua Twomey Hospital complex in Fiji. The discovery of these dangerous forms of brown and white asbestos which can easily become airborne, and cause lung diseases like cancer,came about as the result of regional PacWaste surveys across 13 countries in the Pacific.
Other outputs will include an animation about Protected Areas and sustainable development in the Pacific, and an educational tool designed to explain Environmental Impact Assessment process and their value to the people and environment of the Pacific.
European Union Ambassador for the Pacific, Mr Andrew Jacobs,welcomed SPREP's support of the 2015 European Year for Development saying:
"We see this as an unparalleled opportunity to showcase our partnership with SPREP and with other organisations, as well as our support in the Pacific. It will also give us the platform to explain, through various stories of change and impact, how European Union development support is making a real and lasting difference to people and communities in the Pacific Islands. This year is also significant as it is sees the end of the Millennium Development Goals and the emergence of the post 2015 development agenda."
For further information about the 2015 European Year for Development, please visit:
https://europa.eu/eyd2015/en